When we're not hiking the trails at home in the St. George area, we like to go east to explore the surrounding region of Kanab Utah. I think Kanab is much like Moab was before the world discovered it, an outdoor adventure playground without the crowds. It's central to world class outdoor attractions, a buffet of slot canyons, and a multitude of whimsical rock formations like The Wave, White Pocket, and The Toadstools.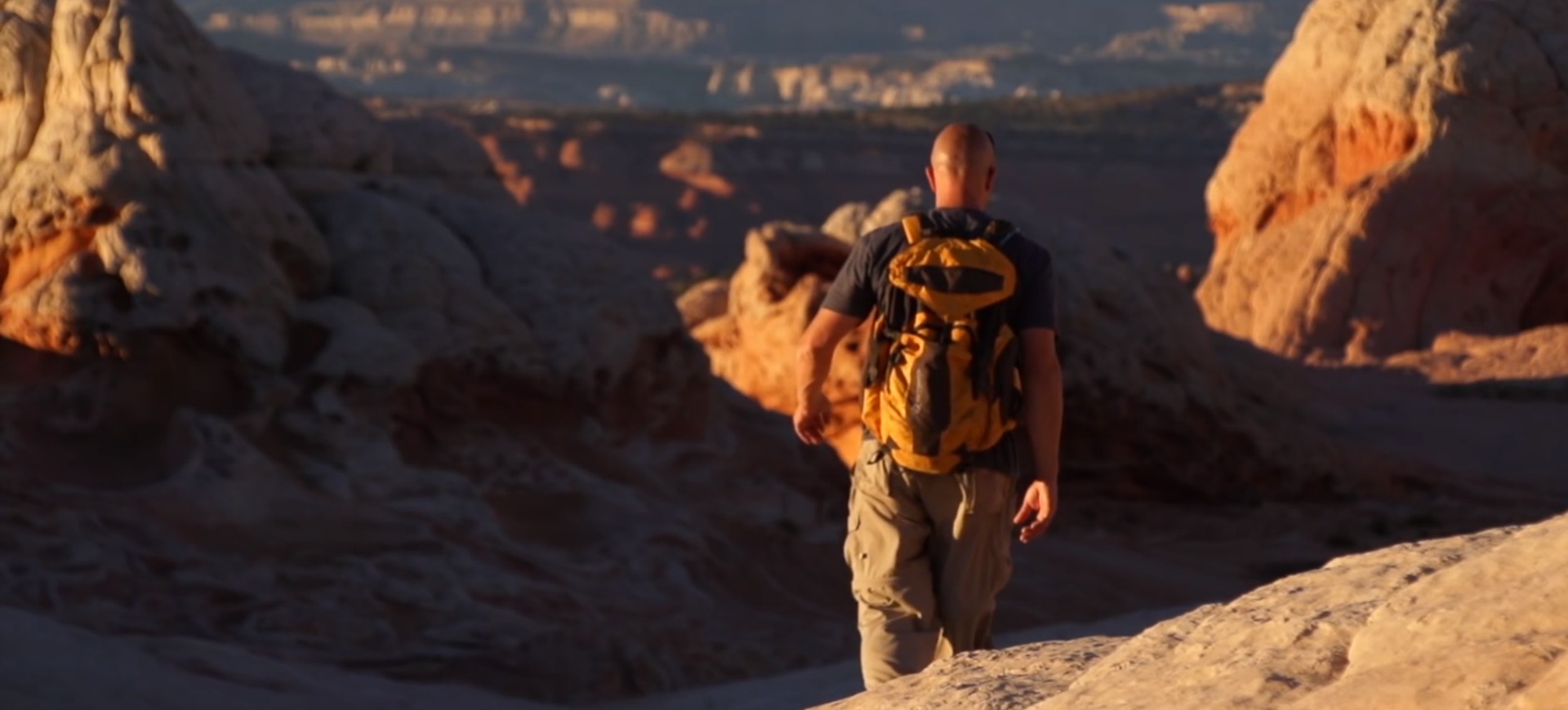 Base Camp to Adventure & Beauty
Kanab is the largest town in Kane County that borders the Arizona state line, and the gateway to three national parks, five national monuments, a national recreational area, two state parks, two national forests, and a plethora of outdoor adventures.  Turn in any direction and view breath-taking views; Grand Canyon to the south, Zion National Park to the west, Bryce Canyon National Park to the north, and Lake Powell/Glen Canyon to the East. Park Central, a former slogan for the county that describes it perfectly.
Early Native American Life
Native American rock art, ruins, pottery and other remnants are found throughout the surrounding cliffs and canyons that give evidence of ancient cultures and life before the first white men entered. We come across these sites and rock art panels frequently when exploring the back country canyons and washes with our Kanab friends who show us around.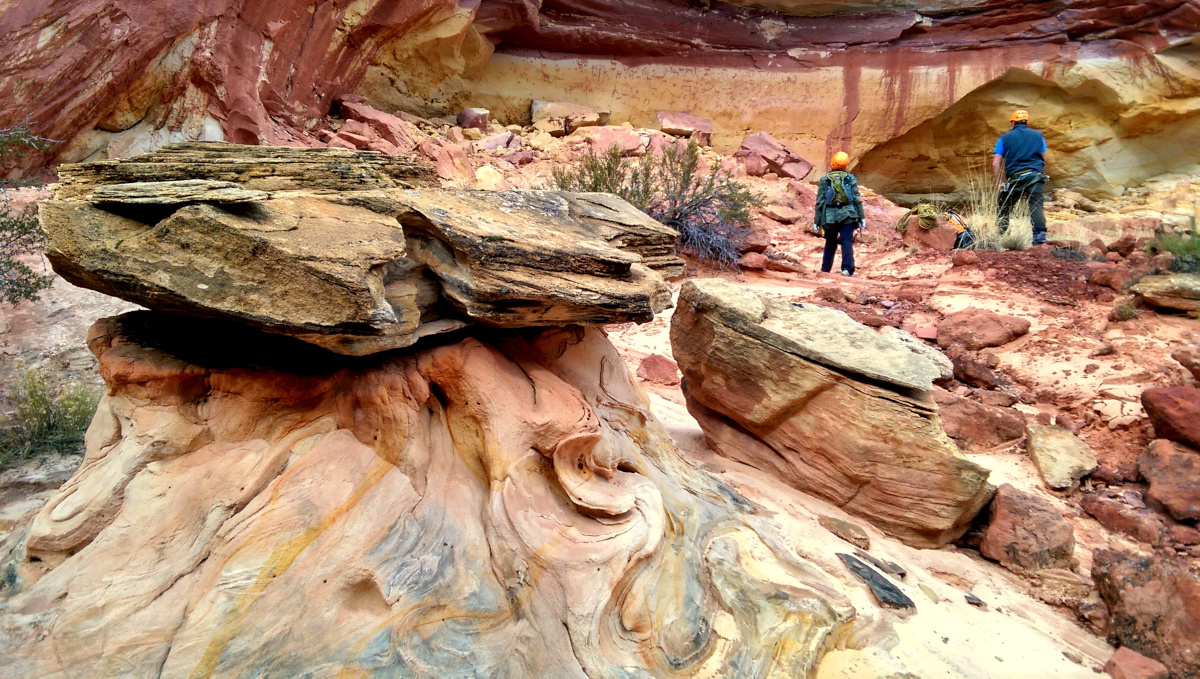 Slot Canyons Galore
Kane County is famous for its numerous slot canyons including Buckskin Gulch, the Southwest's longest slot canyon located in Paria Canyon near the Arizona border. A permit is required to explore Buckskin Gulch. A much shorter slot canyon ideal for families that does not require a permit is Peekaboo Canyon located near Best Friends Animal Sanctuary on Hwy 89. This is great slot canyon for any level and ideal for families. However, there is one caveat, you need the right vehicle to get to it sine driving through deep sandy washes is required. If you don't have the vehicle, there are several guide services in Kanab that can take you there.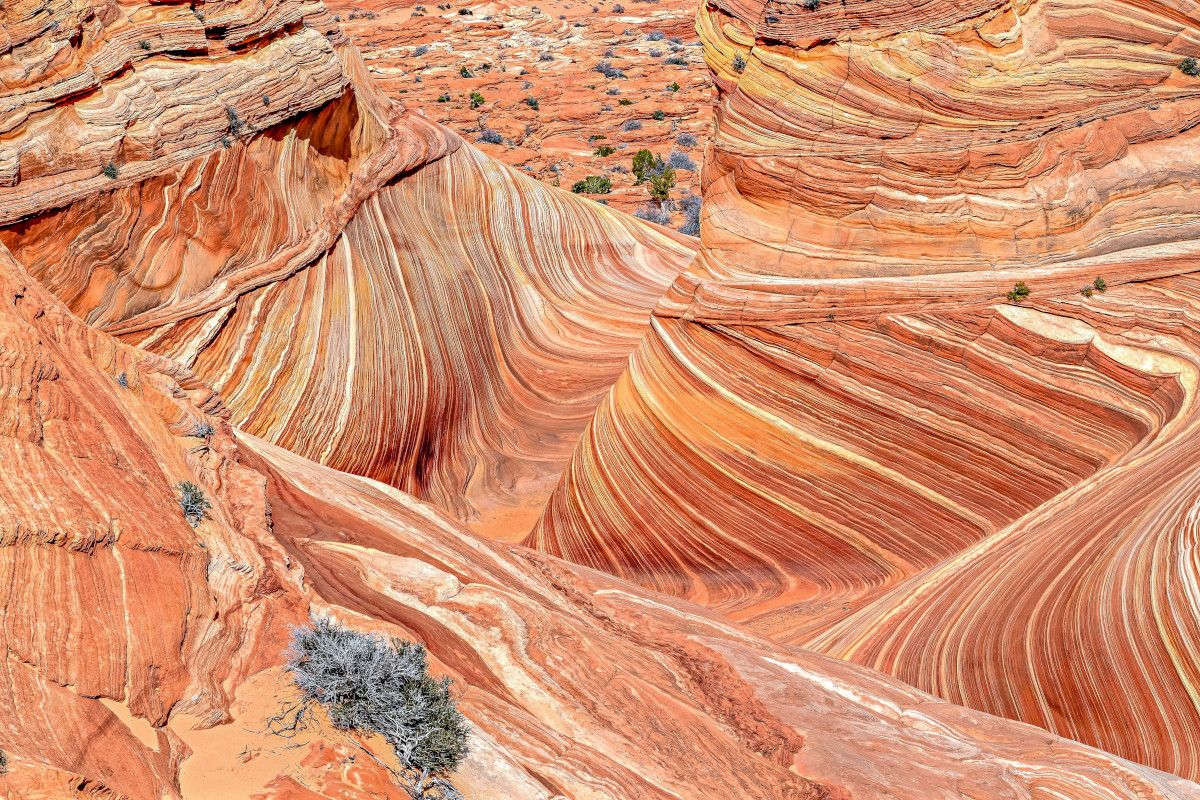 The Wave
I was first introduced to The Wave in the 90's long before the lottery became the portal to visiting this amazing part of Coyote Buttes in the Vermilion Cliffs National Monument. I knew it was special then but had no idea how special and exclusive it would become. The last time I visited the area was in 2016 in March on an overcast day, not exactly ideal conditions for photography. With The Wave you take what you can get.
Located on the Arizona side of the Vermilion Cliffs National Monument. The trail, however begins on the Utah side at the Wirepass  Trailhead on the House Rock Valley Road approximately 48 miles from Kanab.
Until recently the total number of daily visitors was capped at 2o with visitors decided by an online and walk-up lottery at the Kanab BLM field office. The number increased to 64 per day on February 1, 2021. The Wave is everything it's made out to be and more. Click here to read more about our day at The Wave.
A Great Place for Family Getaways
We write a lot about family and multi-generation travel and talk about it on radio and TV. There's a good reason for that; baby boomers are active travelers and love adventure. They also love to travel with family. Boomer kids grew up taking road trips with their parents and are now taking their kids. Utah is a family market as it most areas of the Intermountain West. Most of the one tank trips we feature on the KSL Outdoor Show showcase places families with children can enjoy.
Here are 5 Family Friendly Places to Visit
(See map below for directions)
Red Canyon, aka, Peekaboo Canyon
Located on US-89, 10 miles north of Kanab on Angels Canyon/Kanab Canyon Road. The road to the slot canyon follows a wash with several deep sandy sections that require 4-wheel drive. We recommend using one of the local tour companies in Kanab to take you to this site. Southern Utah is filled with slot canyons, many are well-known for the challenges they present to active explorers. Red Canyon is considered easy and suitable for all ages and physical abilities. No long hikes are required to reach the canyon entrance and the canyon itself is less than  a half-mile in length. The trail through the canyon is relatively flat and easy to negotiate. Don't forget your camera! This is a wonderful canyon to photograph.
Coral Pink Sand Dunes
Take US-89 north to Hancock Road, turn left, located approximately 20 miles northwest of Kanab. Coral Pink Sand Dunes is one of Utah's 44 state parks and recreation areas. The deep sand is colored with hues of red, orange and pink that make this one of the best places in the county to catch a sunset. Popular activities include off-roading and sandboarding. There is an outfitter at the park that offers off-road and sandboarding guided services. Click here for information about Coral Pink Sand Dunes State Park.
Moqui Cave
This is a museum and gift shop built in a cave on US-89, 6 miles north of Kanab. The museum houses ancient native American artifacts and dinosaur tracks discovered in southern Utah, and one of the largest florescent mineral displays in North America. This is a great stop on a hot day or on a cold day since the temperature inside consistently stays around 65 degrees. Moqui Cave has been in the Chamberlain family since 1951, a local Kanab family that continues to develop new opportunities for experiencing the Kanab area.
Kanab Sand Caves
Located 6 miles north of Kanab on US-89 between Moqui Cave and Best Friends Animal Sanctuary (about 1/4 mile south of Moqui Cave). There is a sandy/dirt turn-out directly across from the caves where you can park. Please watch you little ones closely crossing this busy highway! The caves, also known as the Moqui Caverns are not natural but are man-made. I was told the caves were formed by mining from earlier days. The trail is 1-mile out and back and requires a bit of scrambling up a sandstone slope to access the caves above. The easier section of the slope to climb is farther to the left as you approach the bottom. Be prepared for deep sand once you enter the caves.
Belly of the Dragon
This roadside attraction and hiking trail has quickly become a favorite stop along this section of US-89. Easy to get to and great for all levels of ability and age. Belly of the Dragon is a rock tunnel that goes under the highway just north of the US-89, SR-9 Mt. Carmel Junction. Used as a drainage for the upper canyons for snow melt and rain, check the weather before your visit. Recently I visited the tunnel where I found a dozen cars were already parked. The tunnel itself is relatively short, just slightly longer than the width of the highway. The trail through the tunnel continues another 4 miles where it reaches a slot canyon. This is a great adventure for families with kids. The turn-off to get to the tunnel is a half-mile south of the Mt. Carmel Junction, then a short drive on a dirt road.
This is just a sampling of the many things to see and do in the Kanab area. For more additional ideas click here to visit the Kane County tourism website.
LISTEN TO THE ONE TANK TRIP OF THE WEEK ON THE KSL OUTDOORS SHOW EVERY SATURDAY MORNING