The Wave
North Coyote Buttes, Vermilion Cliffs National Monument
Most people are familiar with the image of the Wave but may not know it by name. This is often the case when I ask our tour members if they have heard of it. Most haven't but as soon as I show a photo they immediately recognize it.
I first learned of the Wave in the early 1990's while working at Brian Head Resort. The owner of the local mountain bike shop was an avid hiker and invited me to go explore it with him. Back then there wasn't a lottery to get in, there weren't masses of tourists either posting photos on social media. Secret places were still pretty much secret, to most.
Until 2016 it had been more than 25 years since I last visited Coyote Buttes in the Vermillion Cliffs National Monument.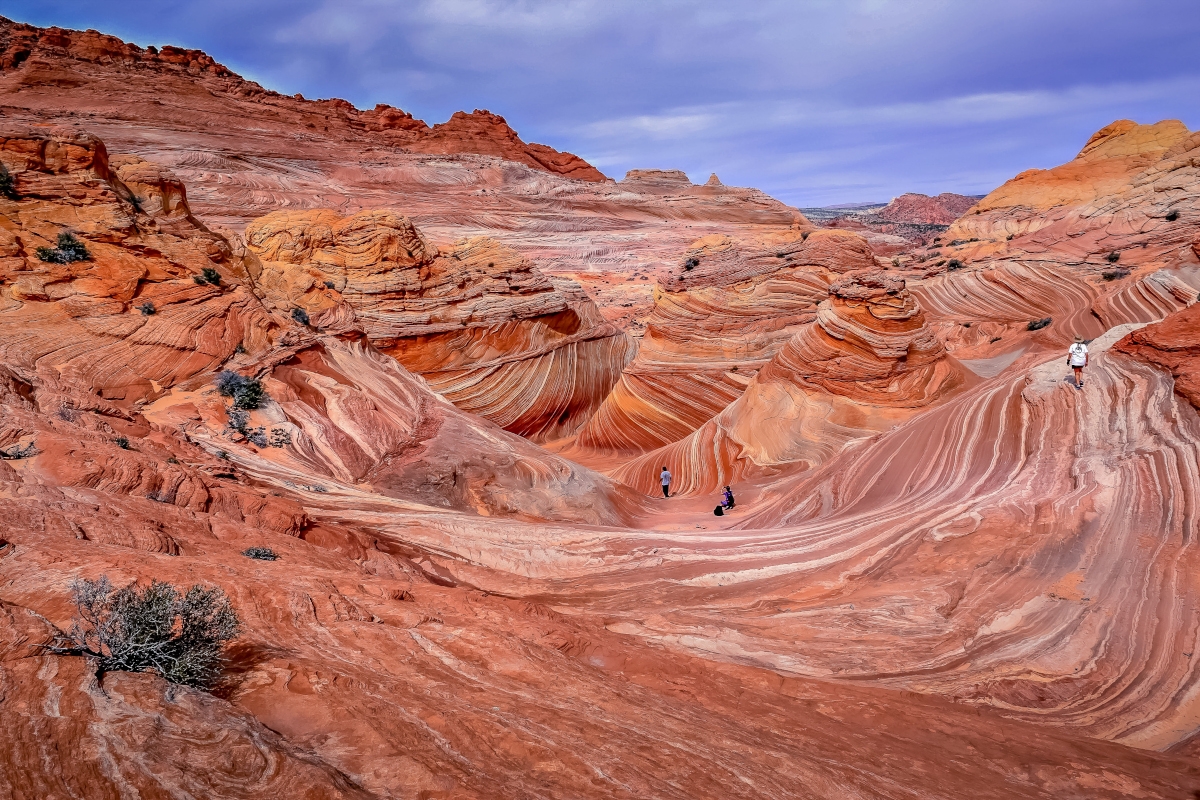 Lottery
It's not easy to get in, meaning only a few people are permitted to hike to the Wave on a daily basis. Interested hikers must be selected in a lottery either online or by walk-in the night before the desired date. Until recently only 20 permits were issued per day, so it really does feel like winning the lottery to get selected. Beginning February 1, 2021 the number will increase to 64.
On Friday January 8th the Bureau of Land Management approved an increase in allowed visitation to The Wave. Up to 64 people or 16 groups will be allowed to visit each day, whichever comes first. The online lottery will grant permits for up to 48 people or 12 groups, whichever comes first, and the walk-in lottery for up to 16 people or 4 groups, whichever comes first.
There is concern that by allowing more people the land will be damaged and vandalized. This has always been a possibility regardless of the number. This area is watched closely, you won't even know who's watching you! Get caught damaging the land, be prepared for the consequences, they are hefty. As with all other parks and public lands, be a good steward, report damage if you see any, and leave no trace.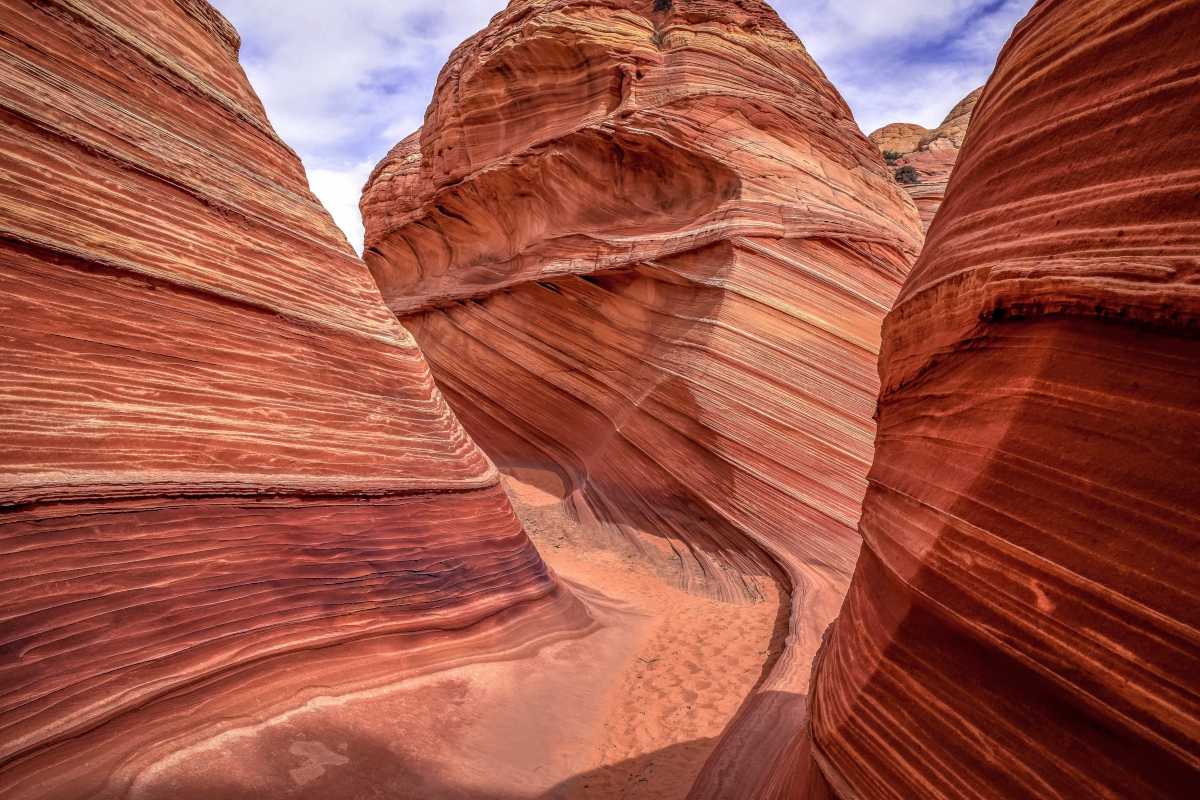 During the best months (April, May, September, October) more than 150 people would typically apply for the ten daily walk-in permits. In the other months, you usually have less than a 50% chance of getting one at the daily lottery. Your chances are better if you're going alone, or in December – February. The increase in daily permits will improve the odds of getting in, but could still take several attempts to be selected.
Local Guide
A friend who grew up in Kanab that knows this area intimately was our guide for the day. He took us on a more indirect route that included places that, in my opinion, were as impressive as the Wave itself. From what I could calculate we hiked an additional three miles. The normal out and back distance is just over six miles, we hiked a little more than nine.
If you feel more comfortable going with a guide there are several companies in Kanab that offer these services, Click Here.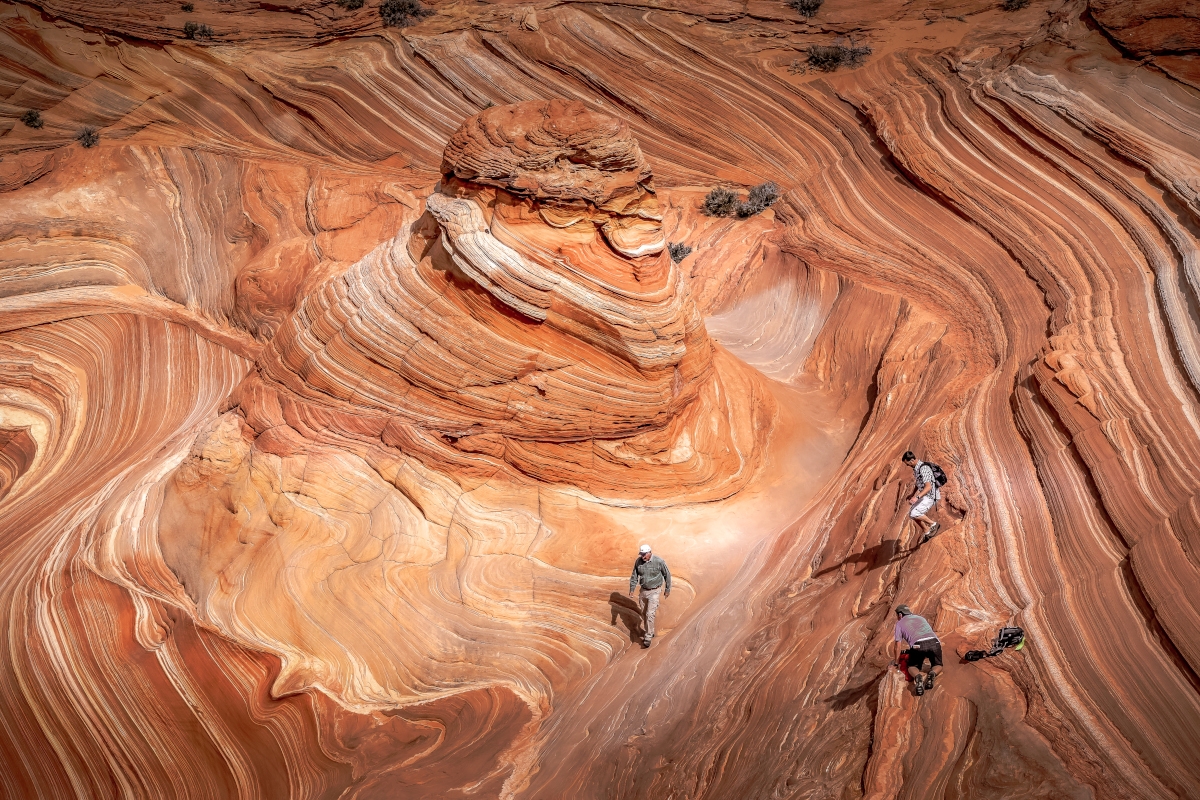 Weather
We visited in March, which is an ideal time of the year for taking this hike. From late Spring to early Fall the temperature can get quite hot often hitting triple digits. Becoming dehydrated is a serious problem in this hot desert climate. Bring plenty of water, more than you think you will need. This is a primitive hike with very few trail markers so some orienteering skill is needed. Hikers in the past have become disoriented going off trail and getting lost. Dehydration will often cause disorientation.
Summer monsoon thunderstorms can also be a concern when hiking these backcountry routes. Although we haven't had much of this weather in the past two summers, typically they show up mid-July and will last through mid-September. The Wave is in an area prone to flash floods that can develop quite quickly. Watch the regional weather report for the day you're scheduled to hike. Many of these flash floods develop miles from where you may be. The Wave is actually the result of eons of flooding.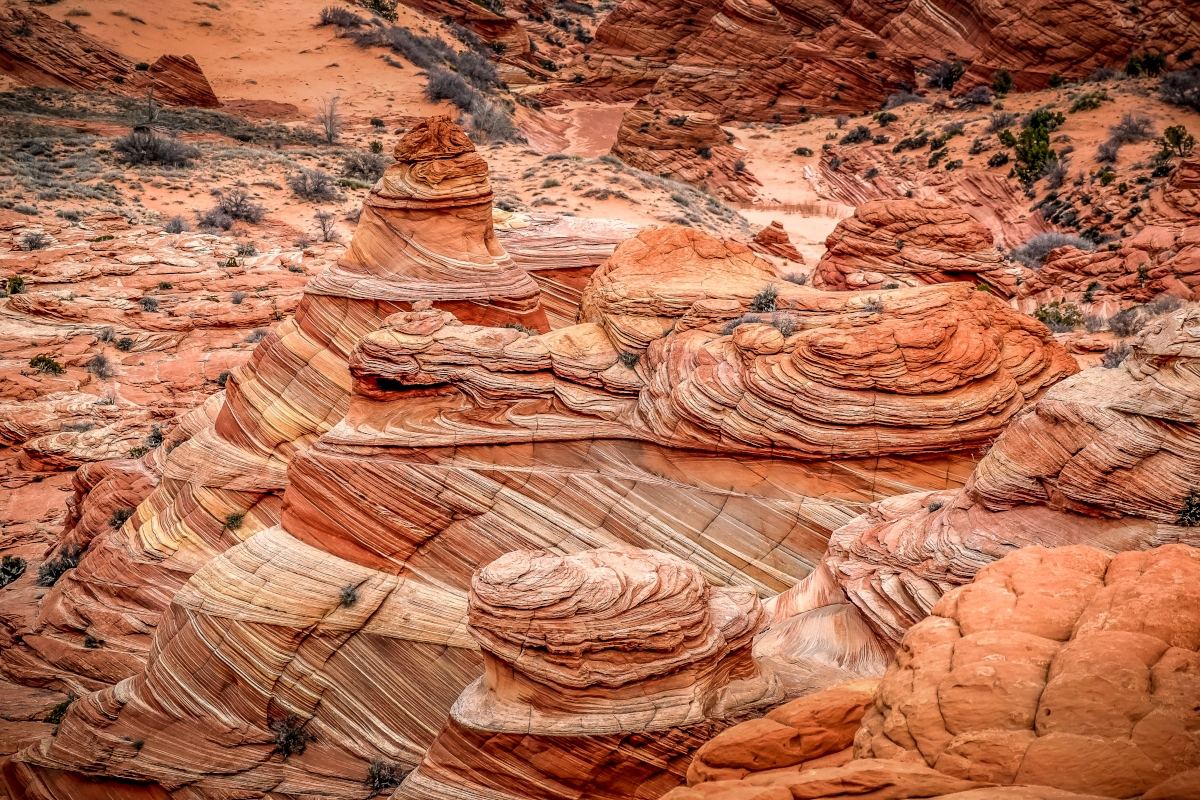 Tips:
This is a very remote and primitive area with few trail markers. It's important to get a lay of the land. A mistake some hikers make is to not look behind them when hiking to unfamiliar areas on in-and-out trails. Get familiar with the landscape all around you so you'll recognize natural geographical markers on your return hike. People get in trouble on this trail when becoming disoriented. A GPS may come in handy.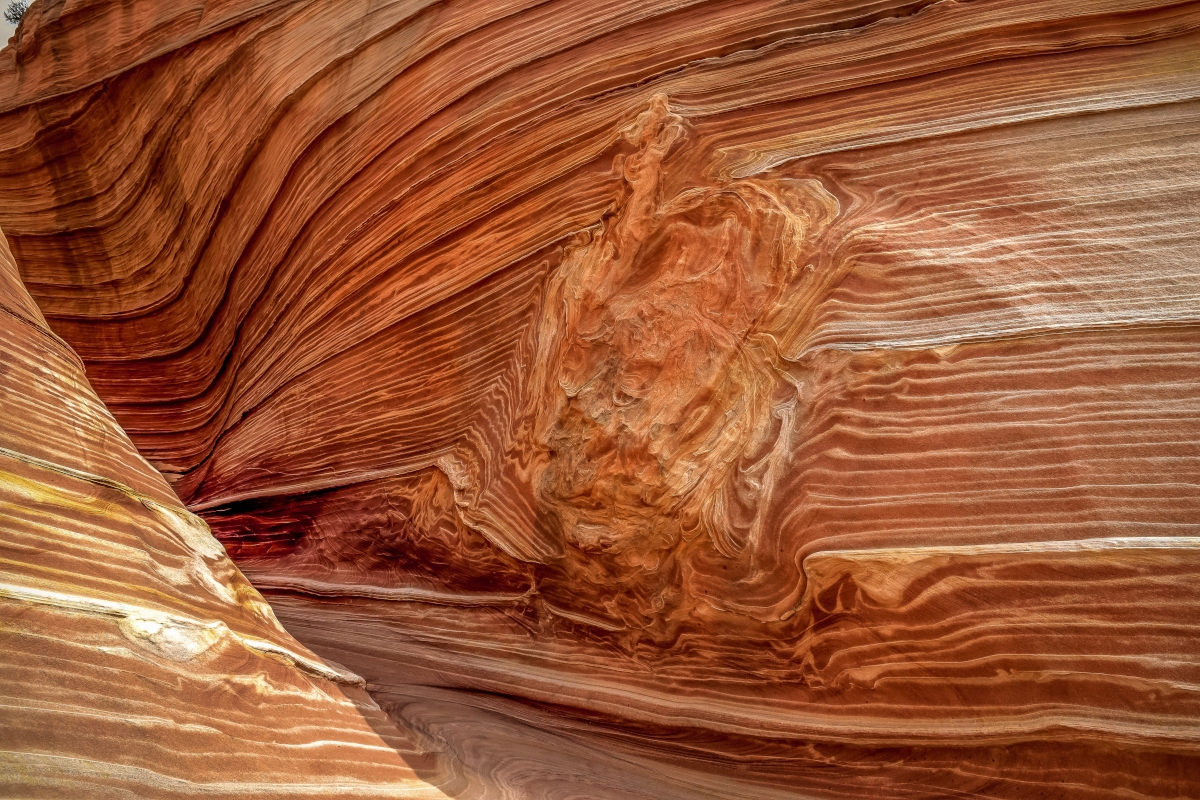 Take plenty of water especially during the hot months of summer. There is little shade and relief from the heat. Plan on spending a good part of the day on this hike.
The majority of the hike is on combinations of soft sand and sandstone, which is pretty common for this region. I love hiking on sandstone, soft sand, on the other hand, is my least favorite surface to hike on. I consider this hike moderate but the distance and time of year can make it more strenuous.
Click Here for hiking details from the All Trails app. This is an app I like using for our hikes.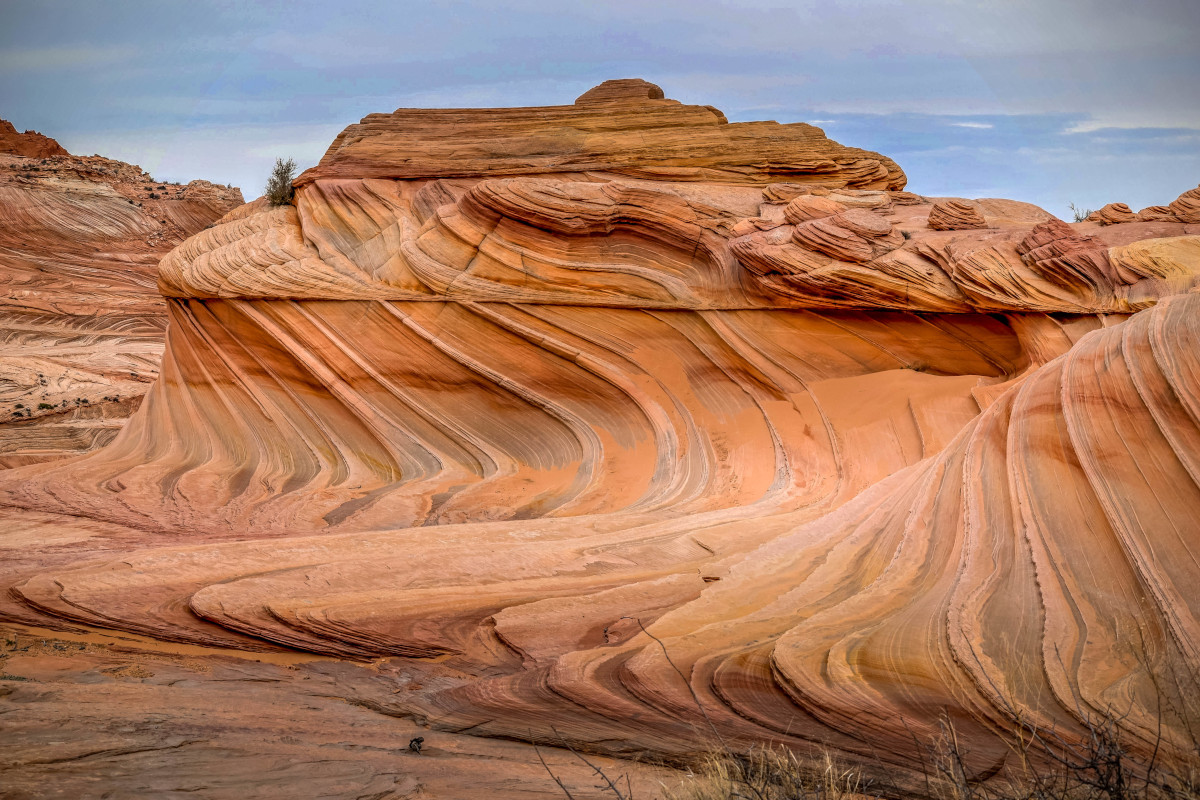 Directions from Kanab:
Take Hwy 89 to Houserock Valley Road (38 miles east of Kanab). From the turn off of 89 it is 8.4 miles south on a dirt road to Wire Pass trailhead. This road can be treacherous when wet.