Deep canyons, towering mountains, red rock arches, white water rapids, Slickrock trails; these are just a few of the adjectives that describe Moab. This is nature's art studio and adventure playground tucked away three and half hours southeast of Salt Lake City.
Summer is peak season when tour buses regularly roll in to town, family travel is at its peak and vacationers converge on the parks. Winter, on the other hand, is the undiscovered season. No crowds, low rates, cooler temperature that will occasionally produce snow storms that blanket the red rocks in a frosty layer of contrasting colors. This is a season of opportunity that awaits your discovery.
Recommended sights to see & things to do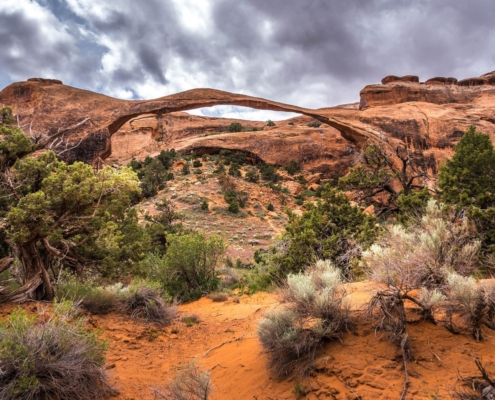 Arches National Park – located just 5 miles north of the town of Moab, on Highway 191. The park is open year round, 24 hours a day. Peak visitor season runs from mid-March through October. The cooler weather months, when snow occasionally blankets the red rocks, is a particularly beautiful time to visit. The park contains the world's largest concentration of natural sandstone arches numbering more than 2,000 within the park's boundaries. Park offerings include more than just arches. There are sandstone fins, massive balanced rocks, soaring pinnacles and spires that dwarf visitors as they explore the park's viewpoints and hiking trails. Geologic faulting has exposed millions of years of geologic history within the park. A paved scenic drive takes visitors to many of the major viewpoints within the park. Popular activities include auto touring, hiking, photography, and biking. Whether you have a few hours, or a few days, Arches has something to offer everyone.
Canyonlands National Park – located approximately 30 miles southwest of Moab. There are two paved entrances into Canyonlands: Highway 313 leads to the Island in the Sky District and is 10 miles north of Moab; Highway 211 leads to the Needles District and is 40 miles south of Moab. Roads to the Maze District are a mixture of graded dirt and 4WD roads that may become impassable when wet. Canyonlands is the largest national park in the state, and its diversity staggers the imagination. It is divided into three districts by the Green and Colorado Rivers – the Island in the Sky, the Needles and the Maze. Named for their most prominent geologic characteristics, these districts are quite varied in what they have to offer. The park is open year round.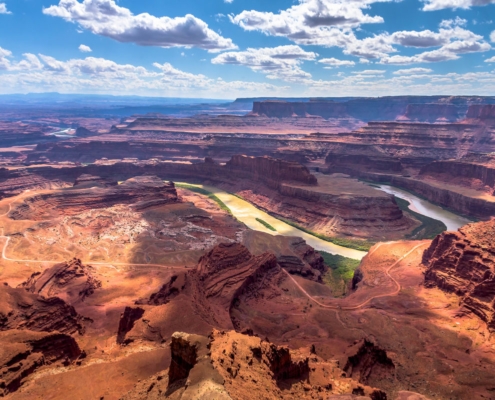 Dead Horse Point – Dead Horse Point towers 2,000 feet above the Colorado River providing a breathtaking panorama of Canyonland's sculptured pinnacles and buttes. Access is via a 23-mile drive 'up' U-313, which begins north of Moab.
Mountain Biking – Thousands of people flock to the Moab/Green River area with one thing on their minds: mountain biking. Numerous primitive trails and abandoned roads in the desert and mountains combine with undulating sandstone to provide terrain for every ability.
4WD Trails – There are thousands of miles of jeep trails in Grand County. Most old mining or prospecting roads and are not maintained. Some trails are used in current mining and grazing activities, major access roads receive some maintenance from the county. Others are repaired just enough to get through. There are a number of better-known trails close to Moab and short enough for a partial-day trip.
River Rafting – Whitewater rafting is found on both the Colorado and Green Rivers. The rivers of the Moab/Green River area have a softer side as well. For miles at a time they are simply wide, quiet streams that, on clear days, reflect a mosaic of rock cliffs and sky. Calm water float trips in canoes, kayaks and rafts are available.
Winter in Moab – Located within the Manti-La Sal National Forest, the LaSals offer many areas open to cross-country skiing and sledding. Access to most areas is off the Geyser Pass Road which is plowed to a parking lot. For skiers, the LaSals offer both worked trails and backcountry terrain. Some of these same areas are shared by snowmobile users, although some restrictions apply. Winter backcountry users should call 435-259-SNOW, November through April, for current taped information on mountain weather, road conditions and avalanche potential.
LISTEN TO THE ONE TANK TRIP OF THE WEEK ON THE KSL OUTDOORS SHOW EVERY SATURDAY MORNING
CLICK ON A POINT OF INTEREST FOR DIRECTIONS
&

DETAILS.