Page Arizona
South Lake Powell / Glen Canyon
Mark and I have been traveling to Page Arizona for nearly three decades and have seen considerable growth over the years as this region has become a world class destination attracting visitors from all parts of the globe. Horseshoe Bend, once a local secret has gained international fame and millions of visitors. Antelope Canyon has become one of the West's most iconic attractions and Glen Canyon National Recreation Area continues to attract a growing crowd of outdoor enthusiasts to Lake Powell and to its other attractions and adventures.
Changes since 2020
Since 2020 when Covid hit and now in 2022 with high gas prices and inflation, visitation to Page is down. International bus group are noticeably gone, or substantially reduced, and we don't expect to see a rebound in groups at the level we were seeing prior to Covid for another few years depending on the economy and other global factors.
2022 Is an Excellent Time to Visit
For the reasons mentioned above, we think this is an excellent time to visit Page. Prior to the pandemic hotel and attraction reservations were required weeks to months in advance. Wait times for restaurants were lengthy.  Antelope Canyon and Horseshoe Bend were busting at the seams. That's not currently the case but we don't know how long it will stay this way.
We don't want to discourage future travel plans if things return to the way they were. Like Zion National Park, the experience supersedes the challenge of crowded conditions. We have been guiding trips to crowded parks for years and it seems that the biggest complainers are locals…guilty as charged!
Page Arizona
Page was founded in 1957 as a housing community for workers and their families during the construction of nearby Glen Canyon Dam on the Colorado River. Its 17-square-mile site was obtained in a land exchange with the Navajo Nation. The city is perched atop Manson Mesa at an elevation of 4,300 feet above sea level and 600 feet above Lake Powell. The construction of the dam with its service roads opened this area as southern gateway to Glen Canyon's recreational opportunities and scenic wonders.
Page is home to many scenic wonders and man-made attractions, here are our top 5 recommendations for things to see and do.
Antelope Canyon – Antelope Canyon also called corkscrew canyon is split into two sections that are located on Navajo Tribal land and only accessible by guided tour. We recommend Antelope Canyon Tours located at the Dam Plaza (yes, that's a real name) on Lake Powell Blvd in Page offer tours to the more popular Upper Canyon. Visitors walk through this section after taking a three-mile shuttle drive from Page. Lower Canyon is a one mile all hiking tour that lasts about an hour. The canyon trail is a bit rigorous and long, with low hanging rocks, narrow passageways, and narrow and steep ladders. Ken's Tours offers tours every 30 minutes. TIP: If climbing and descending steps and ladders is not a problem, it's easier to get a reservation at Lower Canyon with short notice. Depending on the time of year, Upper Canyon sells out weeks to months in advance.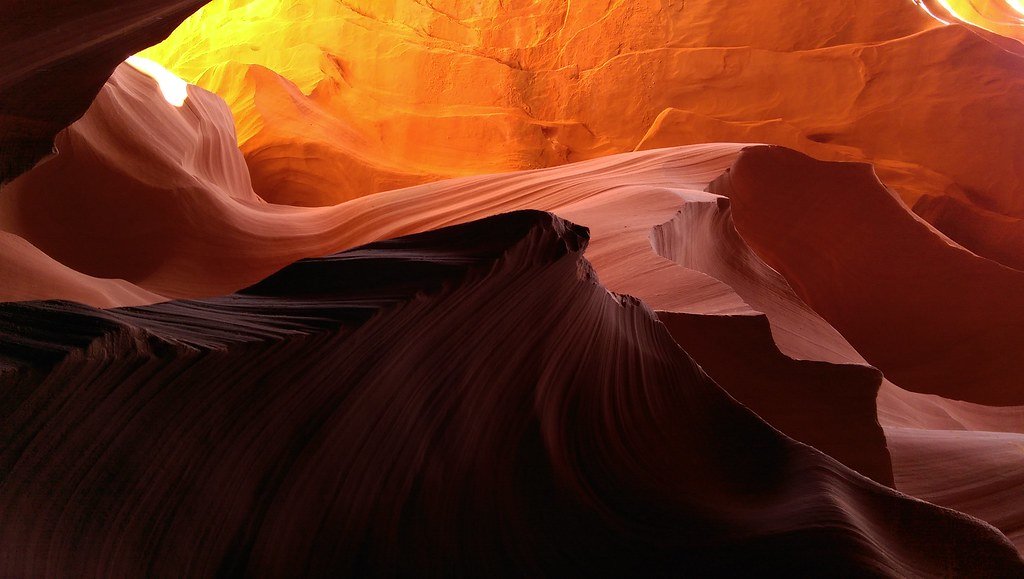 Horseshoe Bend – One of the fastest growing tourist attractions in the country attracting nearly 2 million visitors in 2018. This, as the name implies, is a horseshoe-shaped meander on the Colorado River located six miles down river from the Glen Canyon Dam. The best way to see Horseshoe Bend is from the high cliff above the river, which can be reached by a 1.5 miles out and back hike from U.S. Route 89. There's a viewing platform with handrails on the rim but much of the rim remains exposed, so watch your footing and keep track of children. The rim is 1000 ft above the river from the overlook. [TIP] Best time to beat the daily crowd (during normal conditions) is to plan your visit before 9 AM. However, there will be a shadow on the nearside of the formation in the early hours. Parking fees:  $5 Motorcycle $10 Passenger vehicles (car, truck, SUV, RV, motorhome) Click here for current rates and information.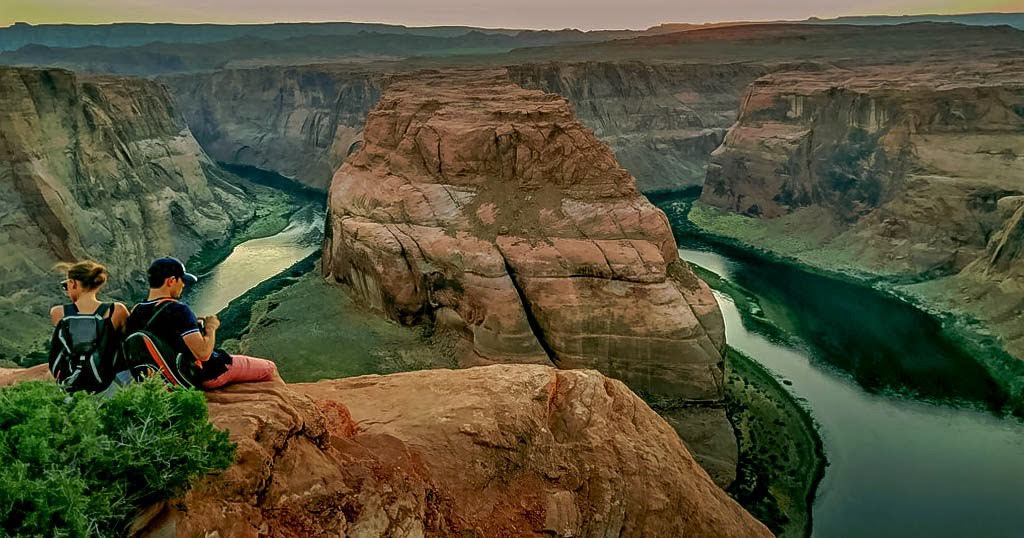 Lake Powell – Formed by the waters of the Colorado River behind Glen Canyon Dam, LakePowell is second to Lake Mead as the largest U.S. reservoir. This popular recreation area attracts three million visitor per year for its water sports, house boating, fishing, boat tours, and hiking in the lake's many finger canyons. Lake Powell Resorts & Marinas, official concessionaire for the Glen Canyon National Recreation Area provides services from Wahweap Marina including lodging, boat tours, powerboat, jet ski and houseboat rentals. [TIP] Rainbow Bridge National Monument is the world's largest natural bridge. Lake Powell Resorts offers full-day boat tours to this amazing site. UPDATE: Tours have been canceled or changed due to low water level. Visit Lake Powell Resorts for current offerings and updates.
Glen Canyon Dam – Glen Canyon Dam is the second highest concrete-arch dam in the United States, second only to Hoover Dam. At Glen Canyon Dam, the Carl B. Hayden Visitor Center is located 700 feet above the Colorado River overlooking Glen Canyon Dam and Bridge. The visitor center is one of my favorites offering many interesting exhibits, and ranger presentations. In addition there is a a gift shop and bookstore. Guided tours of Glen Canyon Dam and Powerplant are provided by the Glen Canyon Conservancy, and begin at the visitor center. [TIP] Walk out on the bridge to get a great photo of the dam on one side and canyon on the other.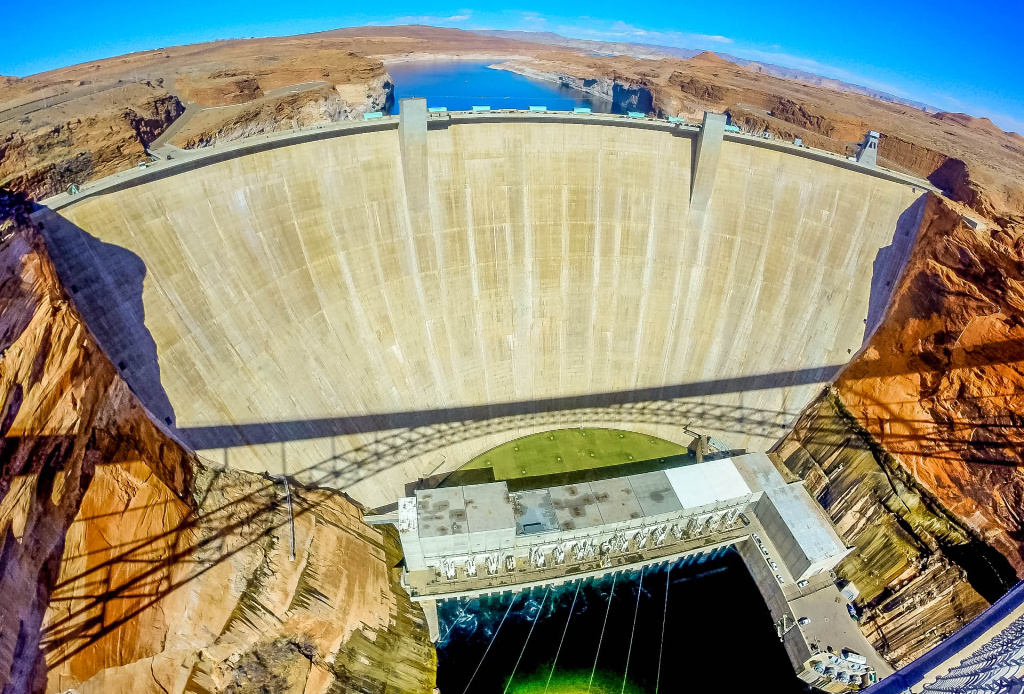 Colorado River – The mighty Colorado is the west's most important waterway. It formed the nations two largest reservoirs. It's also a great way to see the beautiful canyons it's carved. [TIP] Wilderness River Adventures takes visitors on half-day and full-day 15 mile guided float trips from the bottom of the Glen Canyon Dam to Lee's Ferry where Grand Canyon river trips begin.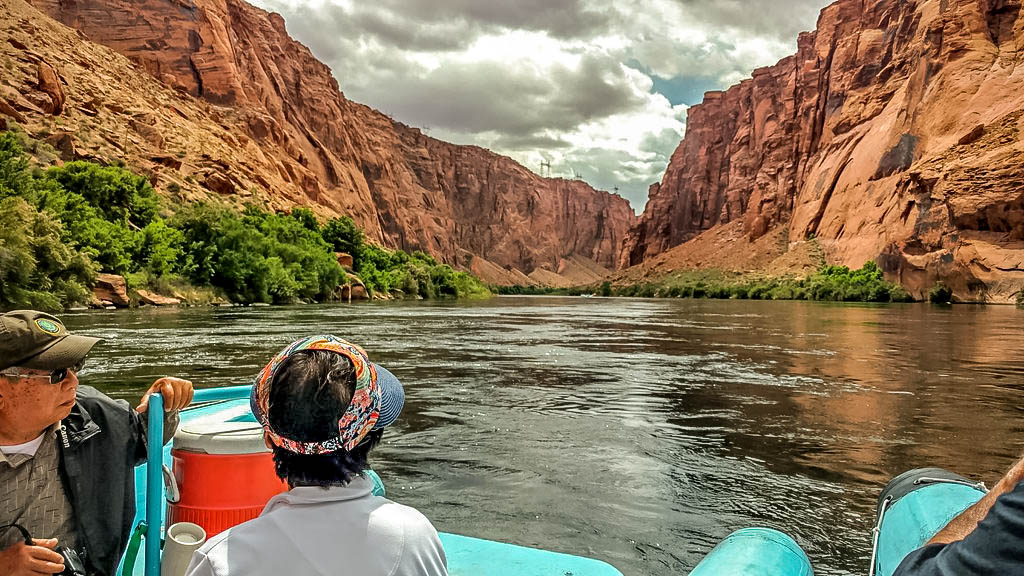 Places to eat
Dam Bar & Grill at the Dam Plaza (no pun, these are the real names) There's even a Dam Big Burger on the menu! This is where I generally go for lunch, I like the fish tacos. Rainbow Room at Wahweap Marina (fine dining). This is the main dining room at Lake Powell Resort that offers wonderful views of the marina, reservations recommended. Bonkers Restaurant (American, Italian) I've only been here once but had a great meal. We didn't have a reservation but they were able to fit us in. Reservations recommended. Big John's Texas BBQ (BBQ Smokehouse) My tour groups craving BBQ have given Big John's good reviews. Cliff Dwellers Restaurant (American) If you're willing to drive a ways this is a local's favorite. Located in Marble Canyon on hwy 89a about an hour from Page. I take my groups here for lunch after I pick them up from their river trip at Lee's Ferry.
POINTS OF INTEREST
Type the name of what you're looking for in the search field below the map or scroll through the list.