The lessor known eastside of Zion National Park along the Zion Mt. Carmel Highway (SR 9) is one of our favorite sections of the park for hiking. This side of the park is a great plan B if Zion Canyon is crowded or if you're simply wanting to explore other areas of the park. Although the eastside isn't as popular as the scenic drive (shuttle route), it too is getting busy, especially since the reservation system of 2020 pushed more visitors to this side of the main section of the park. The main culprit for congestion is a lack of parking. The upside is that limited parking means fewer people on the trails. The Canyon Overlook trail on the eastside of the tunnel is the main trouble spot, go early morning or late afternoon.
The eastside of the park runs from the long 1.1-mile Zion Tunnel to the east entrance near Checkerboard Mesa. This is the side of the park where you're more likely to see Desert Bighorn Sheep.
More than 1,000 feet higher than the canyon below along the shuttle route, a change in the scenery will quickly be noticed. The tall vertical canyon walls below give way to cross-bedded mesas, deep side canyons, bluffs, and washes with tall pines. The numerous side canyons and dry washes below the highway are excellent places to explore. One of our favorite hikes on this eastside of Zion is the Many Pools trail located .8 mile east the shorter second tunnel. Look for the trailhead with a small turnout parking lot and new restrooms. (see map below)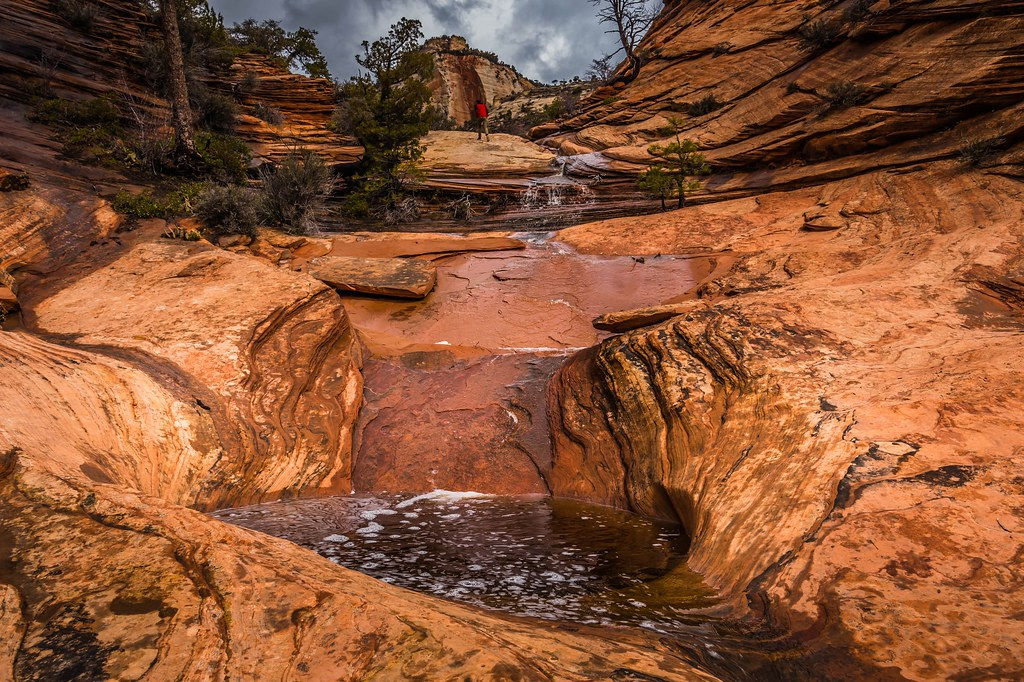 The trail is located 400 feet east of the parking lot and across the road. Be careful while walking along the shoulder of the road and when crossing to the other side. Motorists are paying more attention to the scenery than they are watching for pedestrians.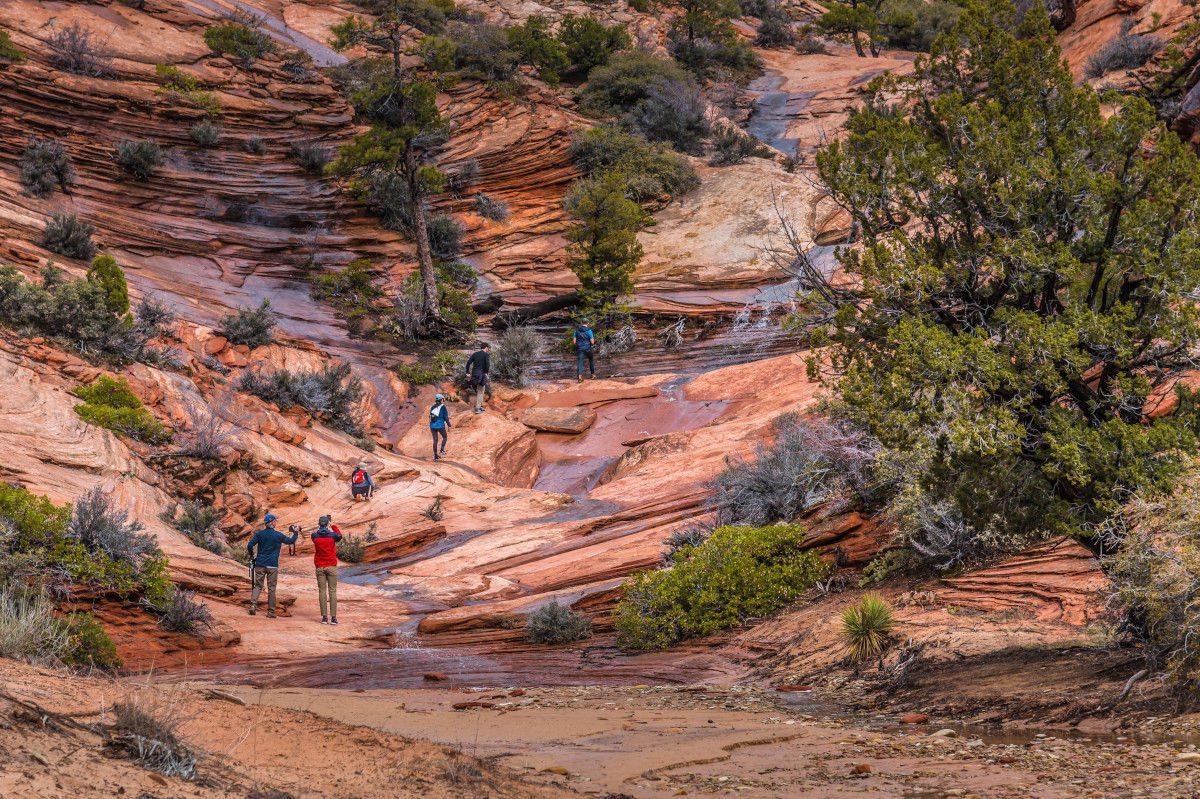 The trail entrance drops quickly to the wash below. It's not an obvious entrance and requires paying attention to where the trailhead begins. Once you're on the trail it's quite easy to follow, which basically follows the wash to the top of the canyon.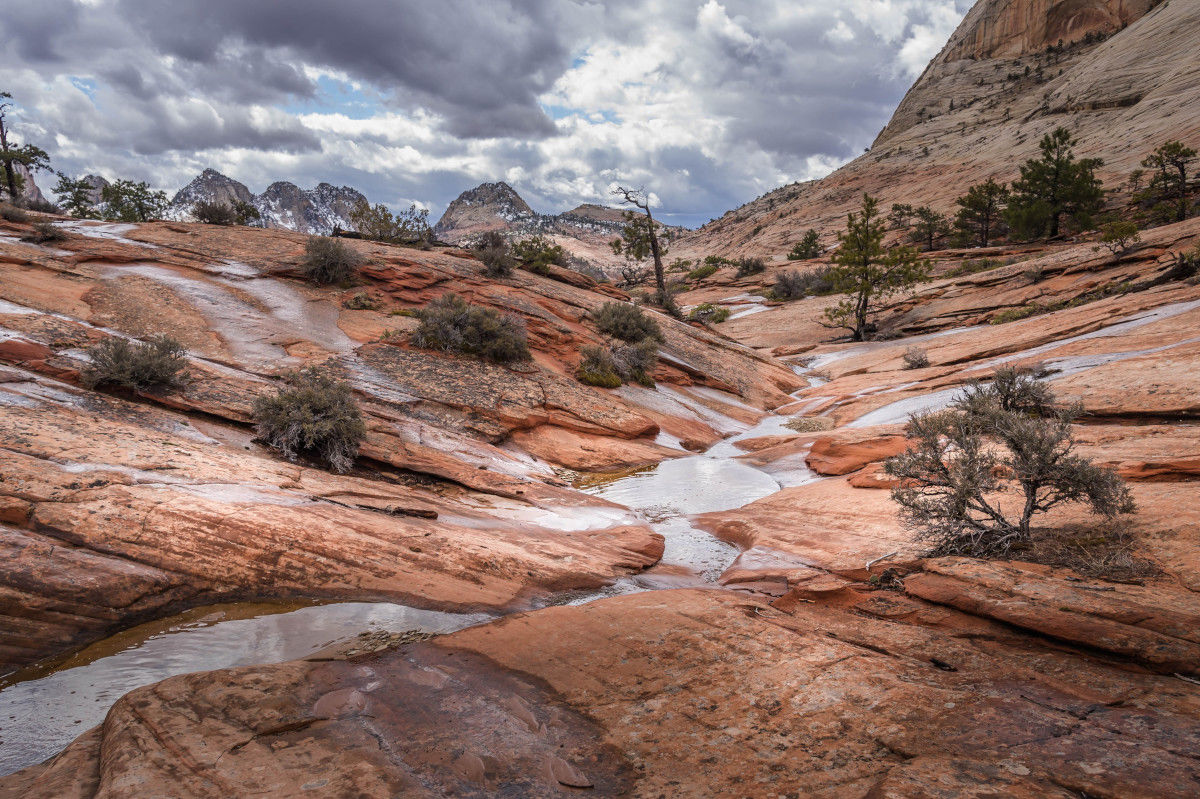 When it rains or when the snow melts in the spring, water runs through the wash where it has carved pockets in the sandstone that fill with water forming pools. These pools run nearly the entire length of the trail. There are several dryfalls that have routes around them that are usually to the left going up.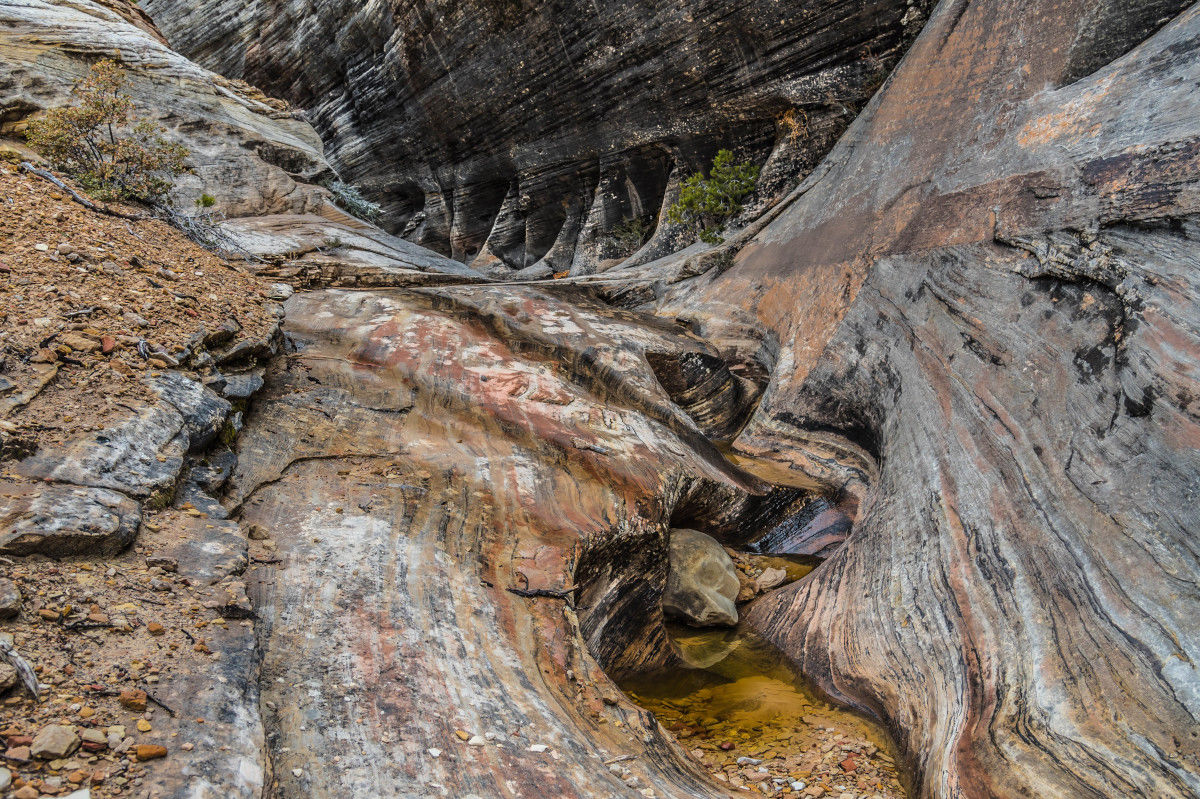 Total distance is approximately 2.3 miles out and back and the trail is considered moderate. It's a great option for families with children of all ages. Allow a couple of hours to enjoy this hike.