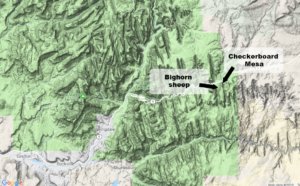 The desert bighorn sheep are in rut, which means there's some serious head butting going on in the park. I see bighorn quite often at Zion along the side of the road but I've never seen them in rut. After a quick phone call to my hiking buddy, we arranged a day to go see what we could find.
Zion National Park is a great place to watch wildlife. You can often see mule deer, desert bighorn sheep, wild turkeys, rock squirrels, turkey vultures and several other species of birds including the endangered California condor from the classic trails and roads in the main sections of the park. During the bighorn rut, if you're lucky, you'll see rams clashing heads and chasing ewes. This is when rams battle each other using their horns to clash their heads together. The dominant male wins mating access with the ewes in the herd. You might also see bighorns with collars and ewes with lambs. They cross the roads frequently, so keep an eye out for them as you're driving.
The best place to look for desert bighorn sheep in Zion is on the east side of the park. Take the Zion Mt Carmel Highway through the tunnel and watch for them along the side of the road. On this particular day we spotted a few ewes and lambs foraging on the side the of road and followed them east for more than a mile in to a ravine west of Checkerboard Mesa. This is where we found a small herd with several rams. We didn't luck out with head butting but we did see the chase and were able to observe them for quite some time.
Desert bighorn sheep mating season (rut) goes from July through October.
Click on images to enlarge them
The rams didn't pay any attention to us, they had only one thing in mind.