I'm an avid hiker and trail runner and often combine the two when out on the trail. Hiking is also part of what I do for a living as a guide, so needless to say, sturdy, comfortable boots are important.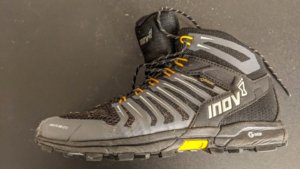 I learned about the boots I'm reviewing earlier this winter and, based on what I read, they seemed to have the qualities I've been looking for in a boot for both trail running and hiking. I've been looking for something lightweight, fits like a running shoe, with a sturdy durable sole, and waterproof.
So I put them to the test with the hope of finding a good "fit" for my tours this season. I've worn the boots on a variety of trails at some of my favorite hiking locales at Zion National Park, Hellhole Canyon, and Snow Canyon State Park near St. George Utah.
All of the hikes were in wet conditions either during or soon after rain or snow offering an ideal situation for putting the boots to task in very wet conditions. Trail surfaces ranged from jagged lava rock flows, slick rock, snow pack, mud, puddles and soggy sand. It's been a very wet winter here in southwest Utah!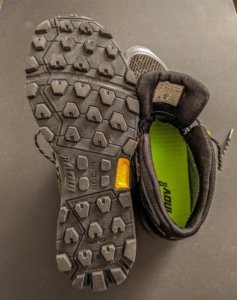 This is my first experience with Inov-8, which I learned is headquartered in the U.K. and known for running shoe innovation.
I'm not going to go in to the technical aspects of the shoes too  much and link the company's website here where you can get the details. I simply want to describe my experience with the boots.
The hiking trails and terrain on which I tested the boots varied greatly from scrambling in lava rock to wading through pools in canyon washes, to classic trails at Zion National Park in rain and snow. This is typical of the types of terrain I lead groups on with our tours. However the weather was probably wetter than we normally see  with the exception of the occasional Monsoon thunderstorm.
Roclite 345 boots  wear like a pair of running shoes that make them comfortable all day, which is very important to me since I basically live in them during the tour season. While supple like a running shoe they offer good support on uneven ankle turning trails. The boot cut design gives added support.  I really put them to the test in the lava flows and slick rock trails at Snow Canyon State Park and again at nearby Hellhole Canyon.
The outsole is made of graphene-enhanced G-GRIP that utilizes GORE-TEX product technology, which simply means they're tough, grip well and protect your feet from the elements. On one of our days at Zion it was raining steady and hard with flooding throughout the park.  We were there to photograph waterfalls. The only dry part of my body was my feet. Seriously! My buddy could ring his socks out from being socked.
On another day at Hellhole Canyon, the conditions were quite soggy with water, wet sand and mud in the washes from snow melt and recent snow and rain. We had no option in some areas but to step through the slop. While some sand and mud did stick to the tops and bottoms of the boots, water rolled off the tops like like a duck's back. By the time we reached the parking lot, all sand and mud on the bottom of my boots was gone. I simply brushed off any residual dirt on the tops with my hand.  My wife appreciated this benefit!
Bottom line, I love this boot! I recommend it to anyone looking for something lightweight, durable, waterproof, and comfortable that's a step up from trail running shoes. I will wear it rappelling first chance I get to see how it holds up in more severe conditions.