Hellhole is located in the canyons north of Kayenta Utah about 10 miles from St. George Utah. The sandstone canyons and cliffs are similar to those at Snow Canyon State Park, it's basically an extension of the park with Red Mountain separating the two.
Why Hellhole? The Canyon gets its name from the towering thousand foot fiery red sandstone cliffs.  The hike begins in a open wash at the bottom of Taviawk Drive and progressively narrows as you hike deeper amid the the cliffs where you find relief from the heat during the hotter months.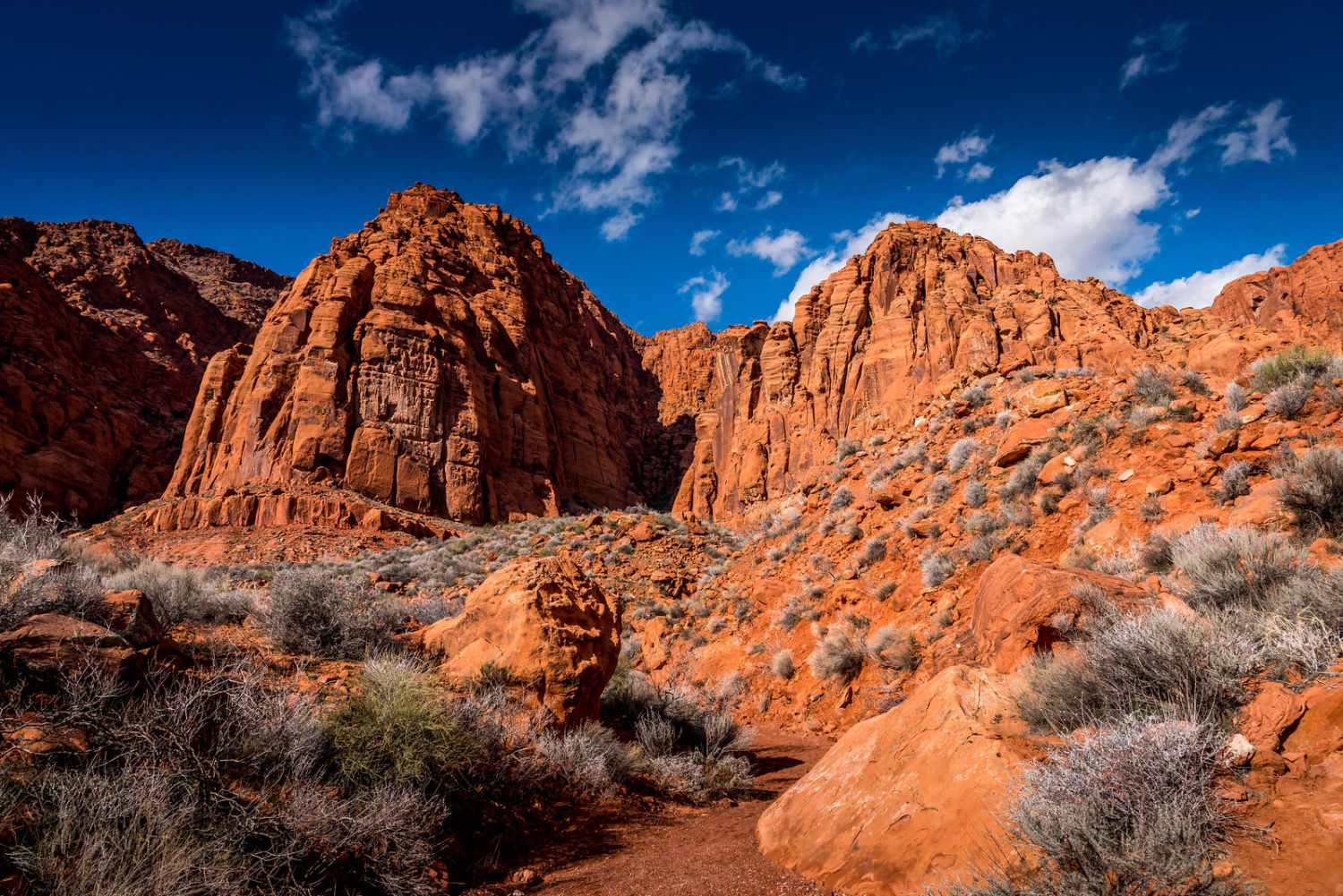 About three-quarters of the way up the wash there is a fork in the canyon. Last year about this time we took the right fork and scrambled high on the craggy outcroppings. This time we decided to go right and follow the wash farther up the canyon. There was water running throughout the wash with trickling waterfalls flowing from the cliffs above as it often does during times of heavy rain and melting snow.
We timed our hike perfectly hitting the golden hour before leaving the canyon and were treated with an evening of wonderful contrasting light with a blue and golden sky with shadows quickly moving through the canyon. Parking is available at the bottom of the Taviawk 3 Mile Wash on Taviawk Drive.
Details
Getting there Trailhead is located at a small turnout on Taviawk Drive in Ivins, UT
What to bring Daypack for water, snacks, sunscreen, and camera is sufficient. Wear comfortable, sturdy shoes.
Best time to go Fall through Spring, Summer temps can reach the triple digits
Difficulty: Moderate
Distance & elevation gain: 3.4 miles out and back, 265 ft elevation gain.
Trail type: Trails follows a sandy / rocky wash
Time required: 1.5 – 2  hours
Dogs: Allowed on leash
Fees: None
Seasonality: Year-round; Fall, Winter, and Spring are best times to visit.
Bathroom: No restrooms
Water: No water filling stations