Our Epic Day of Waterfall Chasing
The National Weather Service issued a flood warning for our area on this day in early March, which included Zion National Park that is minutes from where we live. Our plan that day was to hike outside the park but with the flood alerts we knew Zion had to be our destination to see waterfalls and river flooding. With many years of experience exploring Zion we've learned that long, hard steady rainfall will produce amazing waterfalls in Zion's washes, slot canyons and drainage outlets on the cliffs. It's a magical time to be in the park but flooding can also add another layer of danger. Be extra cautious around the river and definitely stay out of the slot canyons.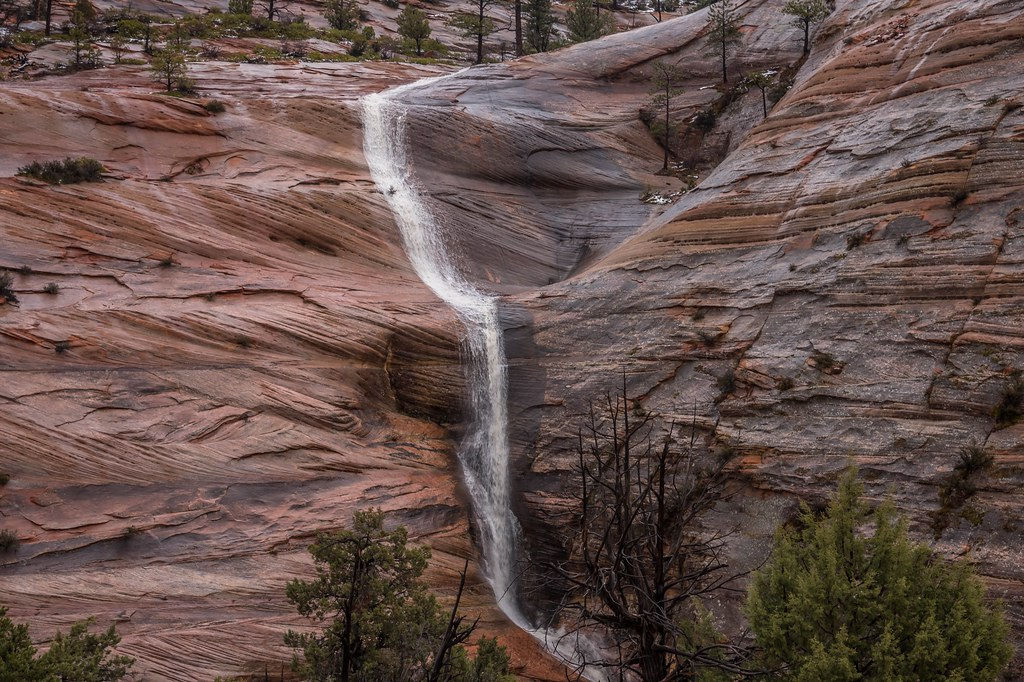 Winter vs Summer
Winter rain is much different than the Summer Monsoon thunderstorms that produce flash floods. Summer thunderstorms are often short lived, violent and produce sudden flash floods, then dissipate nearly as quickly as they come, winter rainfall is generally light to moderate and produce steady rainfall over a longer period of time. When rain becomes hard and steady that's when the waterfalls are at their best, which was the case this day.
We've been in the park during summer Monsoon floods many times and have witnessed significant flooding but the waterfalls today were the best we've seen. The amount of water pouring off the canyon walls resembled something you might see at Yosemite in Spring runoff. Numerous waterfalls were cascading off canyon cliffs throughout the park, with Echo Canyon at Weeping Rock and Telephone Canyon at the Temple of Sinawava producing some of the largest. The Zion Mt. Carmel Highway was closed due to rock falls and undercutting so our trip was restricted to Zion Canyon on this day, which is the best section anyway.
There are many places to view waterfalls when conditions are right, here are our recommendations of where to see some of the biggest and best. (click on the markers to see images)
More Zion National Park information.