Hanksville Utah
One Tank Trip of the Week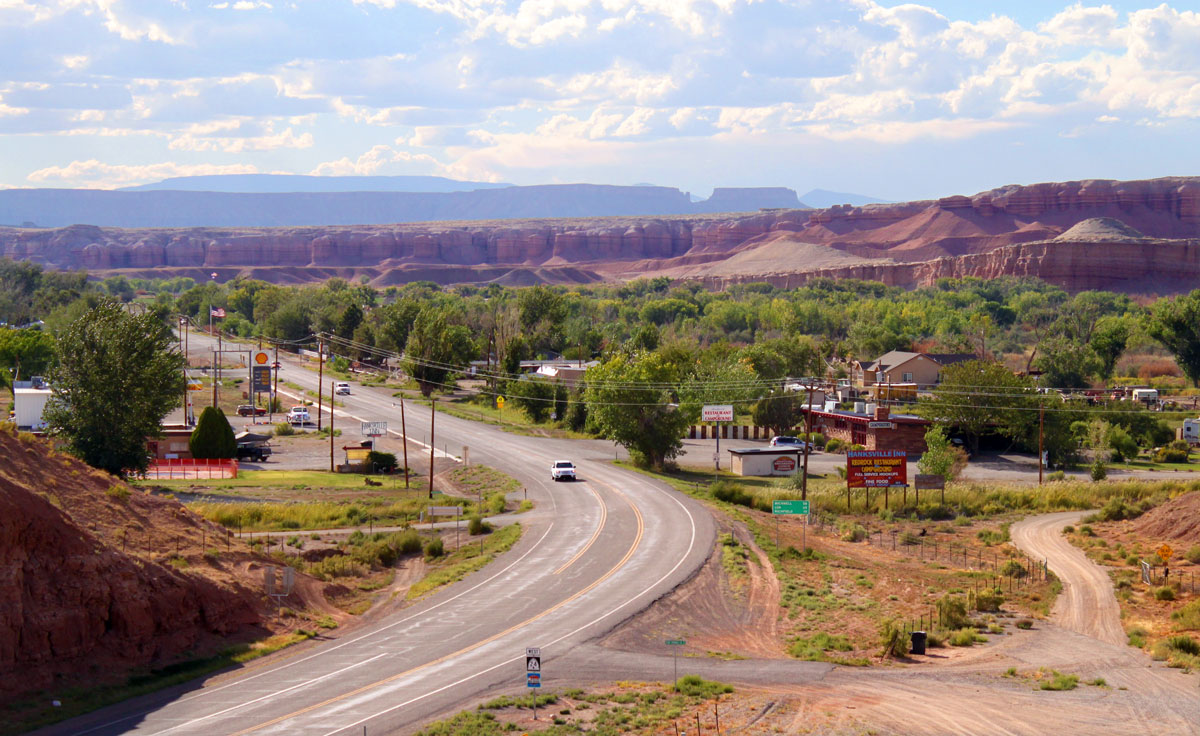 Scenic Crossroads
This week's One Tank Trip takes us to the small remote town of Hanksville Utah of 225 residents in south central Utah located at the junction of scenic routes 24 and 95. State Route 95, aka, Bicentennial Highway, is the main route to North Lake Powell, where Glen Canyon National Recreation Area, Hite Outpost, Ticaboo, and Bullfrog Marina are located. Twenty-eight miles to the east on SR-24 is Capitol Reef National Park. The drive between Hanksville and Capitol Reef takes you through some of the most unusual and interesting landscapes in Utah. Some say it resembles Mars! To the north is the San Rafael Swell, Goblin Valley State Park, and Little Wild Horse Canyon. To the east is Robbers Roost, Horseshoe Canyon, and the east rim of Canyonlands National Park. This is the short list, there are many more places to visit, many more!
Hanksville is in one of the most remote areas of the Grand Circle and Mighty 5, and in the continental U.S. It's no wonder Butch Cassidy and the Wild Bunch spent so much time in this region hiding from the law.
Base Camp
We think base camping is the best way to experience an area. This means choosing a central location where you can unpack and take day trips to surrounding recreation areas and scenic attractions. Hanksville is just such a place. You can do this from hotels, glamping, camping, or by RV. There are a number of places to stay in Hanksville from motels to campgrounds. Click here to see a list of area options.
Recommendations
If you're going to Hanksville there are a few businesses we highly recommend visiting. For rock collectors, visiting  the Rockin Riddle Rock Shop is a must stop. Here you'll find a large selection of the infamous Coprolite, petrified wood, dino fossils, handmade jewelry and other specialty items. A visit to Hanksville isn't complete without stopping at Hollow Mountain. This unique hollowed out rock is a convenience store and gift shop. The rock was once closer to the highway before a crew from a nearby uranium mine was hired to clear space away from the road and hollow out a cavity in the rock. This is the story we've been told. Do you get a hankerin' for a burger while on the road like we do? We know just the place in Hanksville, Stan's Burger Shak. Order the Duke Burger, it will satisfy the hardiest of appetites.
For more recommendations on places to play, stay and eat. Click on the button below.
LISTEN TO THE ONE TANK TRIP OF THE WEEK ON THE KSL OUTDOORS SHOW EVERY SATURDAY MORNING
CLICK ON A POINT OF INTEREST FOR DIRECTIONS
&

DETAILS.