In its earlier days this secluded valley was referred to as Mushroom Valley by Arthur Chaffin, who in the 1920's, with a couple of companions, discovered Goblin Valley while searching for an alternate route between Green River and Caineville.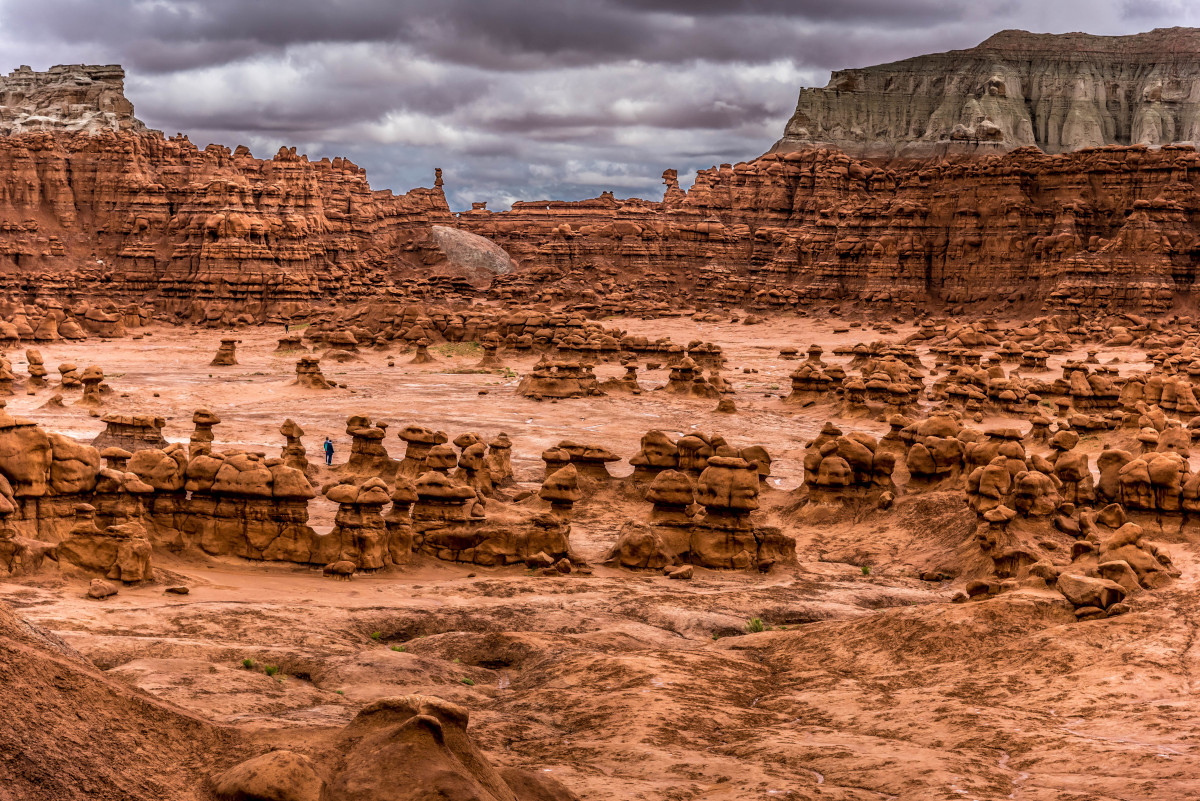 The landscape of this unique park is covered with sandstone "goblins" and formations that is frequently compared to Mars or some other extraterrestrial planet. In fact, in 1999, Goblin Valley with its alien-like landscape was featured in the movie Galaxy Quest with Tim Allen and Sigourney Weaver. The eroded sandstone dunes in the valley inspired the design of the fictional planet's rock monsters.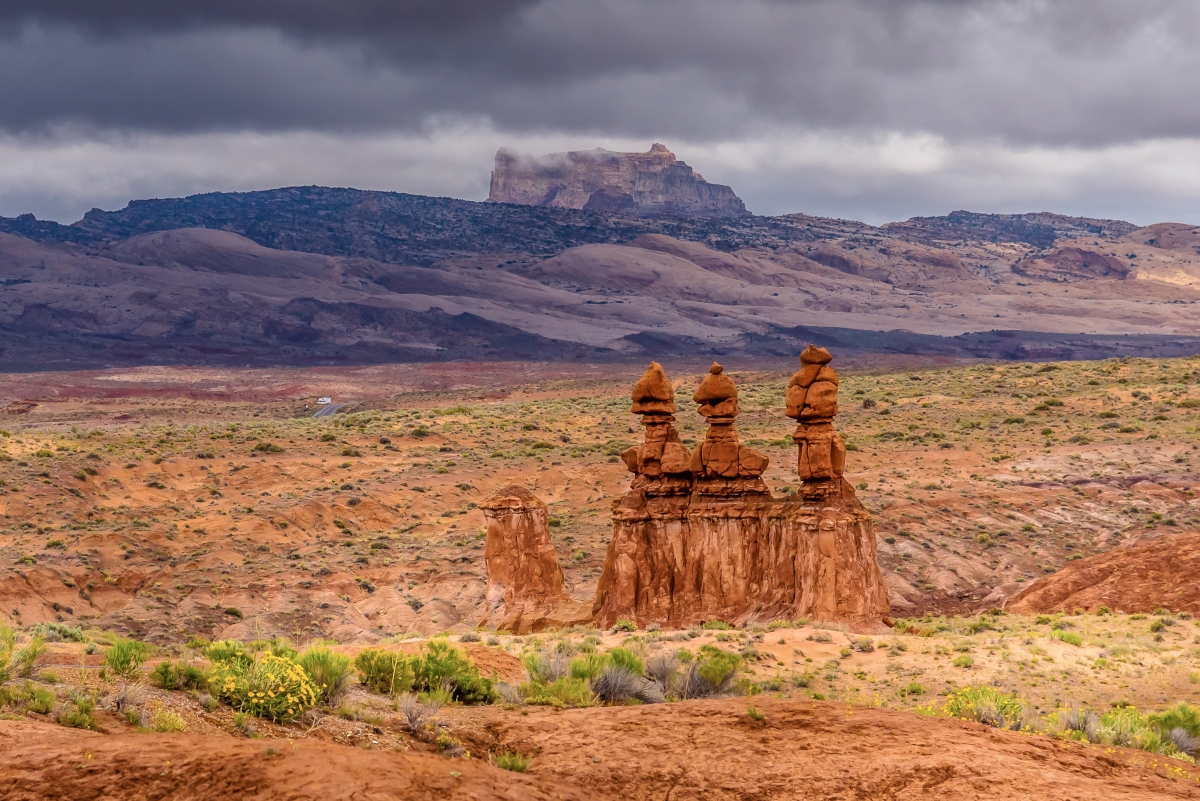 Goblin Valley is a favorite destination for families. It's a playground for kids of all ages! We used to take my kids here when they were small with each trip ending in a game of hide and seek. We still take our kids here but now these trips include grandkids! There are few places, if any, that are better for letting your imagination run wild than the Valley of Goblins. It's also a favorite stop with our tours. We add the park as an unexpected stop to surprise our groups, which is often reviewed as one the most popular stops of the tour.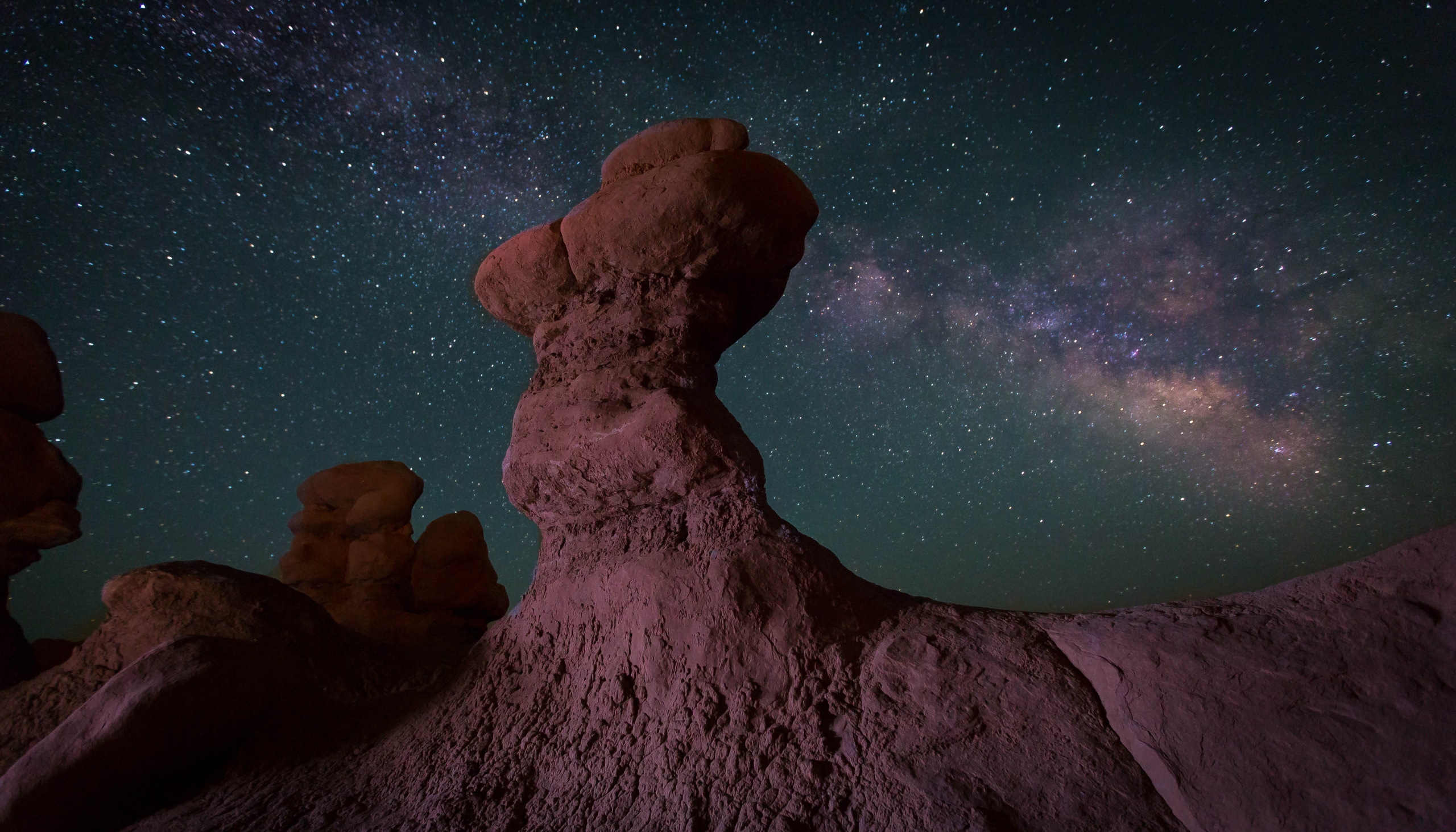 International Dark Sky 
Utah has more International Dark Sky Parks than anywhere else in the world, Goblin Valley being one of them. Considered one of the darkest skies on earth, campers will be delighted to see the Milky Way so clearly, they may feel as though they can reach out and touch it. Ranger-led events, including moonlit hikes and telescope tours, are conducted every month to aid in the enjoyment of this unique experience. For night sky photographers, this is nirvana. Check the weather, check the moon's position, check camping availability, then set the date! We have not yet shot night sky here, but it is on our list of things to do in the near future.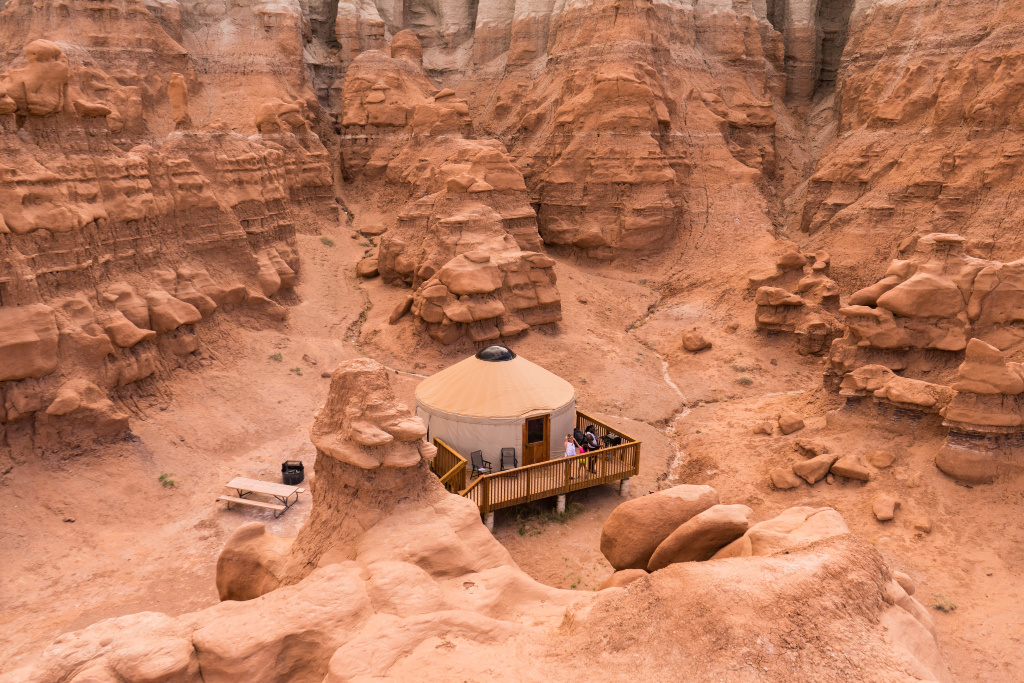 Adventure Suggestion: Hidden away on the park's eastern boundary, beyond the cliffs that form the far wall of the Valley of Goblins, is a massive, cavernous formation known as The Goblin's Lair, also known as the Chamber of the Basilisk. Not truly a cavern, the "lair" is actually a beautiful slot canyon, the entrance of which has been sealed by rock fall. We've hiked to the Lair several times since learning about it. It's definitely worth exploring, add another 2-3 hours to your visit if you decide to check it out.
The trail to the lair is 1.5 miles one way, some scrambling is required to access the entrance. The trail begins at the observation point and follows the Carmel Canyon loop before splitting off after 1/2 mile.
The park ranger offered to take us down the 90 ft.  rappel into Goblin's Lair. Until he mentioned it to us, we had no idea it even existed, and this is after more than 25 years of visiting the park. Finding the entrance to the rappel is not easy, most would most likely walk right past it. Guided rappelling into the Lair is offered by Get In The Wild Adventures located in Hanksville.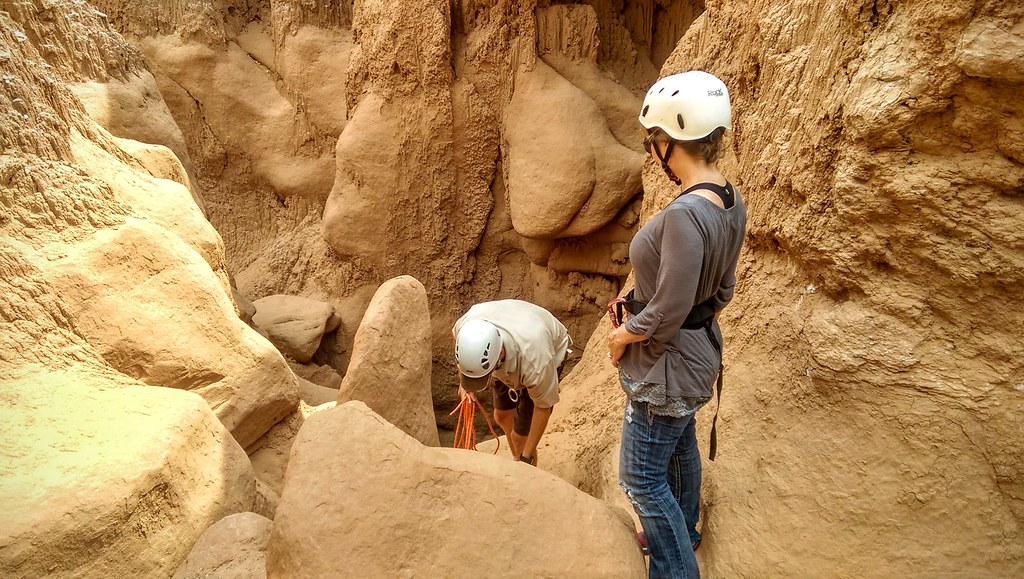 How to get there: Located 12 miles off UT SR 24, Goblin Valley is 33 miles north of Hanksville and 36 miles south of Intersate-70 via Utah SR-24. (See map below)
Nearby Places to Visit: The 8.5-mile Little Wild Horse Canyon and Bell Canyon Loop is 13 miles from Goblin Valley. This is an excellent family friendly slot canyon. Take the full loop or simply hike one canyon or the other. We generally combine Goblin Valley with a hike through these exciting slot canyons on family tours we guide.
Where to Stay: The park offers a campground with 25 sites and two yurts. The campsites are divided into ten walk-in tent pads, fourteen RV spaces, and one group site able to accommodate up to 40 people. The nearby town of Hanksville offers a variety of lodging, camping, RV sites and places to eat.