Capitol Reef Country
One Tank Trip of the Week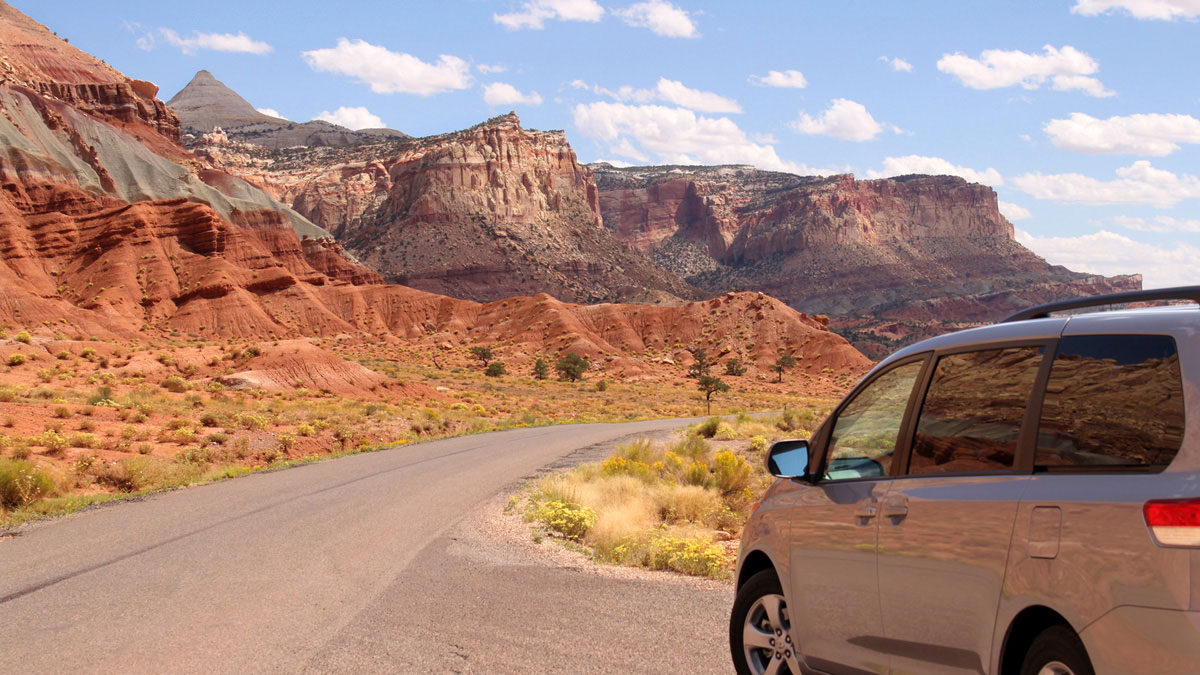 West of the Reef
This week we're heading back to Capitol Reef National Park to showcase the communities and points of interest along SR 24 from the westside of the park to Loa Utah. In a previous story we highlighted the attractions on the eastside to Hanksville, and beyond, called East of the Reef. The two sides are like night from day, very different in nearly every way. The eastside is barren, dominated by Mancos Shale mesas and buttes with fossil rich Chinle Formation painted hills. The westside is mountainous plateaus, crimson red cliffs, sprawling ranches and small communities.
Off the Pavement
There are only two paved roads in the park, highway 24 and the scenic drive that leads to Capitol Gorge. Most of the park is primitive back country that's only accessible by dirt roads with many that are 4×4 only. If you're looking for isolation and crowd free places, this is the place! Cathedral Valley and the Waterpocket Fold are the two places you'll want to explore if this is what you're looking for.
Waterpocket Fold
One of the geological characteristics that differentiates Capitol Reef National Park from other Utah parks is a geologic feature called the Waterpocket Fold, a long wrinkle in the earth with layers of golden sandstone, canyons, uplift, and striking rock formations. Located mainly on the backside of the park where few people go wandering.
Popular Sights
Among the park's most popular sights that are easiest to access are Chimney Rock, Hickman Bridge aGoosenecks, Grand Wash, Capitol Gorge, and the Fruita Historic District. As mentioned above, there are only two paved roads in the park, SR 24 and the 8-mile Scenic Drive from the Fruita Historic District to Capitol Gorge. Along the scenic drive is the trailhead parking for Grand Wash and at the end of the road is Capitol Gorge. If weather conditions are favorable, take the short drive past the gate on a dirt road that's suitable for passenger cars to the trailheads for Pioneer Register, Golden Throne, and Two Tanks. If rain is in the forecast I would double check with the visitors center before proceeding, you DO NOT want to get caught in flood conditions in this section. The gate will generally be closed if this is the case.
Recommendation: Stop at the historic Gifford House in Fruita for a homemade pie, bread, jams, and crafts. There are picnic tables nearby in a grassy area lined with tall trees that makes a great spot for lunch or simply to enjoy a bit of pie and ice cream.
Diverse Landscape
This area of southern Utah has a diversity of landscape like no other area in the state – red rock formations and canyons, pristine meadows, alpine forests, as well as lush green valleys. That landscape makes Capitol Reef Country perfect for outdoor activities such as hiking, biking, horseback riding, ATV tours, hunting, fishing, wildlife viewing, or just a quiet picnic.
Fremont River
A river runs through it, that's exactly what the Fremont River does. The river meanders from a high plateau through lush high desert valleys and red rock bluffs beginning at Johnson Valley Reservoir near Fish Lake in the upper section. It continues southeast through Loa in the middle section then on Bicknell to Torrey in the lower section before reaching Capitol Reef National Park, and eventually joining Muddy Creek near Hanksville where the two form the Dirty Devil River. The Fremont River has a reputation as a trophy fly fishing stream where anglers can test their skill at catching browns, rainbows and occasional tiger or cutthroat. You can take the guess work out of where the lunkers are by contacting Fremont Fishing Guides at www.flyfishingsouthernutah.com
Boulder Mountain
Located west of Capitol Reef is Boulder Mountain on the Aquarius Plateau, North America's highest forested plateau that lies atop the Colorado Plateau. At 313 feet, Bluebird Knoll or Boulder Top as the locals call it, is the highest point of Boulder Mountain with Blind Lake the largest of its 60 plus lakes and ponds stocked with fish.
Some of the best views of Capitol Reef National Park and surrounding landscape can be seen from viewpoints along the drive over Boulder Mountain. On the south side of the mountain past Scenic Byway 12's highest point at 9,600 feet is the Homestead Overlook that offers amazing views of the Waterpocket Fold, Circle Cliffs, Box Death Hollow wilderness area, Grand Staircase Escalante National Monument, Henry Mountains, Navajo Mountain at Lake Powell and much more.
In addition to fishing, Boulder Mountain is a popular recreation area for hunting, off-roading, horseback riding, and hiking and rocking climbing along the Great Western Trail.
Tip: Be on the watch for cattle and deer, both are in abundance near the highway Spring through Fall.
Torrey, Basecamp to Capitol Reef Country
On the north bank of the Fremont River five miles from Capitol Reef's western boundary is the town of Torrey Utah. This is our primary basecamp when visiting Capitol Reef Country. Torrey is a beautiful tree lined community of around 200 residents located at the junction of two scenic byways,  State Route 24 and State Route 12, which is Utah's only All American Road. There are only 31 such roads in the United States. I guess it's safe to say that all routes to Torrey are scenic! This is the ideal overnight location for tourists on national park tours, and base camp for exploring Capitol Reef, Boulder Mountain and other nearby recreation areas. For this reason there are more services available here that cater to visitor needs than other area communities.
Heading West
Farther down SR 24 heading west from Torrey about eight miles is Bicknell Utah. Along the way you may see a bison herd roaming in open meadows near the highway. This is a private herd owned by the The Lodge at Red River Ranch that's nestled in a grove of trees near red cliffs and nearby Fremont River. Just past Red Lodge is the 120 year old Nielsen Grist Mill. One of 20 mills in the state, however; the Nielson Mill is the only one to retain its original water-powered equipment. Photographers may want to stop here, the surrounding landscape is pretty spectacular.
Pickle Pie!

Bicknell is where you will find the world famous Pickle Pie at the Sunglow Cafe. It tastes better than it sounds, honest! But wait, there's more! In addition to pickle pie, the Sunglow also offers oatmeal pie, buttermilk pie, and Bob's personal favorite, Pinto Bean pie. No need to choose just one, order the sampler plate. They also offer traditional pies of all sorts.
Continuing on down the road you'll go through the little town of Lyman before reaching Loa. This is the "gateway" to Fish lake National Forest, Fish Lake and the route to Richfield Utah. This is also where Pando the world's largest living organism, aka, The Trembling Giant, is located. Can you guess what it is? Most people are surprised when they hear that it's an Aspen tree, which incidentally is the official Utah state tree. Aspen trees grow in clusters off the same root. Where you see one, you'll see many in various stages of growth. I guess that's not so unusual, but a fun fact.
Recommendations
Need a great recommendation on where to hunker down for the night and where to get a juicy steak? Broken Spur Inn and Steakhouse Located at the top of the hill near the junction of highways 12 and 24. Offerings include comfortable rooms, restaurant, indoor pool, with views that never end! Brokenspurinn.com If hoofing it for miles and miles is not your thing for seeing the sights of Capitol Reef country, we have a solution. Take a UTV tour with Fremont Fishing Guides. Don't let the name deceive you, is addition to the best fishing guides on the Fremont, they also offer guided ATV, UTV and Jeep adventures. Flyfishingsouthernutah.com
Click on the buttons below for more information about Capitol Reef National Park and Capitol Reef Country.