Zion Narrows
Our Zion adventure with the Tim Hughes' Family by Bob Grove
Back Story to Our Day in The Narrows
About a year ago Mark and I became weekly contributors to the KSL Outdoors Radio show in Salt Lake City. I knew the show's host, Tim Hughes, from meeting 20 years ago while involved with the KSL Travel Show. Through the years I've been invited as a guest on the Outdoors Show to talk about places to go in the region that included periodic road trips with Tim to broadcast the show remotely.
Last year when the pandemic knocked the wind out of the tourism industry in the early months, Mark and I felt a need to help businesses and counties in Utah. A promising season of business quickly vanished, which was particularly devastating on small businesses in rural counties.  International visitors were gone, no buses, and domestic inbound travel came to a near halt. Mark and I have been helping tourism businesses as marketing consultants for many years so we came up with a plan for ways we could help.
What seemed like the most logical way to talk about travel now would be to promote open space to local travelers where they could naturally social distance in the outdoors where an ample supply of vitamin D is readily available. The plan included reaching out to regional radio and TV shows to talk about places to go on road trips close to home with recommendations from Road Trippin' with Bob and Mark. KSL was our first call with Tim quickly stepping to the plate.

Zion Narrows
So how does this all tie in with the Narrows? Last year Mark and I talked about hiking the Narrows on the show. Off air, Tim mentioned that he had never been to the Narrows and made a  promise years ago to his son of taking him there. Mark and I knew that this is something we could arrange and extended an offer of guiding the adventure. All that was needed was a date and a plan for a group of busy people. The wheels were set in motion.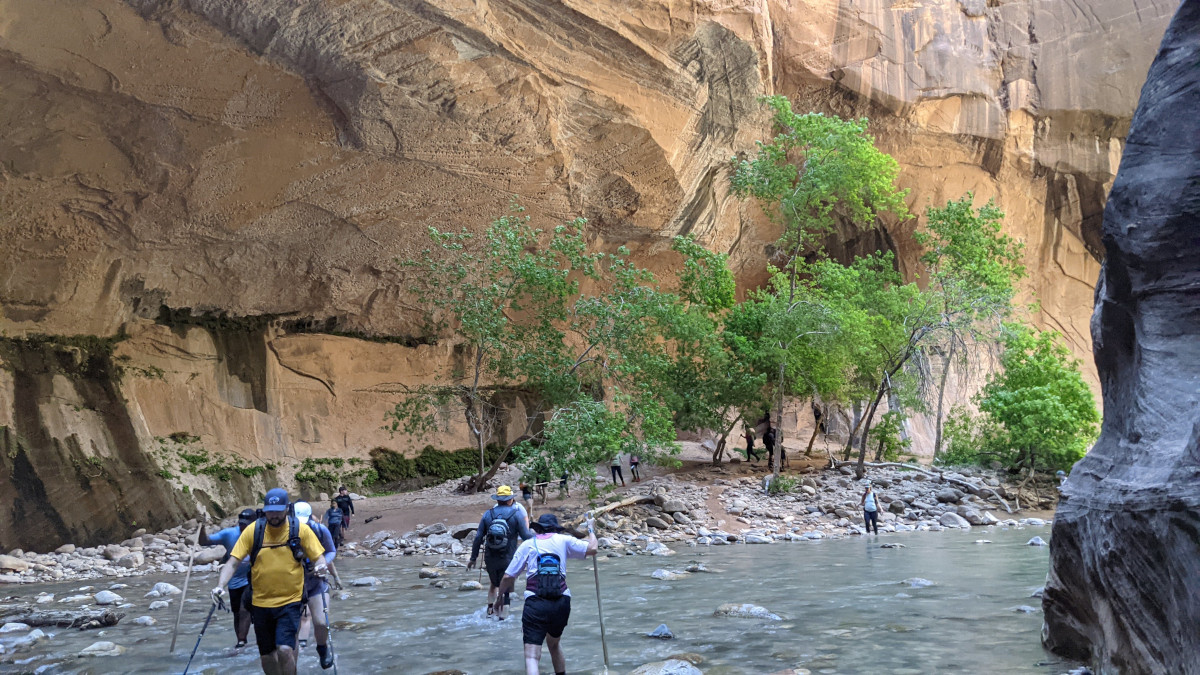 How it Came Together
Earlier this year Ryan Grassley and Sam Durst of Extreme Motus were guests on KSL Outdoors. Tim learned of their story from Mary Richards who first featured the two on KSL's Heart of Utah. Sam was born with Cerebral Palsy. With the support of family and his long-time friend, Ryan, the two have been using the capabilities of the Extreme Motus wheelchair to open a world of adventure to Sam.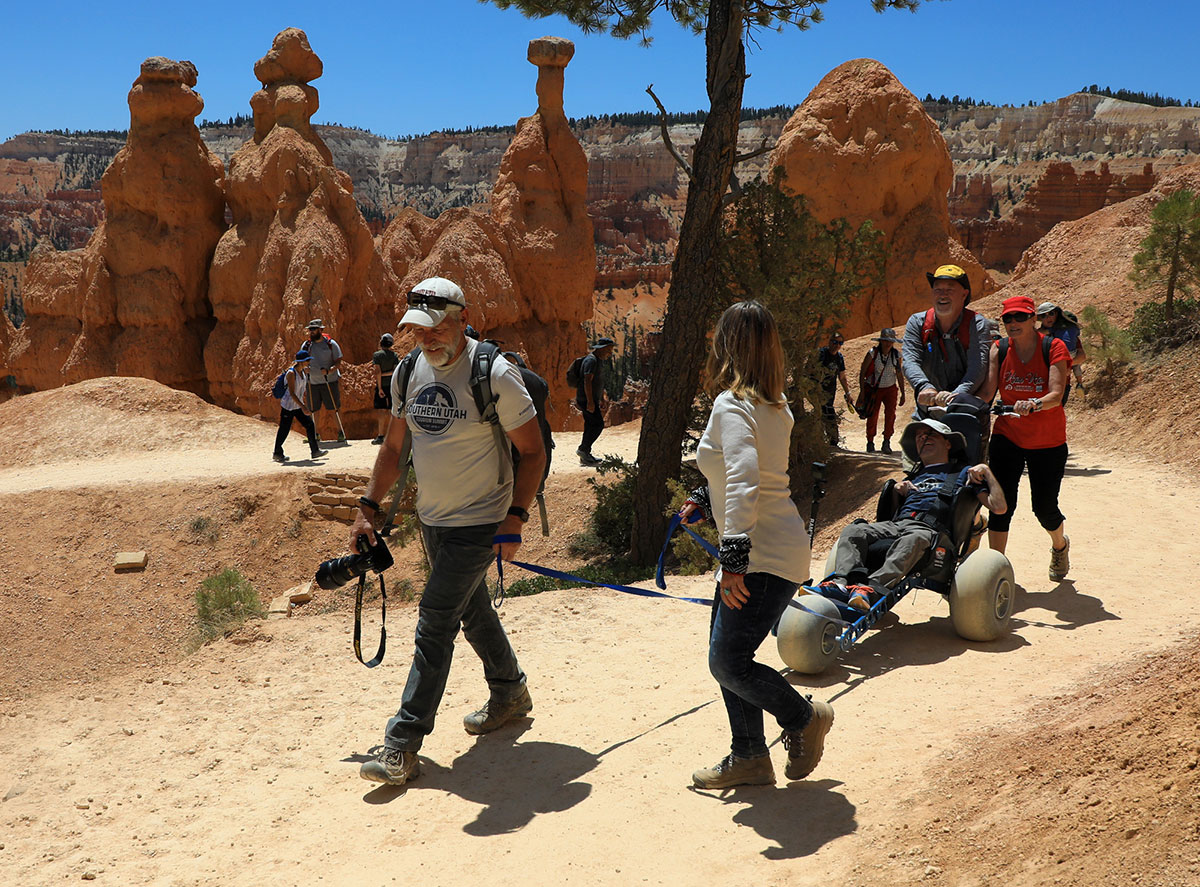 After the interview, Tim asked Ryan and Sam what their hopes and plans were for future adventures? They shared that the national parks of Utah were high on the list. With our connections in tourism we knew we could help make this happen. We offered to set up a trip to
Bryce Canyon
with the help and support of Lance Syrett, general manager at
Ruby's Inn.
A date was set and arrangements made. This became the opportunity needed to get everyone together in southwest Utah when a trip to the Narrows could be arranged. The stage was set!
Click here to read about our day at Bryce with Sam and Ryan.
The Big Day
After our adventure at Bryce Canyon with Ryan and Sam, our sights were now set for conquering the Narrows with Tim, his wife Becki, son Casey, and our wives.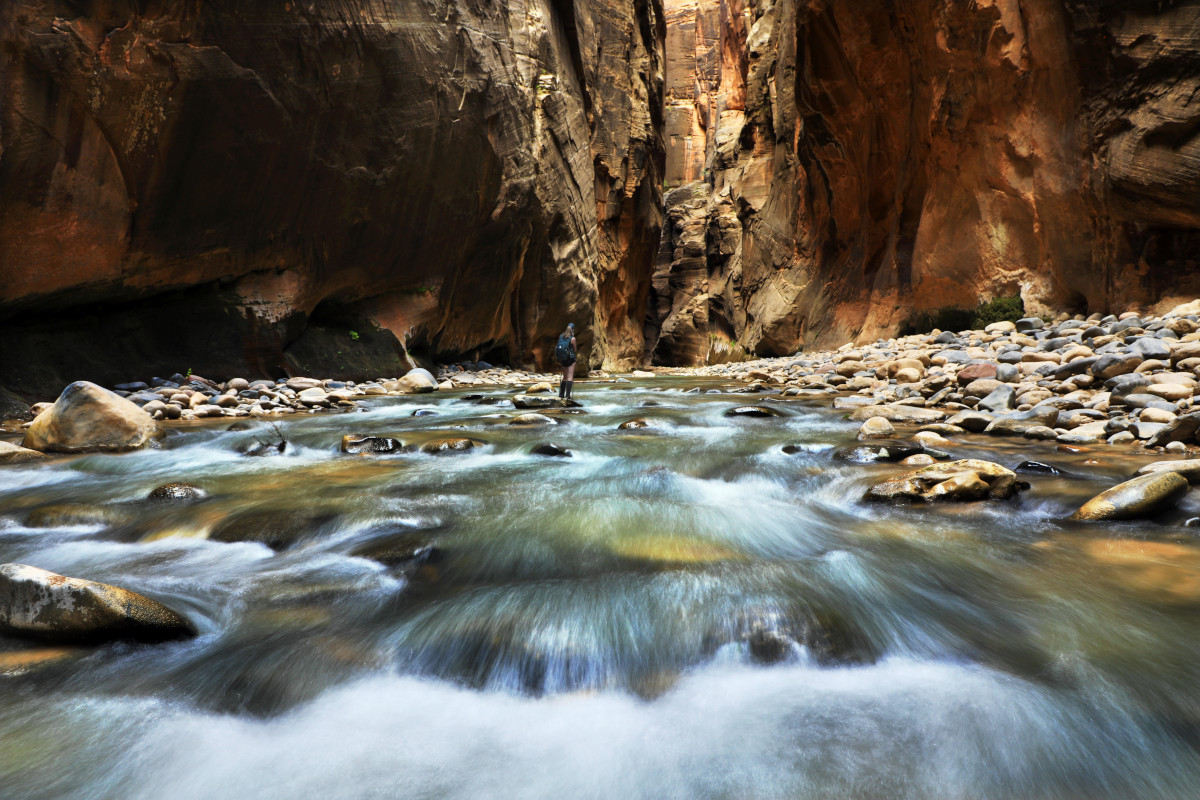 Private Shuttle Option
At the time of our hike the Zion Canyon shuttle required advance reservations, which has since been discontinued. Rather than deal with the hassle of booking reservations, which is was, we opted to take a private shuttle to Temple of Sinawava where the Narrows hike begins.
There are several outfitters in Springdale that offer private shuttle service, we decided to go with Zion Rock and Mountain Guides, where we could also rent boots and walking sticks.
We highly recommend renting the boots, neoprene socks and wooden poles. They will make negotiating the uneven and slippery river rocks much easier.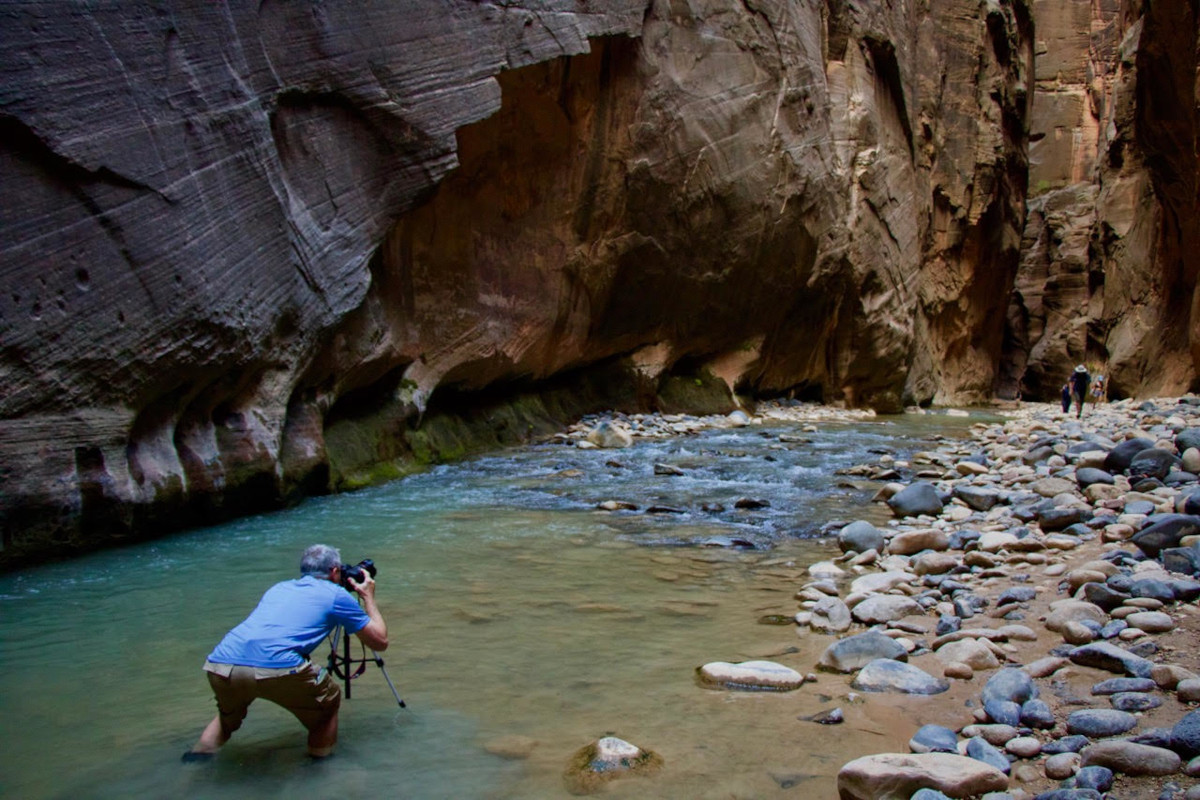 The Narrows Experience
The day was typical in the Narrows, busy and crowded. This is the most popular hike in America's third busiest national park. Large crowds of people are consistently found coming and going through the first two miles of the hike, three including the first mile on the Riverside Walk that begins at the Temple of Sinawava shuttle stop. Once you reach Orderville Canyon the crowd thins out considerably, and by Wall Street the canyon becomes a sanctuary.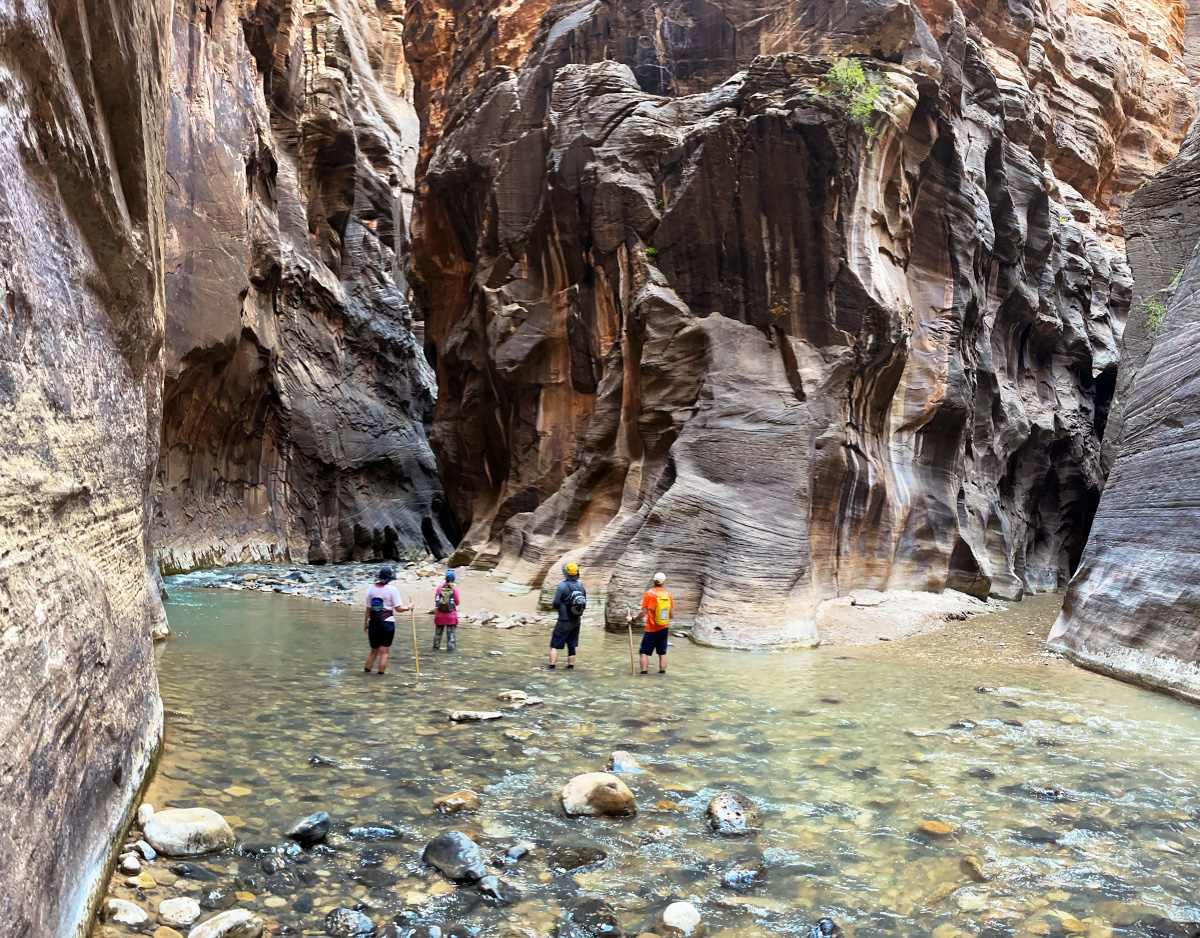 Even with the crowds, hiking the Narrows is a magical experience. Every turn presents a new vista with changing light and patterns. About a quarter mile before Orderville Canyon is where things really tighten up, this is the narrowest section where light becomes more scarce and the canyon takes on a more mystical feel. For the next half to three quarters of a mile hiking in the river becomes your only option; just river, you and 1,500 – 2,000 ft. sheer cliffs towering overhead. Wall Street is the destination we want to reach each time we hike the canyon. When time allows we continue farther up canyon where it widens and opens to yet another world of light and scenery.
Mission Accomplished
With perma-smiles locked on their faces from the day's jaw dropping scenery and adventure, we knew this mission was accomplished. Tim and his family's experience turned out to be greater than hoped for. It fulfilled a promise to a son and topped off an amazing weekend at Utah's two most popular parks.
Click here to read an earlier experience in the Narrows with additional details and information about hiking the Narrows.
Lodging Recommendation
If you're looking for a central place to stay when visiting the Greater Zion area we recommend The Dwellings in La Verkin Utah. Or, as I like to call it, L.A. Verkin located in Hurricane Valley. The Dwellings are newer tiny house style accommodations with modern amenities that offer a million dollar view.
Although Mark and I live in the area we stayed here while Tim and his family were still in town and chose this as our base camp. It's located next to the historic La Verkin-Hurricane Bridge and overlooks the Virgin River and Confluence Park below. Next to the The Dwellings just a short walk across the parking lot is one of the valley's most popular restaurants, The River Rock Roasting Company where we had dinner.
Located half-way between St. George and Zion National Park on Highway 9.
Last Thoughts
The Narrows is the most popular trail at Zion National Park, and therefore, very crowded. But you know, I don't let that get to me anymore. It used to bother me, I worried it would ruin my guests experience. It doesn't! Mark and I have been hiking the Narrows for many years, long before it became so busy. It's difficult for us to not think of the Narrows the way we used to experience it.
For the most part, visitors experiencing The Narrows for the first time hardly notice the crowds, or at least they don't seem so bothered by them. The canyon is magical, the scenery overshadows the crowd. Each turn in the canyon unveils a new and different look. As you go farther up the canyon your senses transport you to a different time and place. You disconnect from the world you left and find an indescribable beauty that surpasses anything you've seen in brochures and websites. Crowds? Where did they go? Get lost in the moment, let the magic of Zion take over.
How blessed we are to have this amazing park and sanctuaries like Zion Narrows. Please treat them with the reverence and respect they deserve, and to preserve them for future generations to enjoy.
LISTEN TO THE ONE TANK TRIP OF THE WEEK ON THE KSL OUTDOORS SHOW EVERY SATURDAY MORNING
Our experience in the Narrows
Our stay at The Dwellings in La Verkin UT aka L.A. Verkin