​Famous radio personality of the last millennium, Paul Harvey, once visited some of southwestern Utah's great natural attractions and he subsequently expressed his views on his experience.  While this is not a direct quote, he basically summed his feelings up with these words, "Yes, the land was majestic, but aren't the people great!"  He lavishly praised, on nationally syndicated radio, the warmth, the kindness, the patience, and the sincerity of the people he encountered on his Utah visit.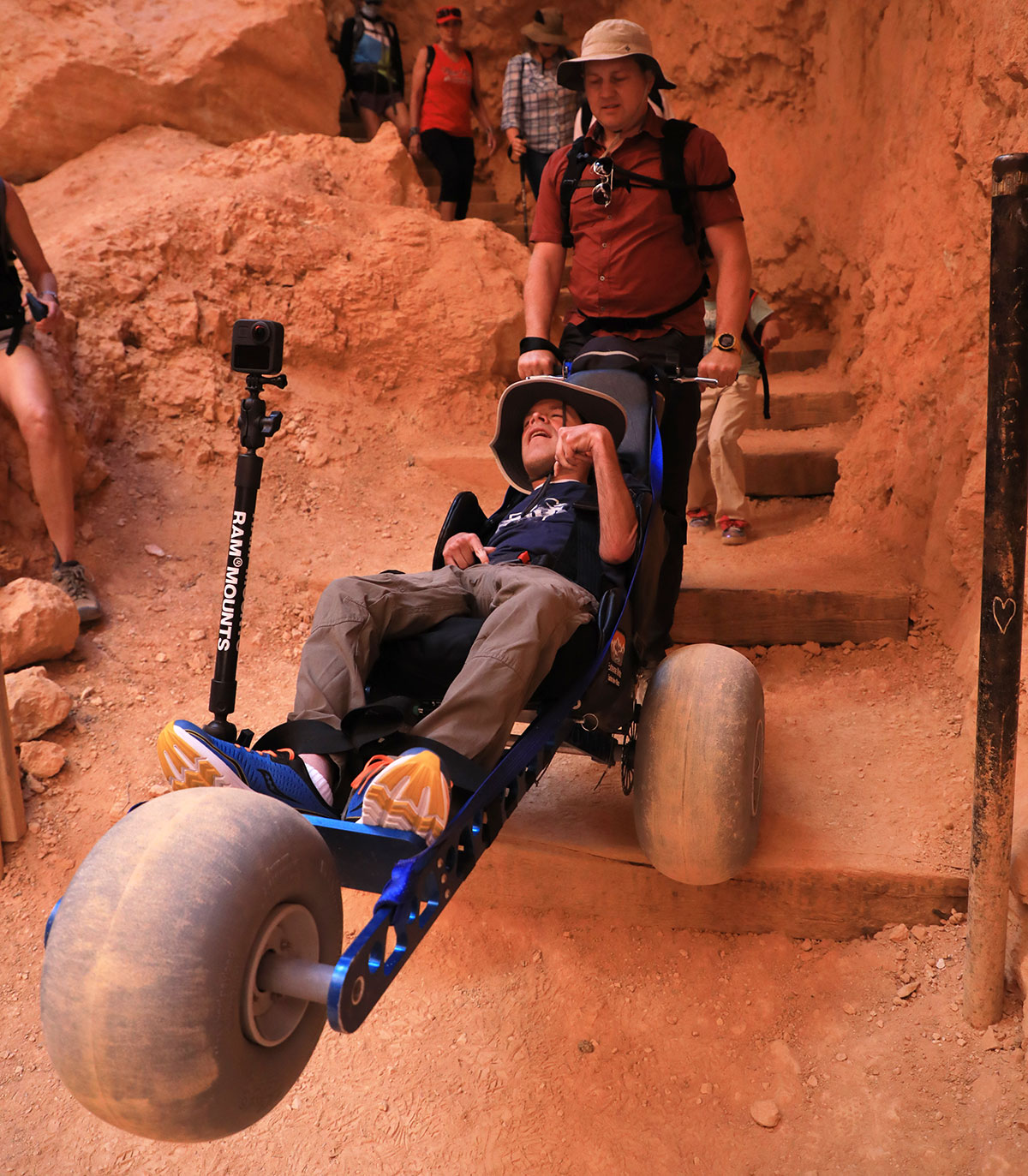 Circumventing Physical Challenges
May 14, 2021 – By Mark Wade
People from around the world stood graciously to the side of the trail, in what is called Wall Street, within the main amphitheater of Bryce Canyon National Park as Sam Durst passed in his balloon tired three wheeled vehicle of awesomeness.  Onlookers beamed with happiness and grins of satisfaction as they realized what was happening. Sam, challenged by Cerebral Palsy since birth, was laughing with delight as his trusted pilot Ryan guided his wheelchair through towering rusted limestone hoodoos.  Some observers wiped moisture from their eyes as they realized what was transpiring, and others tossed out questions, "Where did this vehicle come from?", "Is it heavy?", "Who makes it?", "Where are you from?"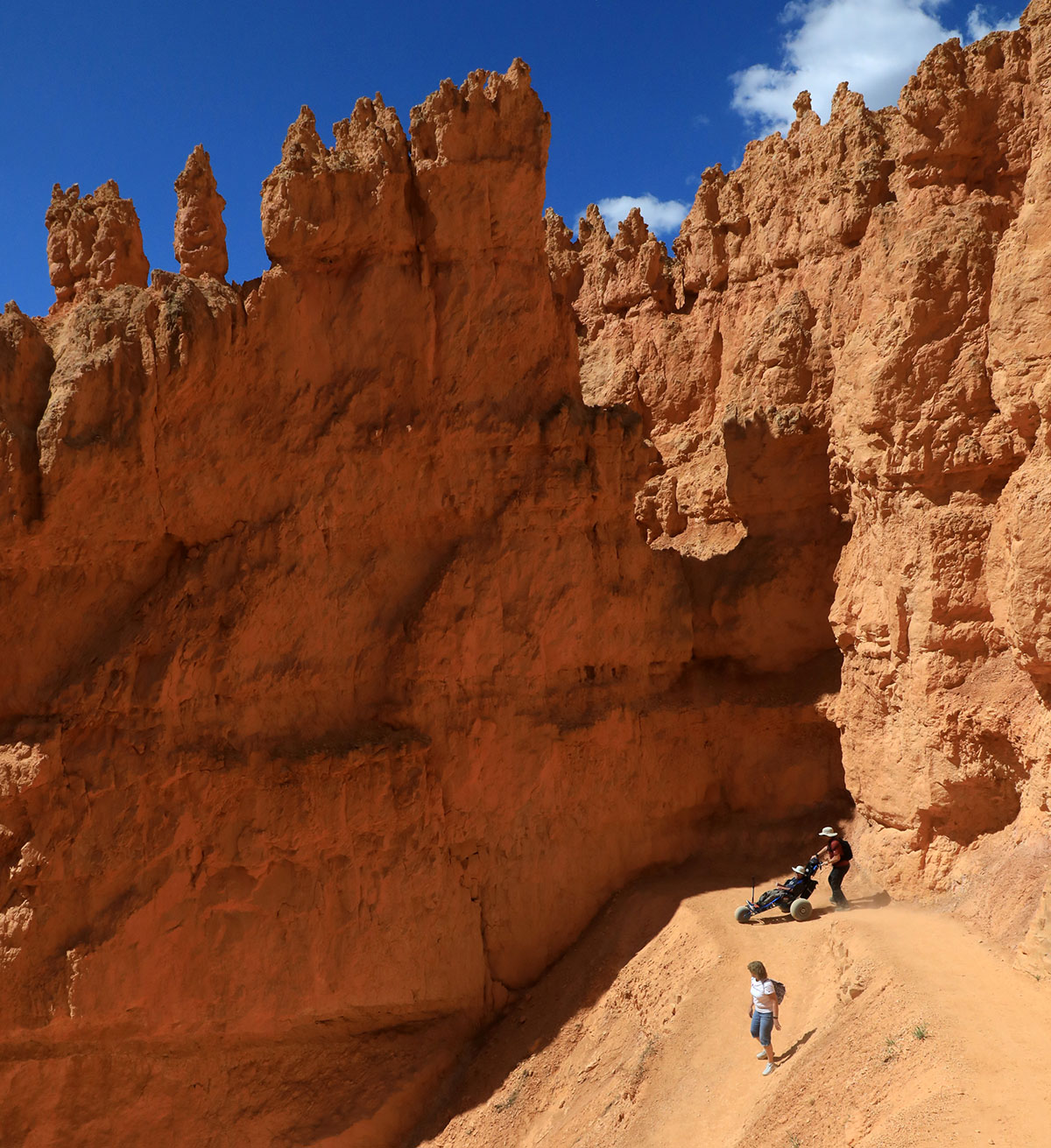 What these people were observing was a new type of wheelchair that opens the door to the exploration of trails in the outdoors.  "It's amazing to see how it changes, not only the wheelchair users life, but everyone in their family, and everyone in their circle of friends, says Ryan Grassley, director of marketing for the company that makes the Emma X3 all terrain wheelchair. "Thy now have access to places where they couldn't go before.  If you have a wheelchair user in your family and you're trying to plan a vacation, you might never consider coming to Bryce Canyon because. It's a long way to drive just to come look at it from the rim, and then turn around and leave.  But if you have a wheelchair like this, then the park becomes much more accessible."
This vehicle, which is built by a small company called Extreme Motus. is the creation of Dale Pitts and Todd Loader.  The impetus for this device came from a challenge to create a chair to take a paralyzed girl, named Emma, to the top of one the highest mountains in Utah's Wasatch Range, Mount Timpanogos.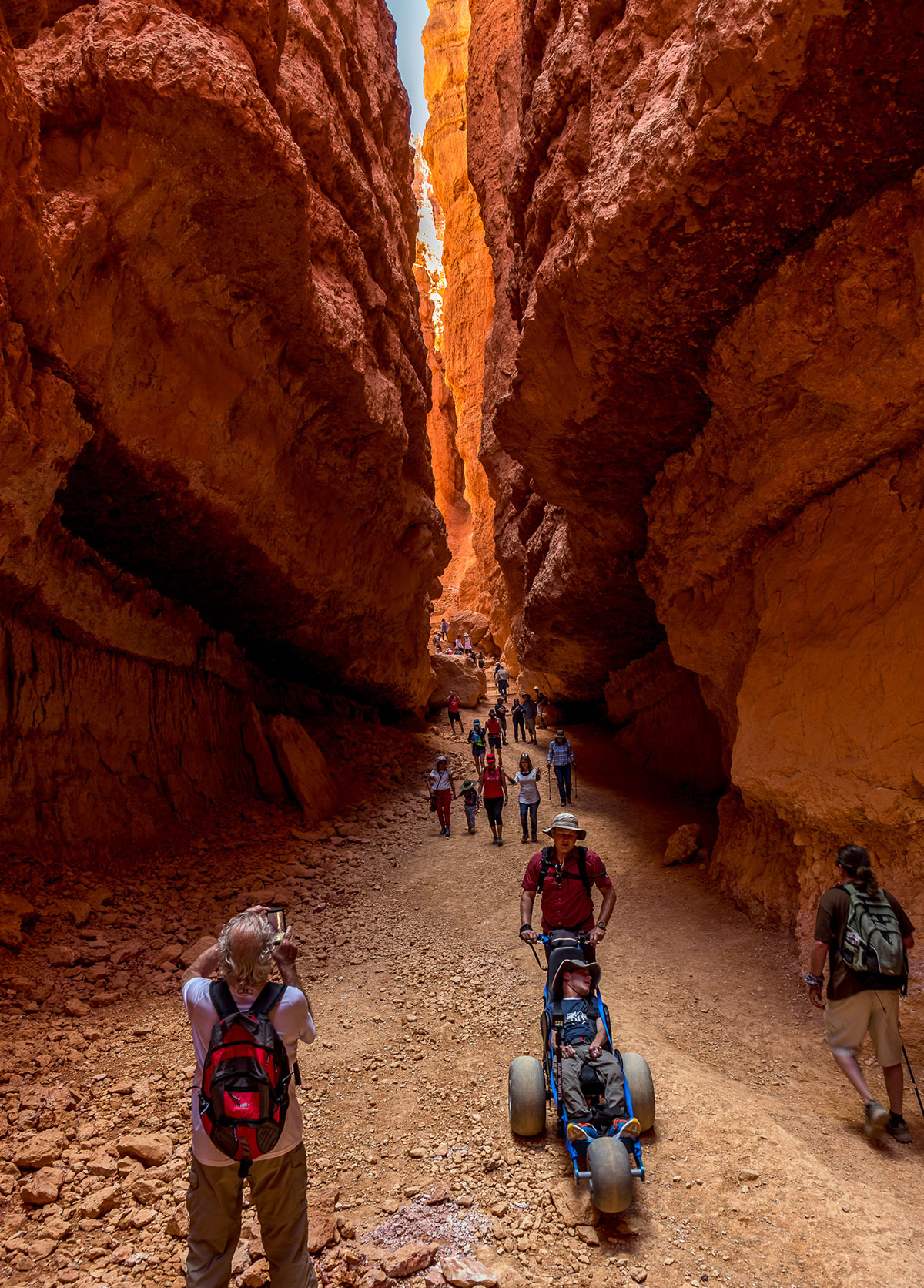 Sam and Ryan now know how amazing it is to see people they've never met who want to be involved.  They often have complete strangers jump in and lend a hand to push uphill or get around a challenging part in a trail.  Grassley says they've had people walk past them and then turn around and say "Hey do you all need some help?" and then just stick around and give a hand along the rest of the trail."
Solving The Rare Obstacle
At one point the trail became too narrow for the wheels to pass through a gap between the vibrant orange hoodoo formations.  We had to back the wheelchair out of the impasse and find an alternate route. There was no easy way around it, and thoughts of having to return the way we had come came quickly to our minds.  An adjacent wash offered a possible avenue around the narrow passage, but the access was steep and we would need some strong bodies to assist Sam and his vehicle getting in and out of the wash. Just then several physically able individuals, men and women visiting from Florida and Denver, observed the dilemma and offered to assist in solving the problem.  "It's pretty impressive, we thought we were going to have to carry the whole distance, but it did most of the work for us.  It made for easy work," said one of the willing helpers by the name of Brian.
Until we began our ascent out of the Queens Garden on the way back to the rim of the main amphitheater, we hadn't had to work too hard.   To climb from approximately 7,000′ in elevation back to the rim at 8,000′ it now took a crew of four, two to push and two to pull.  Onlookers saw the effort and they wanted to participate. "It's amazing to see how people want to be involved. We often have complete strangers where the obstacle may be too difficult and people jump in and help us," added Grassley.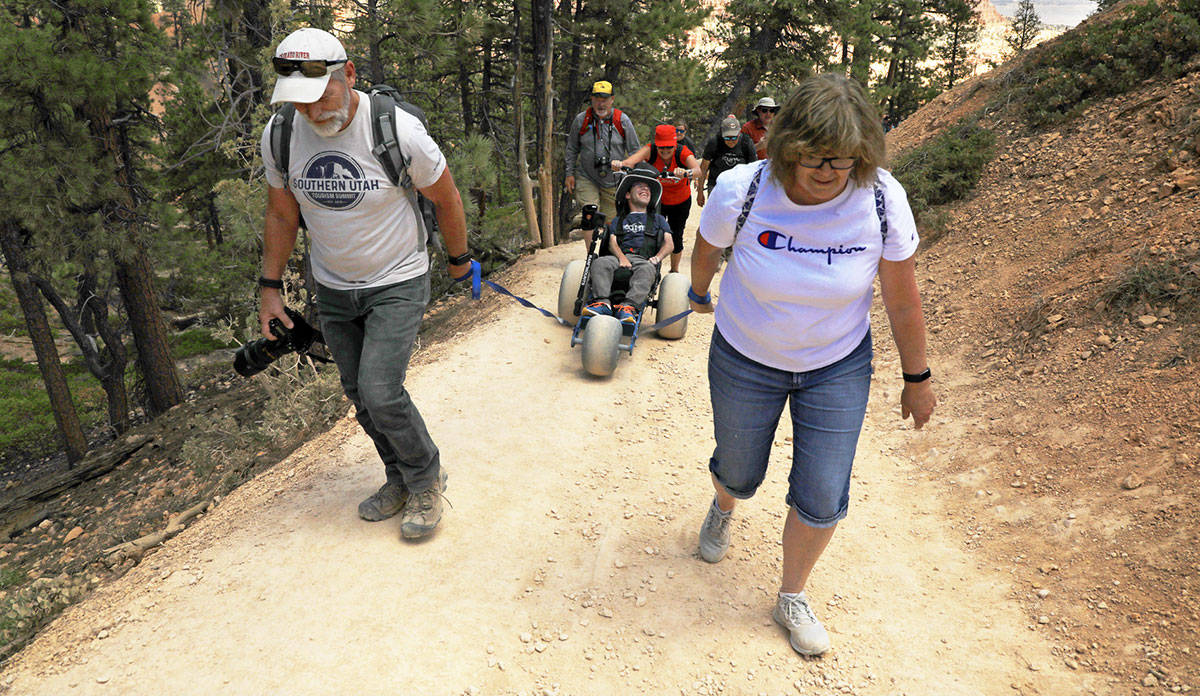 Just as many of us were beginning to tire on the steep upward trail, we passed a young couple with a keen interest in our efforts, and they wanted to participate.  "We're living in Washington, DC., but we just got married in Nashville, and we are spending our honeymoon visiting Bryce Canyon, the North Rim of the Grand Canyon and Zion National Park," said Carolyn.  She and her husband Ben pushed the rest of the way up the trail to the rim, smiling and chatting as if this was one of the highlights of their trip.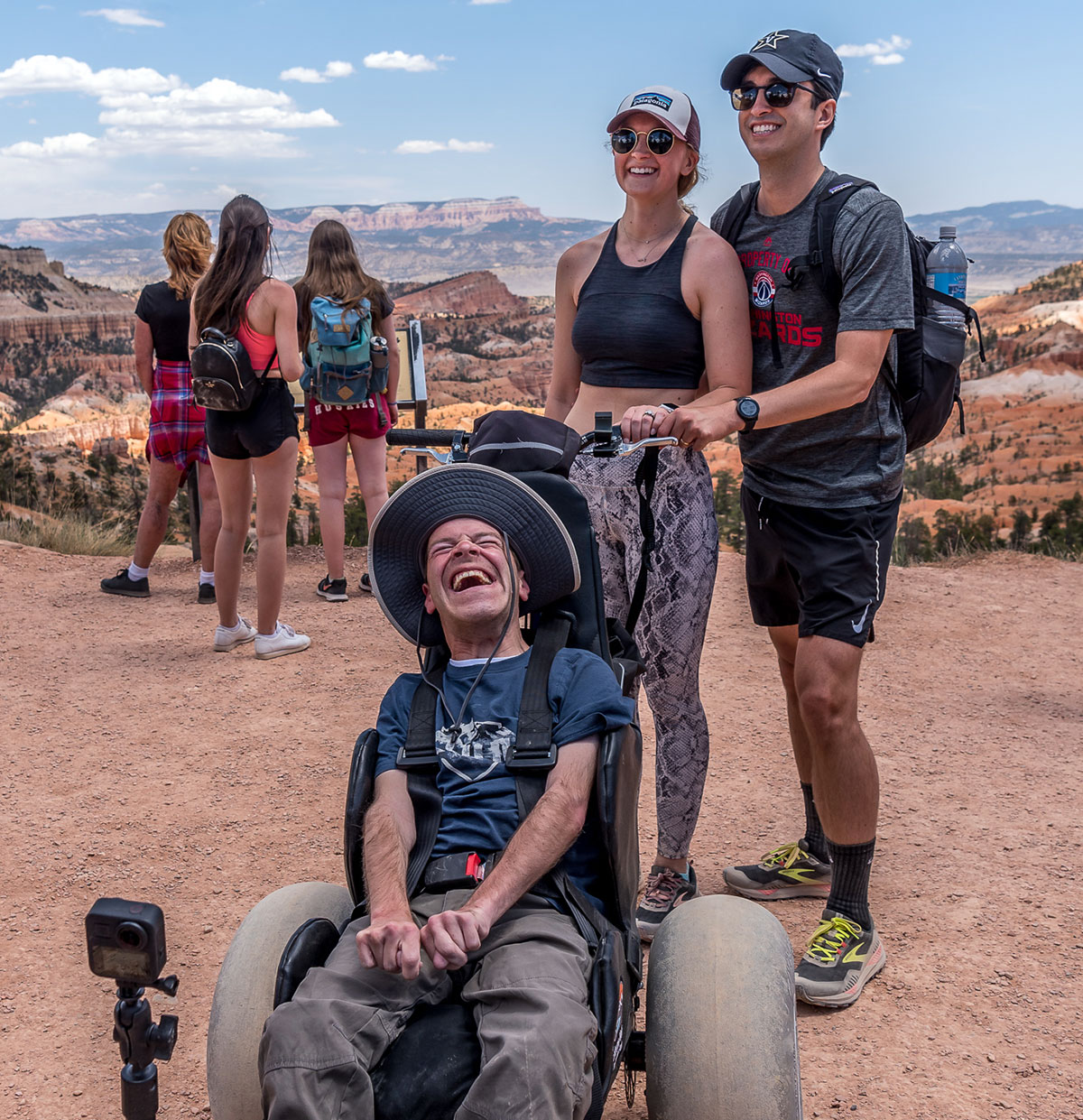 Sam and Ryan have gained a loyal and large following
(nearly 200,000) on
TikTok
and Sam was thrilled to learn that he was recognized by a young lady on the trail.  "I thought that was him, I was like, oh my gosh, I love him. I follow him on TikTok. He's so cute, he makes me so happy," said Sydney from Cincinnati, Ohio.  She gushed with enthusiasm at seeing and meeting Sam in person.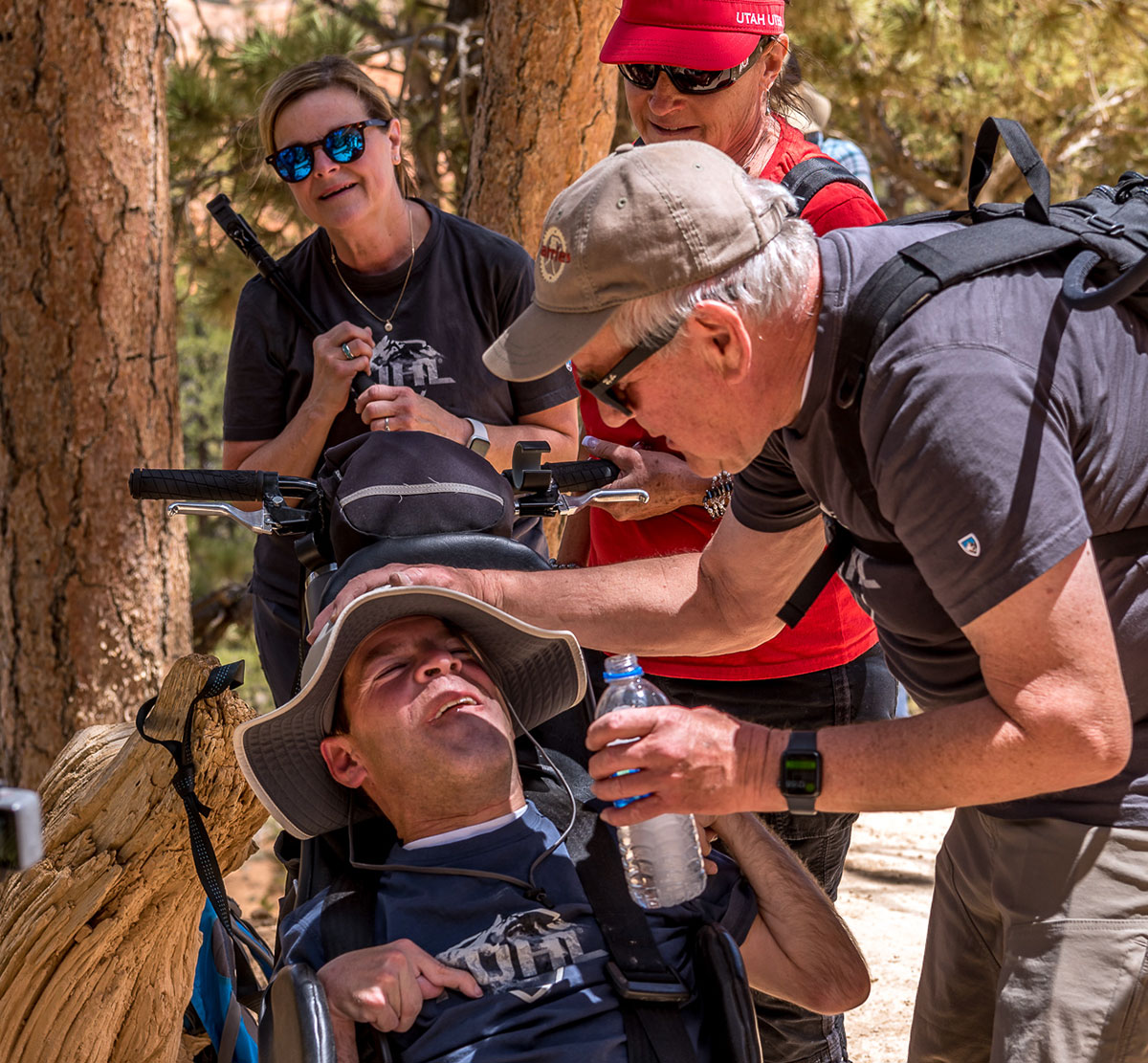 Sam would tell you that he wouldn't be having the experiences he is today without the lifelong devotion of his mother and father, Roger and Christine. We were amazed at their willingness to tackle any challenge, and to go anywhere that would bring happiness to Sam.  As we publish this post, smack dab between Mother's Day and Father's Day, we want to give a big shout-out to Roger and Christine, and all parents who are daily taking steps to find solutions to life's challenges, and to light up the lives of all who fall within the circle of their influence.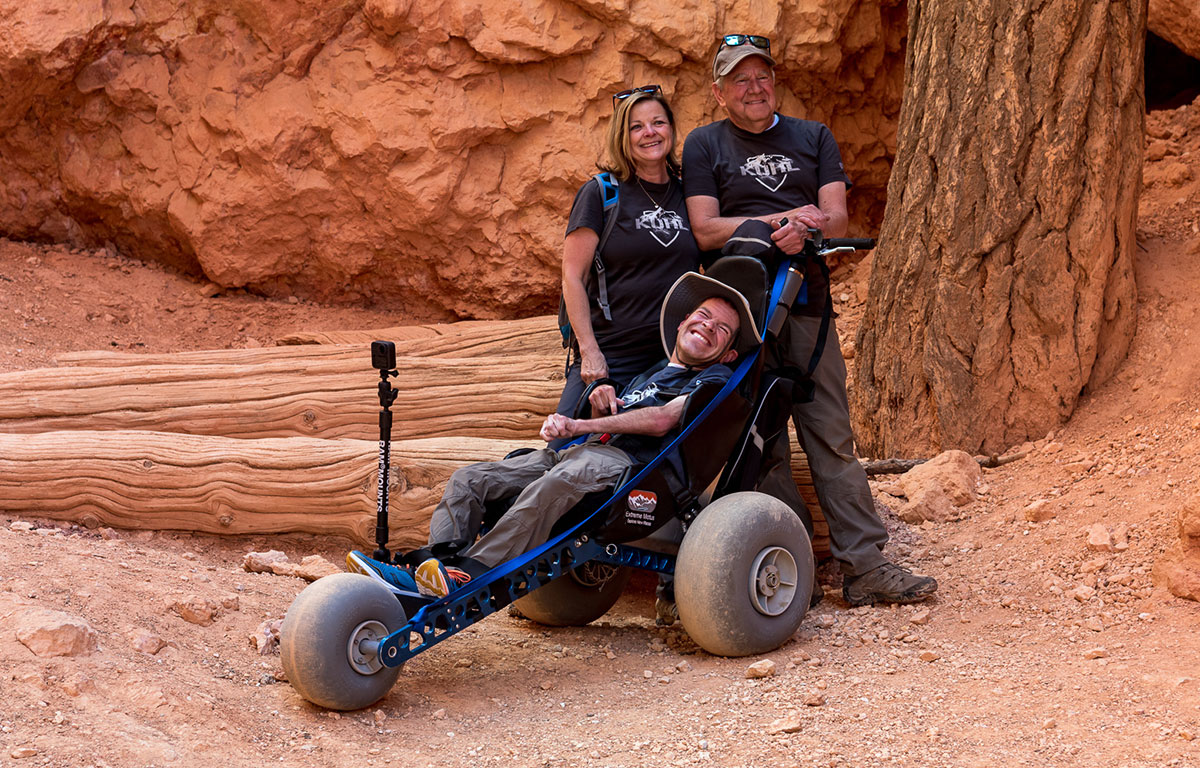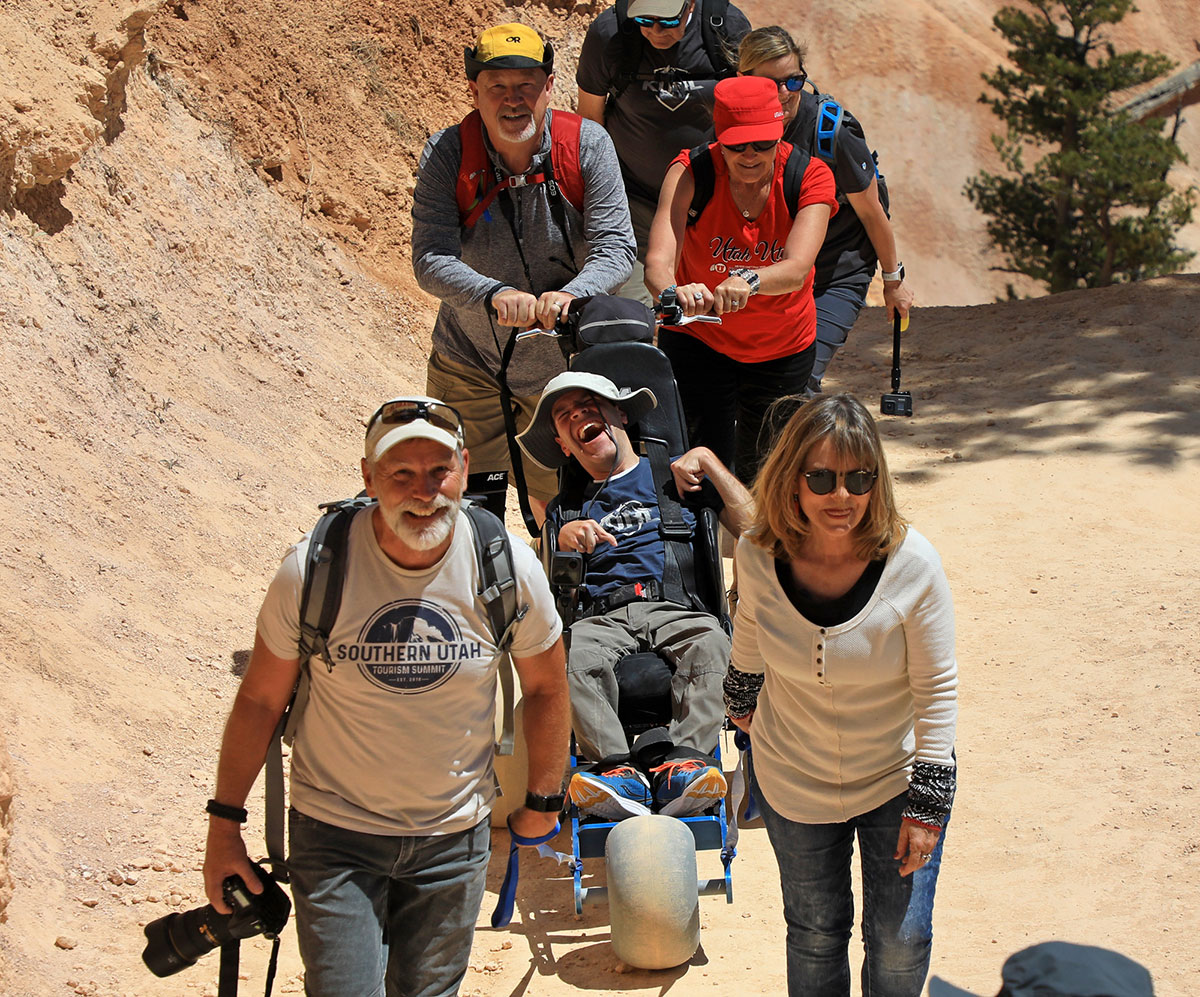 Ryan Grassley indicates that their small company struggles, in the current economy, to gather all the needed parts for these wheelchairs but they are doing all possible to provide as many vehicles as is possible.
To learn more visit ExtremeMotus.com.