How to Visit Arches National Park in a Day, or Less
Not everyone can spend more than a day or even a day at the parks but still want to have a fulfilling park experience. Typically, our tour groups are in the parks for only a few hours since we have so much territory to cover. We'll give a few tips in this article on ways to visit Arches National Park in less than a day and still go away feeling that you were able to get more than what you hoped for.
In 2022 Arches National Park implemented a temporary timed entry system to test how it can help manage traffic flow and reduce congestion with the objective of improving the visitor experience.
Since the program was introduced, we have visited Arches several times while guiding a Mighty 5 tour, which gave us a good look at this new system, albeit as commercial operators that are exempt from using the system required for individual travelers. For this reason, we cannot give a first-hand account of the process of using the new service other than how our visit to the park changed from previous years.
First, we were able to visit every planned stop without the normal challenge of finding parking, especially for a 22 ft. Sprinter van. The normal trouble spots that are generally the most difficult for parking, Windows District, Delicate Arch trailhead, and Devil's Garden, were no problem at all. We found plenty of parking and the trails didn't feel nearly as busy. I should mention here that we didn't leave Moab until 8:00 AM, we normally leave at 7:15 or earlier when visiting Arches to beat the crowds.
We like this new system but it's still early and the busier months ahead could prove a bit more challenging, but if it runs as designed, it should operate just as it did on the days we visited. Bottom line, we think the system has great potential and believe it could be a viable solution to reducing traffic and crowded conditions, just as we experienced on this day not just at Arches but also with other parks that are experiencing similar challenges.
Our recommendations are to plan as far in advance as you can to book the date you want to visit and to fully understand how the system works. It may seem like an inconvenience and a bit of a hassle but compared to the congestion we've experienced in recent years this is a much-improved system for experiencing a day at Arches that will undoubtedly outweigh the trouble.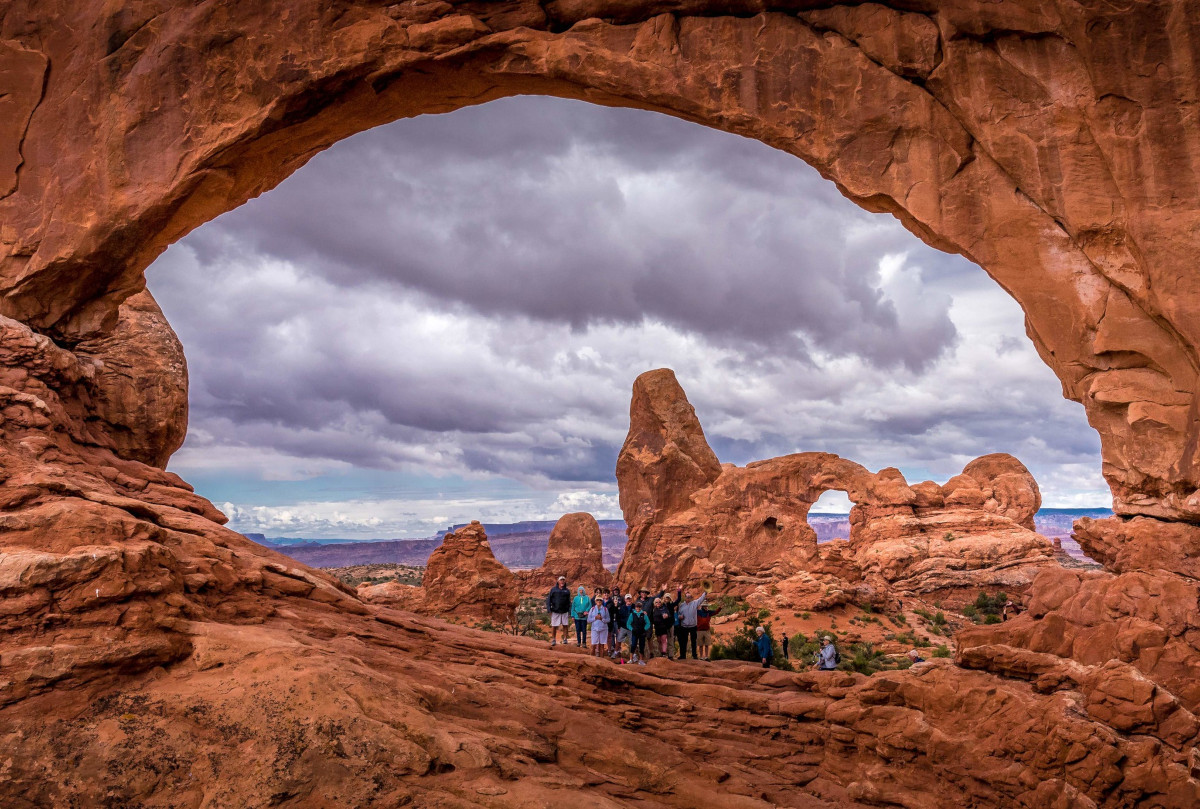 When we exited the park there was a lengthy line waiting to enter, nothing like we've seen in recent years, but still backed up. We believe this was simply the folks who had reservations for the one-hour window they reserved to enter the park. We're sure there were a few uninformed visitors as well, won't they be surprised when they get to the gate!
We suggest making your reservations early in the morning or in the late afternoon. Based on our experience, these are generally the times when fewer people enter most parks.
Here is a link to more information where you can learn about the new service and how to book a reservation. Timed Entry Pilot – Arches National Park (U.S. National Park Service) (nps.gov)
Recommendations on How to Plan Your Visit
Start Early if you intend to hike to Delicate Arch. Go directly to Delicate Arch before it gets busy and before the heat kicks in during the summer months. Even with the timed-entry system the parking lot can fill to capacity. The hike generally takes 1.5 -2 hours. If you are not hiking to Delicate Arch you can still see it from the lower parking lot from a distance. This will require less time and the parking lot won't be as busy.
From Delicate Arch we stay on the north end of the park and follow the road to Devil's Garden with optional stops for short walks to theFiery Furnace, Skyline Arch, Broken Arch or Sand Dune Arch. The road ends at the Devil's Garden parking lot, which is where the trailhead is located for the hike to Landscape Arch that takes 1-1.5 hrs. to hike. Beyond Landscape Arch are other arches within 30-45 mins including Double O Arch, Navajo Arch and Partition Arch. Beyond there the arches are primitive and require more effort and time.
Insider Tip: You can take a shorter hike to the backside of Broken Arch by driving through Devil's Garden campground. You'll see where to park near the end.
Next we go to the Windows Section to see Double Arch, North and South Windowsand Turret Arch. Allow 1.5 hours here, which is plenty of time to walk the trails and see the arches. This was a trouble spot prior to the timed-entry system. We've never had a problem since.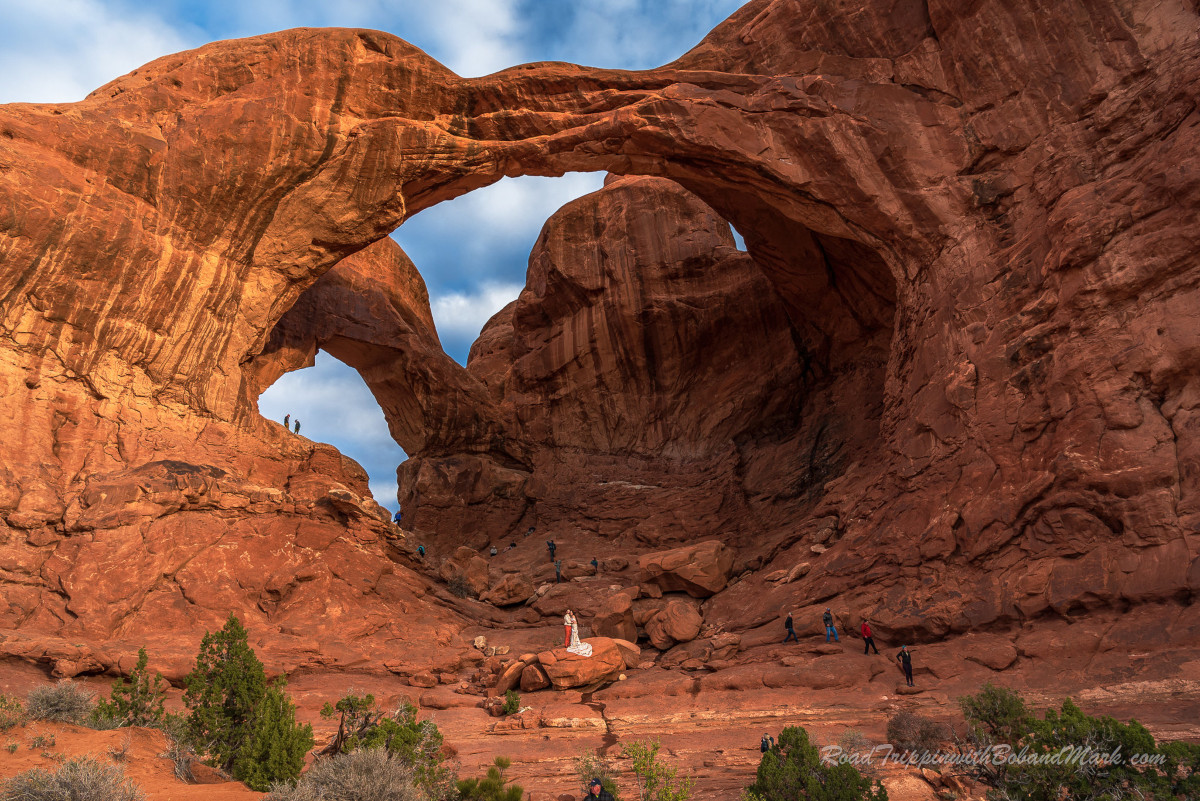 The last section of Arches we visit is Balanced Rock and Park Avenue. These are small parking lots so there is a chance that they could be full. If you do not intend to hike Delicate Arch, hit these two spots first then the windows section before proceeding to Landscape Arch. There is a one-mile hike at Park Avenue that goes between the Park Avenue parking lot to the Courthouse Towers parking lot that offers a nice option if not hiking the longer trails mentioned above.
Depending on the number of hikes you take you can plan on spending 4-6 hours in the park, longer if you go to the arches above Landscape Arch.
Optional Stop: LaSal Mountains Overlook; this stop offers a beautiful panoramic view of the park from Park Avenue to Balanced Rock, Petrified Dunes and Windows section. Stop early morning and get long shadows of your group.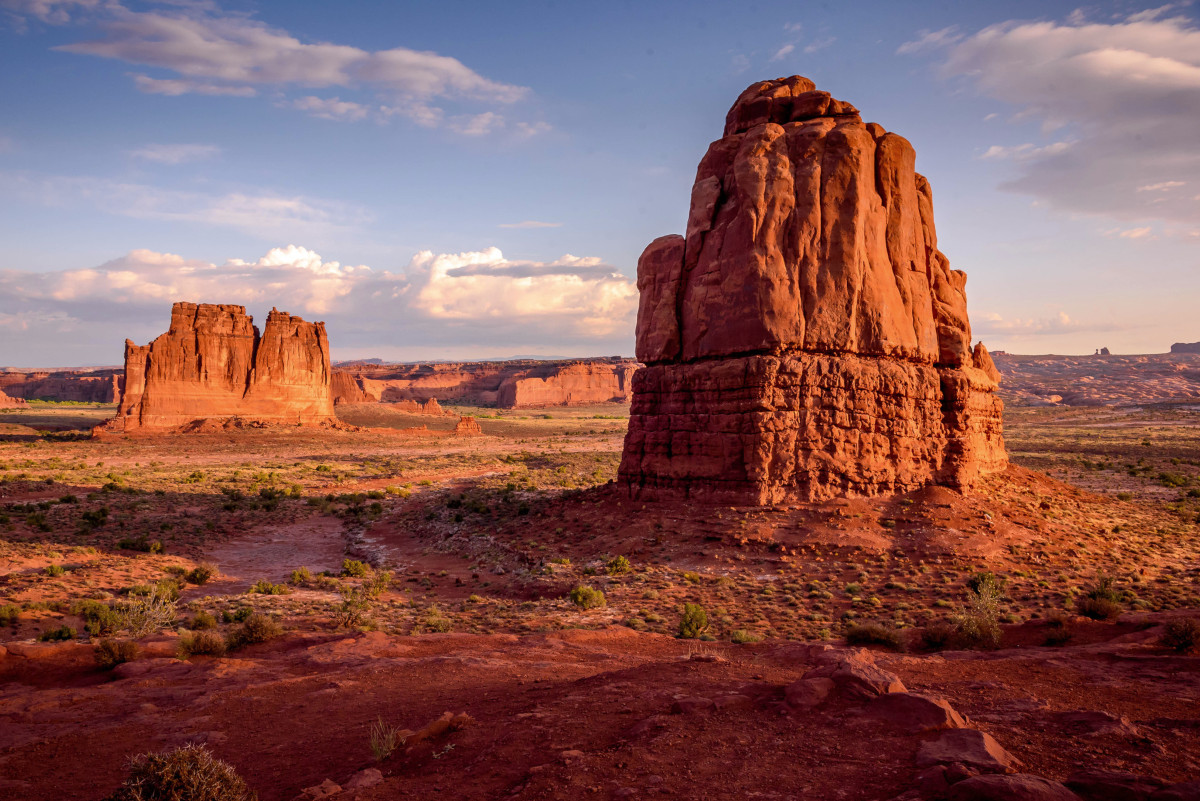 Click here to add your own text