My Husband's Grand Canyon Solo Adventure
by guest author, Shanti Hodges
We woke up to a beautiful, but brisk morning December 6. I could tell my husband, Mark, was a little nervous because he was quieter than usual. He had spent about ten days packing after getting word that he got a last-minute cancellation permit to paddle the Grand Canyon. This would be his fifth time on a non-commercial trip down the Grand Canyon, but his first time solo. He felt like he had everything when we left our house the night before and headed toward Lee's Ferry, where he would be launching from. But I could see he was second guessing himself now that the trip was about to begin.
Mark has done numerous large expedition style self-guided trips in places like Alaska, Colorado, Oregon and Washington. He knew what to expect and was familiar with all of the rapids. But going solo was definitely a different beast as he usually did his bigger trips with friends. And to make matters worse, it had been warm for weeks and now a cold front was coming in just as he was about to embark on his trip.
When most people do non-commercial trips on the Grand Canyon, there are usually 4 or 5 large rafts and up to 16 people, which means there's room to take everything including the kitchen sink. If you forget something, someone usually has that thing or can share. When you go solo, you have to bring it all. You're also responsible for carrying everything you take down the river, back out when you leave. This includes poop, ashes and any trash you make while out. 
The hardest thing about the Grand Canyon is that there's no real bail out point. Most of the river has high rock walls towering straight up and can be up to 5,000 feet above the river in some places. The isolation is one of the many reasons so many people love this trip. But it also means once you commit and push off from Lee's Ferry, there's no turning back. There are a few places people can hike down to the bottom of the Grand Canyon, but hiking gear out would be incredibly difficult. So once you launch, it's 280 miles until you take out. For most people this trip will take between 14 and 21 days. 
Mark planned to do it in 16 days and was planning to paddle around 20 miles a day with a few down days. We would be picking him up at Pearce Ferry right before Christmas. While I am used to Mark taking these epic journeys, I didn't realize how big this one was until we actually got to the boat ramp and he began packing up his inflatable NRS 2-person Kayak. Packing began at 8:30am, but Mark still wouldn't launch for a few hours. Most of the time was spent rigging the boat carefully so nothing would fall out. But there was also repacking things and going through the checkout process. For those who haven't ever rafted the Grand the checkout entails running down a long list of gear requirements with a park ranger, who meticulously looks through everything to make sure the boat and the traveler are ready to take on this journey. 
While much of the Grand Canyon is a slow meandering river, there are a lot of Class IV, V and VI rapids for boaters to navigate daily. Some of the rapids get as difficult as Class 7 or 8 with Lava Falls being the most notable. This one is supposedly short, but incredibly intense and has tossed many boaters out into the swirling rapids. Mark felt pretty confident about boating even the biggest rapids on this stretch of the Colorado, but he also acknowledged that running it solo would be a lot different than his past experiences. 
It was close to 11 when Mark finally was ready to push off. There was a slight breeze, the sun was shining and the temperature was perfect for paddling at 55 degrees. It took him about 45 minutes to travel from Lee's Ferry to the Navajo Bridge, which is the last place he could be seen as he paddled down river. 
At 5:30 PM we got the first text message from his Garmin Inreach which read "I'm having a great time. All is well." Listen to his upcoming call in to find out how the trip is going and follow along with his trip. 
What did Mark Hodges pack for 17 days solo on the Colorado?
Fine mesh screen for straining food particles out of food

Garbage bags

Wag bags (potty bags)

A waterproof container for holding human waste for 17 days

Metal fire pan with elevated legs

Fire blanket

4 water filters (in case any failed) 

2 camp stoves with multiple propane and isopropane cans

Plate, cup silverware

Water bottle

Collapsible sink

First aid kit

Signal mirror

Signal panel

River guide showing the map and the camps

Down jacket

Fleece jacket

Fleece pants

Polypropylene pants and shirts

Prana pants

Gore-tex jacket and pants

Flip flops

Hiking shoes

River shoes

Sunday afternoons hat

that collapses and folds away

Warm hat 

Gloves

1.5 pounds of food per day (dehydrated food) 

Food was a mix of bars, Ka'chava protein shakes, Jerky, high nutrient dense

dehydrated food

Satellite phone

Photo id

Credit card

Two sleeping bags

One blow up mat

Camp Pillow

Two paddles

Two life jackets

One NRS blow up 2-person kayak

Emergency rescue rope throw

Extra NRS webbing straps

Leatherman

Multiple dry bags and MRS tie down straps

kayak patch kit

Kayak pump

Dry suit

Neoprene gloves

Hand lotion (extra dry skin repair formula)

Tooth brush

Sunglasses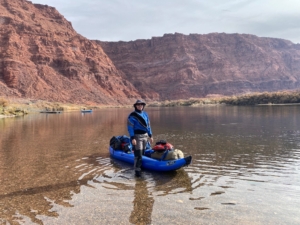 LISTEN TO THE ONE TANK TRIP OF THE WEEK ON THE KSL OUTDOORS SHOW EVERY SATURDAY MORNING
Click on player to listen to Mark Hodges' interview from the Grand Canyon with Tim Hughes and Russ Smith.
A few photos from Mark's Adventure