A few years ago I lead a tour through the Black Hills of South Dakota that included a stop at the Crazy Horse Memorial. Other than scouting out the route prior to leading the tour, it was my first time to Crazy Horse. I lived in Rapid City in the early 60's when my dad worked for Minuteman Missile program so it wasn't my first experience in the Black Hills but all I remember is visiting Mount Rushmore and the Badlands, but I don't recall ever going to Crazy Horse. A fun memory I have from that time is when my dad mooed at Bison in Custer State Park that must have been interpreted as fighting words since a couple of large bulls came running toward him. We made a hasty escape in our Chevy Corvair and talked about the experience for years!
The memorial is immense! To give you an idea of how big it is, Mount Rushmore could fit within the rock that shapes the head of Crazy Horse. All that is finished in detail is the face, once completed it will depict the Oglala Lakota warrior, Crazy Horse, riding a horse and pointing into the distance. The memorial was commissioned by chief Henry Standing Bear, an Oglala Lakota elder, and sculpted by Polish American sculptor, Korezak Ziolowski, who worked on Mount Rushmore under Gutzon Borglum. Work began in 1948, it may take several more generations to finish as long as funding continues. Speaking of funding, I found it interesting that none of the work or development of  this site is government funded, all funding comes from private donations and from what is raised on-site.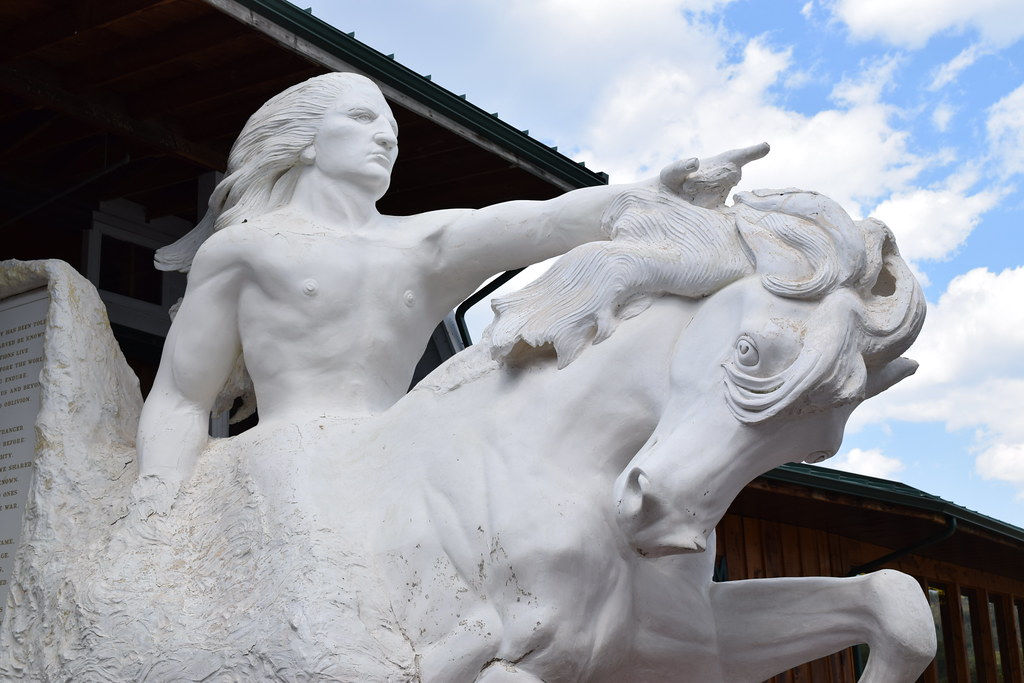 I didn't know how my group would react to the memorial since there's so little completed (and is unlikely to be completed in my grandkids liftetime) but was relieved to see how pleased they were. This made me especially happy since I think the memorial is pretty amazing. I discovered that the memorial is so much more that the sculpture of Crazy Horse.
Non- Profit Organization
Operated as a non-profit organization, the Crazy Horse Memorial Foundation, which serves the native American community with a university campus that holds classes in math, English, and American Indian studies courses for college credit. I learned that Crazy Horse is much more than a memorial, the mountain is sacred to the Oglala Lakota with the memorial serving not only its nation but all native Americans.
The main building which serves as a cultural center is huge, everything seems to be big here. The center offers museum exhibits, gift shops, cafe, and an outdoor plaza where we enjoyed flute music performed  by Darren Thompson, a Native American from the Lac du Flambeau Ojibwe Reservation in Northern Wisconsin.
For more information about Crazy Horse Memorial click here. If you're considering a trip to the Black Hills I highly recommend adding Crazy Horse to your plans. Located 37 miles from Rapid City and 16 miles from Mount Rushmore.