Originally developed as a cattle trail by stockman John Atlantic Burr, the Burr Trail Scenic Backway passes through three iconic parks starting at Boulder Utah to the north located on Highway 12 to Bullfrog Basin and Ticaboo Utah to the south on Highway 276. The route offers back country access to numerous trails and canyons through the painted rock desert of Glen Canyon National Recreation Area, Waterpocket Fold and Badlands of Capitol Reef National Park, and slickrock canyons of the Grand Staircase-Escalante National Monument. The distance is approximately 75 miles from Boulder to Bullfrog.  The first 30 miles are paved leading to the Capitol Reef border. From there the road turns to graded dirt and can be rather washboarded in sections. The  last 20 mile stretch from the Springs/Bullfrog Basin junction to Hwy 276 is also paved.
A note from the BLM: Although in dry weather the Burr Trail is easily accessible to passenger cars, wet weather may make the road impassable even for 4WD vehicles. Check with rangers or local officials for weather and road conditions. Recreational vehicles are not recommended.
Upper Section
The upper section (paved section) includes Long Canyon, its tributary slot canyon, "Singing Canyon," Deer Creek campground, and other interesting roadside views. Once you exit Long Canyon there is an amazing panoramic view of the Waterpocket Fold and Circle Cliffs with the Henry Mountains looming in the background. Once you reach the Capitol Reef border the pavement ends and graded dirt begins. A short distance down the road from the border the Peek-A-Boo Arch at Upper Muley Twisted Canyon comes in to view. The first half mile of the side road to this area is passable for passenger cars, then the road enters Upper Muley Twist Canyon and is recommended only for 4WD vehicles.
One of the highlights of the trip is the Burr Trail Switchbacks. A shorter but tighter version of the Moki Dugway in San Juan County (SR 261) with steeper slopes and grade. The view from the top is amazing, definitely worth stopping the car to take it all in. A short distance from the bottom of the Switchbacks is a junction. This is where the road from Hwy 24 east of Capitol Reef runs parallel to the Waterpocket Fold, passes through the small town of Notom and connects with the Burr Trail. From here Bullfrog is 33 miles to the south and Capitol Reef is 34 miles to the north. This is the beginning of the Badlands section.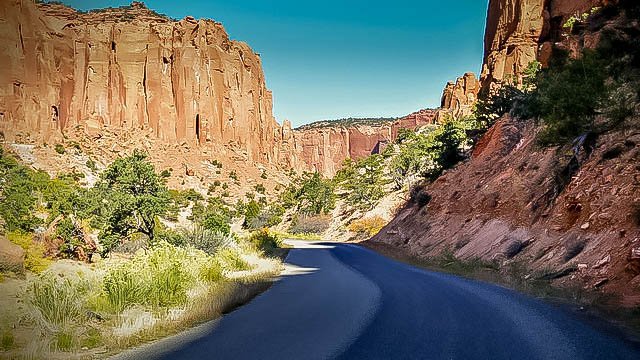 How the road got its name
| | Title | Category | Address | Description |
| --- | --- | --- | --- | --- |
| | Boulder | | 37.901248792651586, -111.42511783114264 | |
| | Sandstone Sand Dunes | | 37.84876502568879, -111.37053134059857 | |
| | Deer Creek Campground | | 37.85480119539068,-111.35537858960242 | |
| | The Gulch | | 37.85042248160664,-111.31449765256161 | |
| | Long Canyon | | 37.857420257624334,-111.30860653272879 | |
| | Singing Canyon | | 37.86492836543067,-111.30047081907736 | |
| | Lampstand Butte | | 37.97625018366826, -111.16186245744086 | |
| | Road to the Lampstand | | 37.91766930663911,-111.13322298713223 | |
| | Wolverine Loop Road | | Wolverine Loop Road | |
| | Western boundary of Capitol Reef National Park | | 37.863233492409705, -111.07720314183581 | |
| | Pinon/juniper forest | | 37.86137497635734,-111.07413529547182 | |
| | Picnic area | | 37.862394265707465, -111.07517879037306 | |
| | Junction with road to Upper Muley Twist Canyon | | 37.85348938763373, -111.04311586250384 | |
| | Wash crossing | | 37.854171201088626, -111.04536149386308 | |
| | Top of the switchbacks | | 37.84703766551033,-111.02523902299697 | |
| | Bottom of the switchbacks in Burr Canyon | | 37.84957900289161, -111.0229462277174 | |
| | Peek-a-Boo Arch | | 37.85391068772103,-111.01514869913206 | |
| | Junction with the Notom Road | | 37.85491452431518, -111.01244623898071 | |
| | Surprise Canyon Trailhead | | 37.83496995465338,-110.99090070432578 | |
| | Post Corral | | 37.826780921527764, -110.97945651708875 | |
| | Capitol Reef National Park boundary | | 37.8319608672948, -110.96776405895076 | |
| | Junction with Starr Spring Road | | 37.7592061077086, -110.90769263036589 | |
| | Halls Creek Overlook road | | Halls Creek Overlook road, BLM 12200 | |
| | View of the Henry Mountains | | 37.67474486102613,-110.85016290337813 | |
| | Viewpoint | | 37.64329635020396,-110.81603665045634 | |
| | Glen Canyon National Recreation Area boundary | | 37.627543788031225, -110.80087816754383 | |
| | Bullfrog Creek crossing | | Bullfrog Creek, Utah, USA | |
| | Pedestal Alley Trailhead | | 37.59769260698486, -110.7797859816103 | |
| | Bullfrog Basin | | Bullfrog, UT, USA | |