How to See Bryce Canyon in a Day (or less)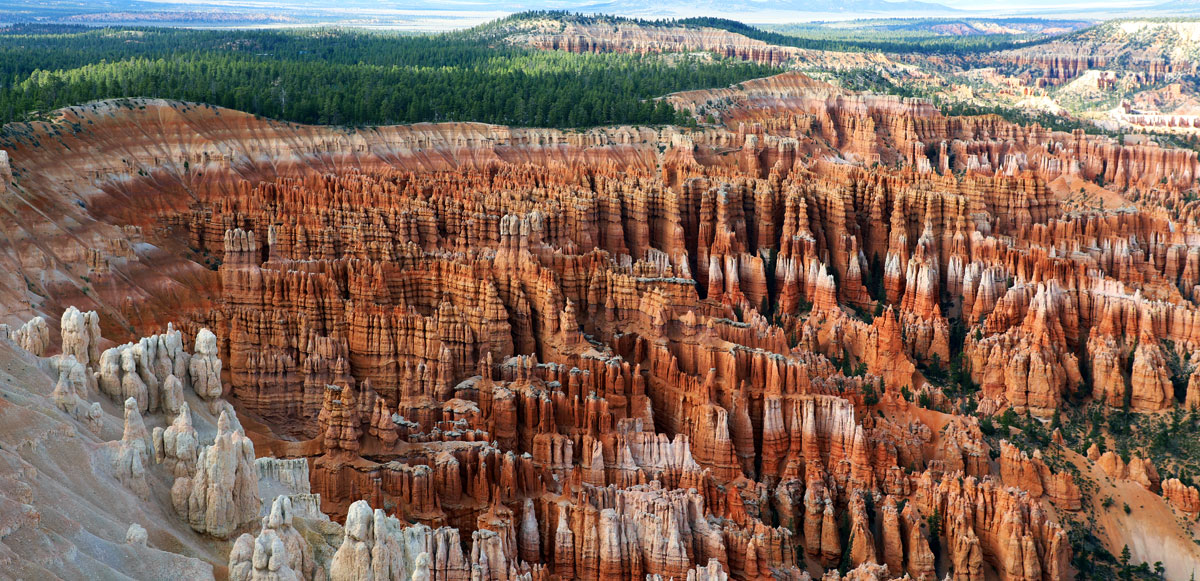 Most visitors coming to Bryce Canyon on a multi-day national park road trip, or with an organized tour generally stay for one or two nights with only a day in the park. Some have only a few hours to see the sights if they aren't spending the night. Local travelers, on the other hand, generally visit the park on a 2-3 day getaway that often includes time for outdoor adventures.
Here is a suggestion for seeing the highlights of Bryce Canyon if you only have a day or less.
Start with Sunrise
Not the viewpoint but the literal sunrise. We often arrive with our groups late afternoon and spend the evening outside the park. The next morning we go to Bryce Point to watch the sun rise. We prefer Bryce Point over the other viewpoints, but they're all good. Our opinion about Bryce Point as the best place to see sunrise was validated in 2014 when we ran into an Imax crew filming sunrise for the the 2016 national park centennial movie. If we want to catch light coming through the Hoodoos we go to Sunset Point and walk down the Navajo Loop trail and set up.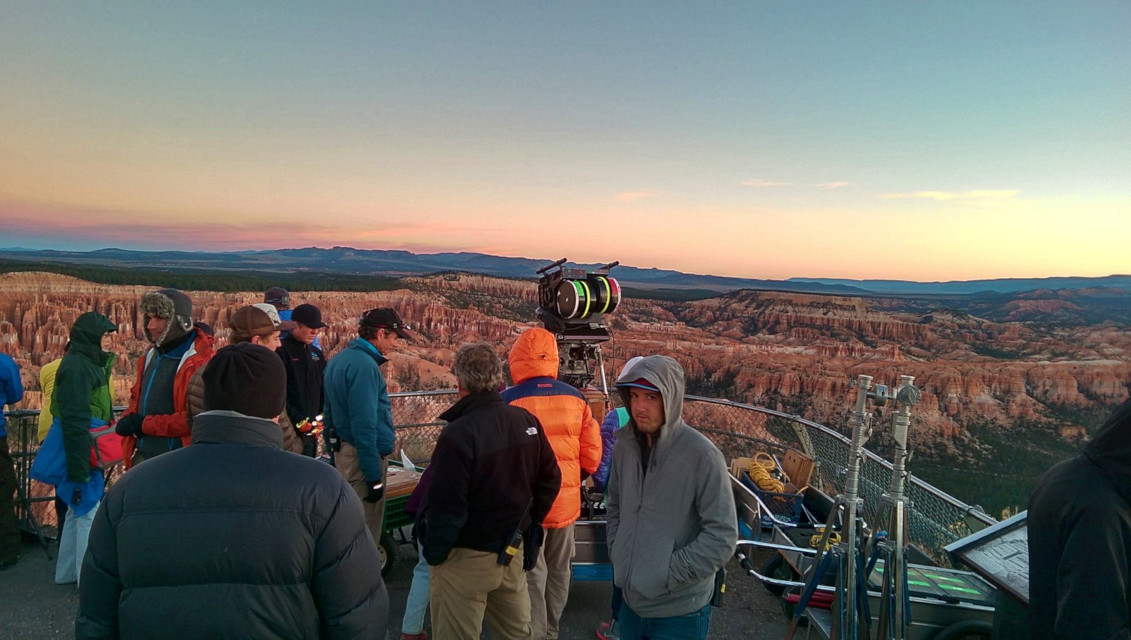 Once sunrise is over we return to the hotel for breakfast before re-entering the park between 8:30 – 9:00. If you want to just go on this will buy you an extra couple of hours in the park. We always go back for a hearty breakfast to fuel up for the hike later in the morning. Timing it this way generally assures us that we'll miss the larger lunch crowd at Bryce Canyon Lodge later on.
After breakfast we go directly to Natural Bridge. Technically an arch, Natural Bridge is right off the side of the road about 11 miles south of the park entrance. Another five miles south are Rainbow and Yovimpa Points, which we rarely visit unless we have a full-day in the park. If you skip breakfast these two points will be easy to add. There is time to make stops at viewpoints on the way back to the main amphitheater. A couple of good ones are Farview and Swamp Canyon.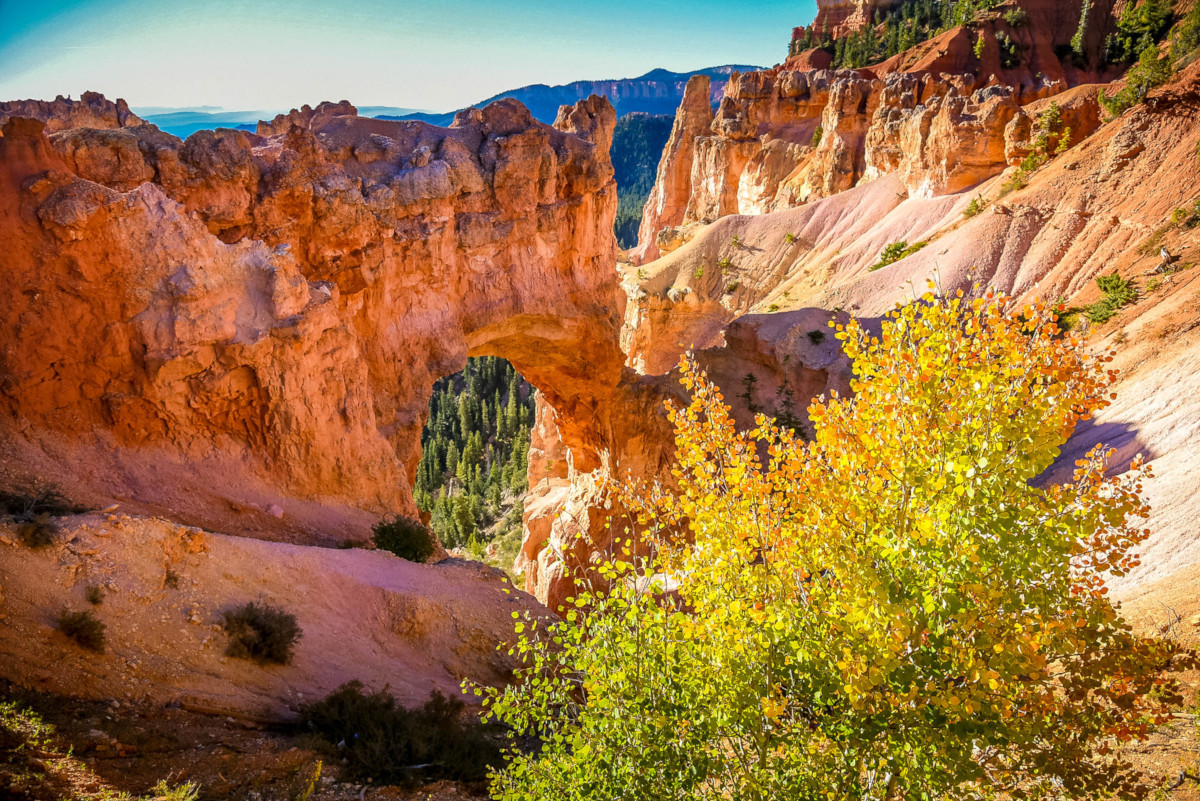 Once you reach the main section of the park, you have the choice of driving yourself to each viewpoint or parking in the designated area near the visitor center and using the free park shuttle, which I recommend on busy days. Parking can be especially challenging during the busier summer months. This will also give you the opportunity of going to the visitors center where you can watch an orientation movie about the park and visit the gift shop and museum. A shuttle stop is right outside the visitors center. Regardless of which you choose to do, the next stop is Inspiration Point where there are vault toilets in the parking lot.
There are four viewpoints in the main Bryce Canyon amphitheater; Bryce Point, Inspiration, Sunset, and Sunrise. There's also Fairyland that's outside the main gate. Since we already stopped at Bryce Point for sunrise, we'll go directly to Inspiration Point.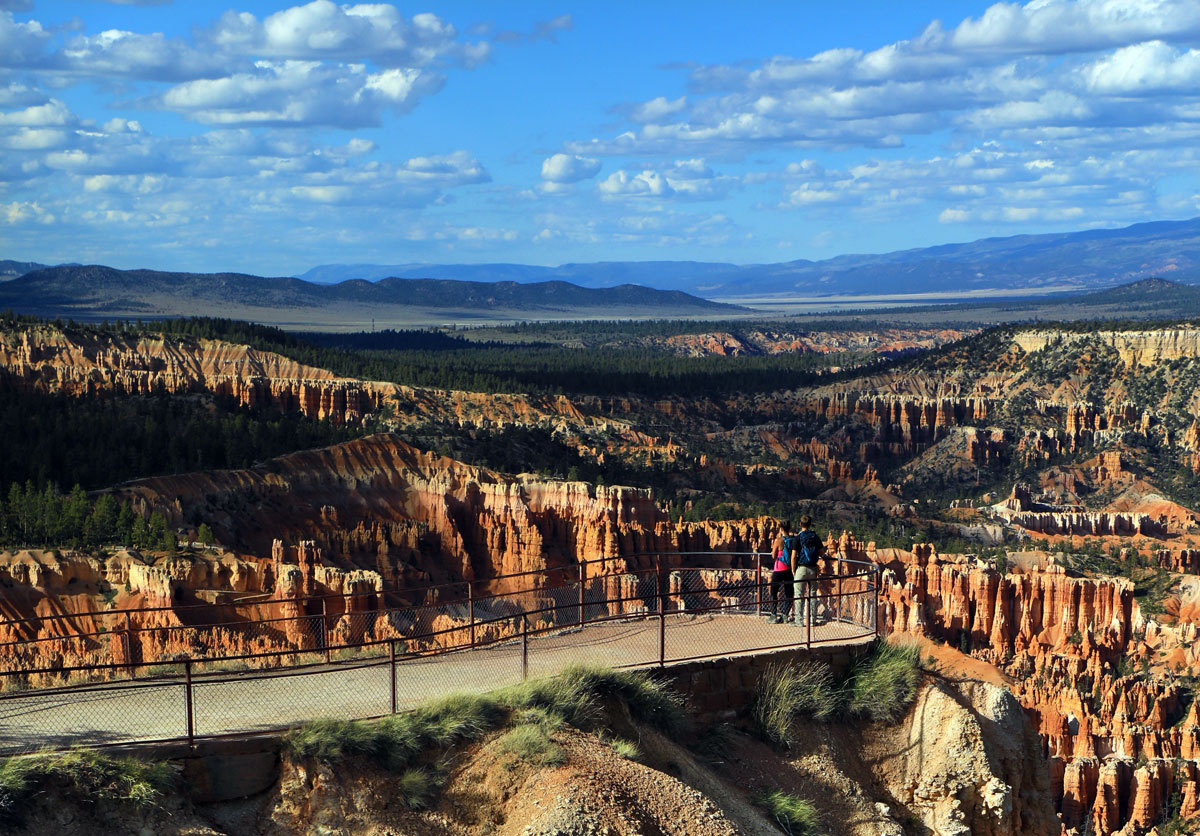 There are three viewing areas at Inspiration Point that progressively climb higher. The middle and upper viewpoints require walking up a fairly steep trail but the climb is worth the effort, these points offers some of the best and most classic views of the hoodoo filled amphitheater. From here you have the option of either driving to Sunset Point or walking the 3/4 mile rim trail, or taking the shuttle. The views into the amphitheater from the rim walk are stunning.
Sunset Point is the busiest section of the park. There are restrooms with flushing toilets and a picnic area under the shade of the Ponderosa Pines and Douglas Firs. Finding a place to park can be challenging on busy days but people are leaving frequently so patience is a virtue here. If you take the shuttle, parking headaches are completely removed!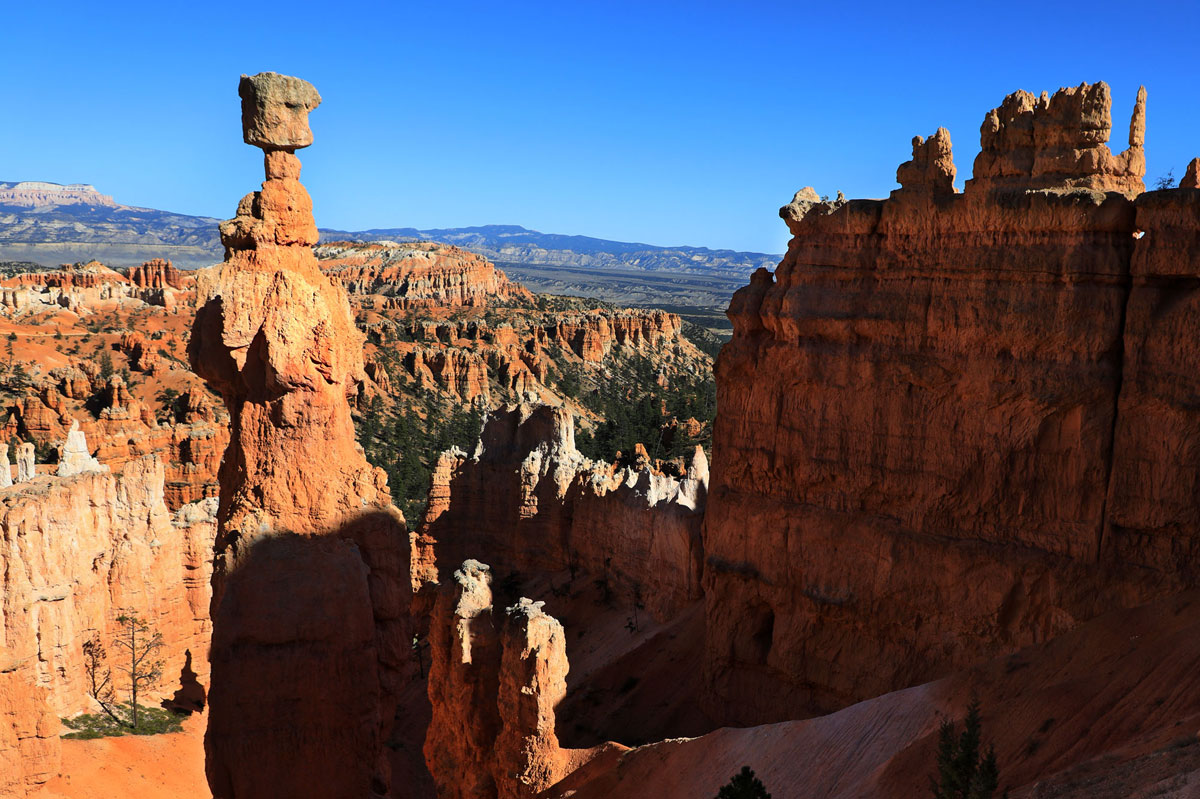 Several well-know sites are located in this area, the Navajo Loop hiking trail, a 1.3 miles hike that takes you to the bottom of the amphitheater via a series of switchbacks from Sunset Point through towering hoodoos known as Wall Street on one side and past the impermeable rock expanses called Two Bridges on the other. It's important to note that Bryce Canyon is between 8,000 – 9,000 ft., what goes down must come back up! Uphill slopes will quickly make it known to you that oxygen is in shorter supply here.
At the apex of the trail is a junction where several traiheads converge including the Navajo Loop return route to Sunset Point, Peek-A-Boo trail that ends at Bryce Point (longest and most strenuous, 5.2 miles), and Queens Garden, which is the trail we frequently use for our tour groups. It offers wonderful views top to bottom and is a bit less strenuous compared to the other trail options to the bottom. Queens Garden is named for a hoodoo that resembles Queen Victoria at the end of a spur trail you'll see along the way. We recommend starting at Sunset Point and descending to the bottom via the Wall Street switchbacks, climbing out at Sunrise Point then back to Sunset Point via the rim trail. This three mile loop trail is our top recommendation for those who only have time for one hike. It's our family friendly choice. Plan on 2-3 hours. Click here for more information about hiking trails at Bryce Canyon.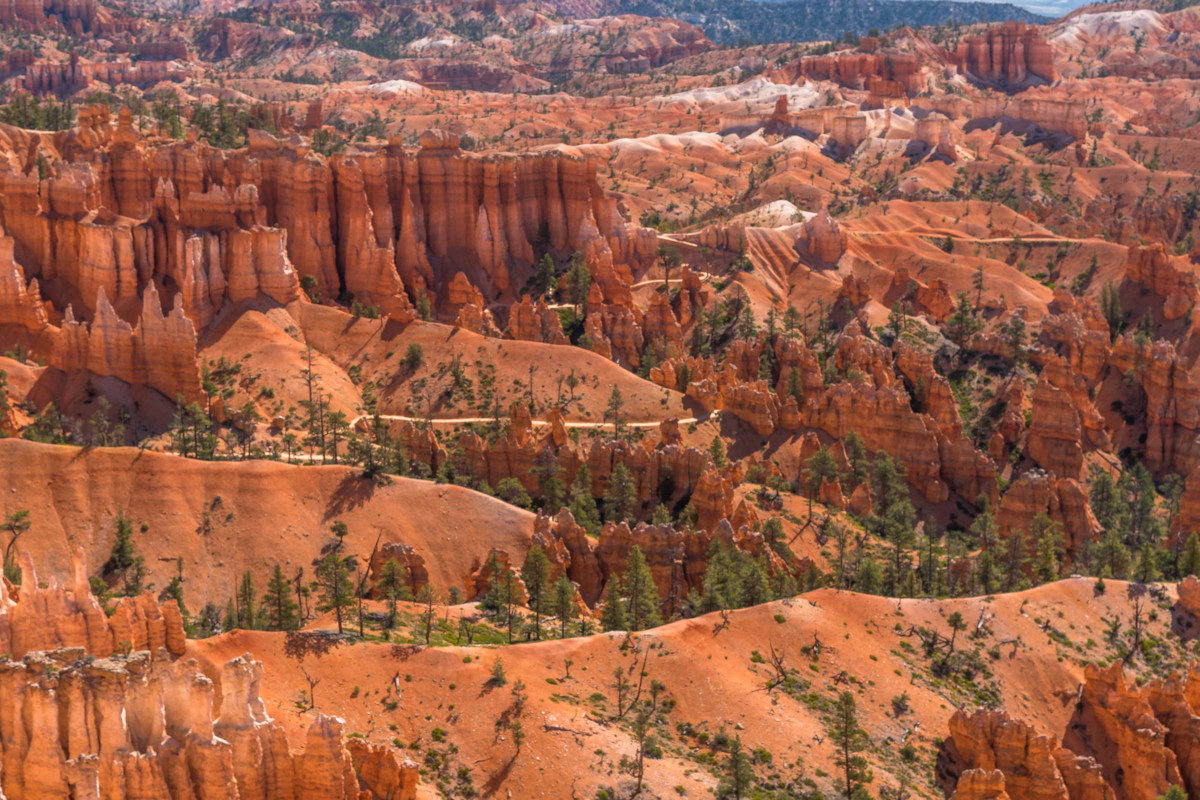 Where to eat
Bryce Canyon Lodge is located between Sunrise and Sunset Points, which is a great place to have lunch. Depending on when you arrive and time of year, there could be a wait of 20-30 minutes.  Other in-park options are the general store near Sunrise Point or bringing lunch with you, all other food options are located outside the park. A couple of our favorite choices are Ruby's Inn in Bryce Canyon City, and Bryce Pines Restaurant located on highway 12 heading west to Red Canyon. I highly recommend the homemade pies!
Things to do If you're considering a longer stay at Bryce Canyon, here are a few suggestions of things to do.
Horseback trail rides begin at the horse coral located between Sunset and Sunrise Points. Canyon Trail Rides is located in the Bryce Canyon Lodge lobby. www.canyonrides.com If you prefer your horsepower under a hood, check out Bryce Canyon ATV Adventures located on Airport Road www.brycecanyonatvadventures.com, or Ruby's Inn guided ATV tours that begin from the Sinclair station located across from Ruby's Inn one mile from the main entrance to the park. www.rubysinn.com Have you wondered what it would be like to get a bird's eye view of the park? Wonder no more! Bryce Canyon Airlines and Helicopters at Ruby's Inn can make that happen. www.rubysinn.com Kick up your heels to country music at Ebenezer's Barn and Grill. Normally a dinner show but due to Covid-19 meals are not included, but the show must go on! Located across from Ruby's Inn. www.rubysinn.com Get a bird's eye view of the hoodoos and canyons with Bryce Canyon Airlines and Helicopters at Ruby's Inn www.rubysinn.com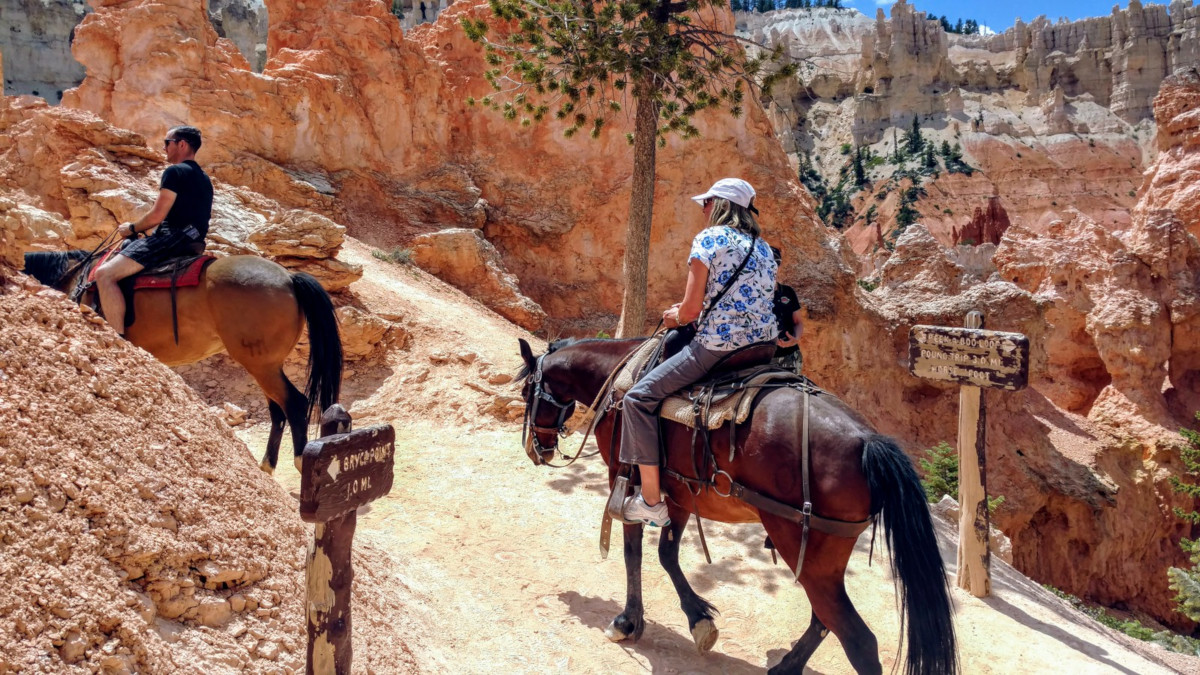 Other places to see & things to do
Within a short distance from Bryce Canyon are a number of interesting places to explore. Red Canyon to the west on highway 12 is a mini version of the bottom of Bryce Canyon where you can camp, mountain bike, and hike on the many trails in the area. There's a 17 mile paved bike path that runs from the west end of Red Canyon to Inspiration Point. If getting off the pavement is more your style, check out Thunder Mountain Bike Trail, one of Utah's premier single track trail covering miles and miles of pristine beauty and adventure. Mossy Cave, technically still in Bryce Canyon but outside the fee area on highway 12 heading to Tropic, the little town east of the park at the foot of the canyon. An easy trail under a mile that follows a stream to a mossy grotto that fills with icicles in winter, and dripping mosses in summer. Kodachrome Basin State Park is one of Utah's 44 state parks located near the town of Cannondale.
More Bryce Canyon information.