North Lake Powell
Ticaboo, Bullfrog, Halls Crossing, Hite
What and Where
North Lake Powell is a southern Utah hidden gem, quietly tucked away in the confines of Glen Canyon and at the convergence of Capitol Reef's Waterpocket Fold, Lake Powell, Grand Staircase Escalante National Monument, Canyonlands, and Henry Mountains. The primary roads accessing the area are lightly traveled and offer breathtaking scenery in unique landscapes even for southern Utah standards.
Here you won't find crowds, traffic, buses or long lines, just quiet solitude packed full of jaw dropping scenery where adventure is in great abundance. Some say the silence is deafening.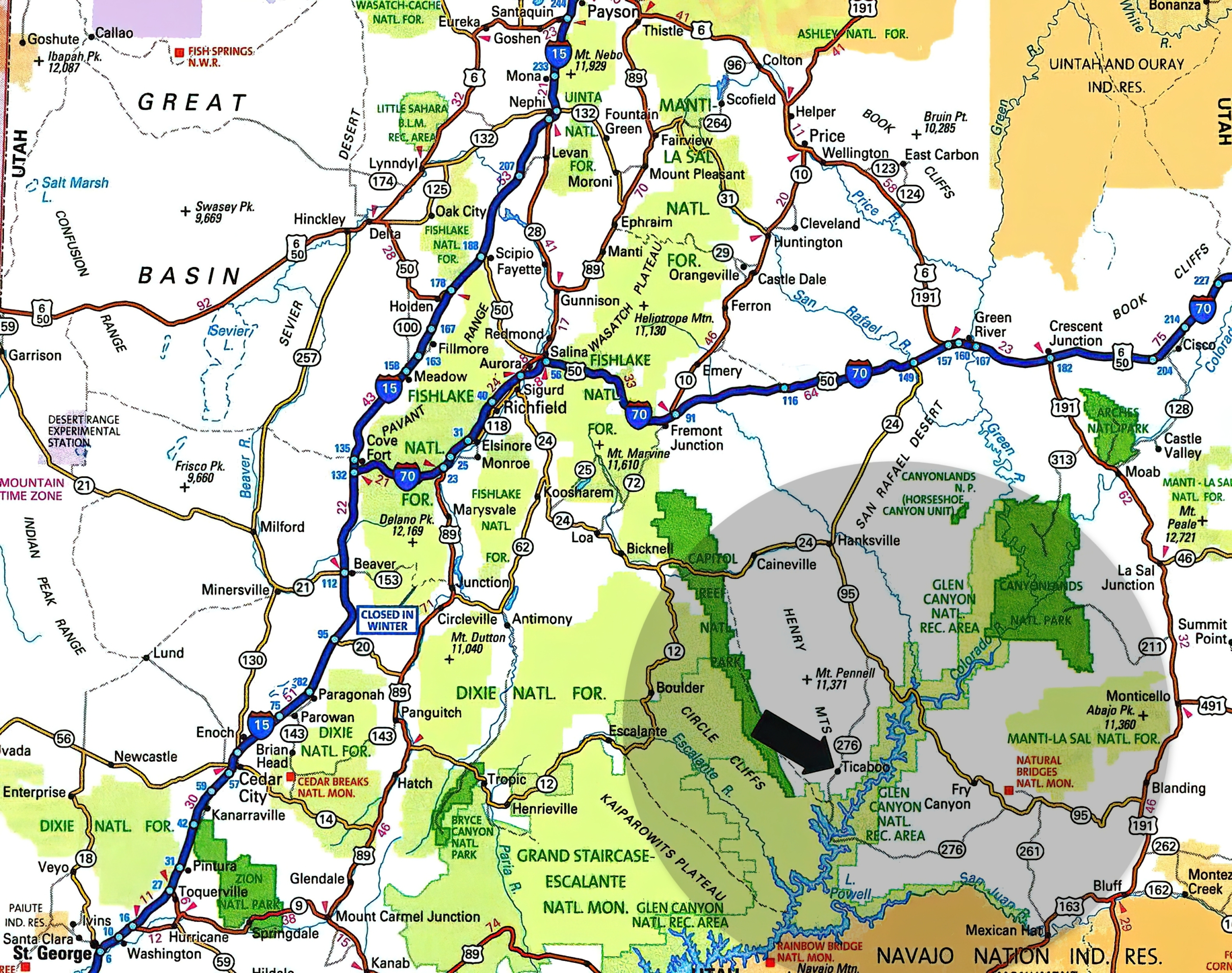 Basecamp
At the heart of North Lake Powell is Bullfrog Basin where lodging, food, lake and land services are available. There are lodges those who prefer roughing it on comfortable beds with modern facilities including outdoor pools, and on-site restaurants. Or, for those who prefer towing their accommodations with them, there are an ample number of RV sites with full hook-ups. And, for the more adventurous who prefer sleeping under canvas or under the stars, North Lake Powell offers a selection of campgrounds from lakeside to mountainside.
Ticaboo, Bullfrog Marina, Halls Crossing, and Hite Outpost, aka, Hite Marina are the main camps where amenities and services are located. (See map below)
Adventure Galore!
The list of available activities lineup like alphabet soup with variety to satisfy the most ardent adventure junkie to the occasional participant. Enjoy boating, fishing, hiking, biking, canyoneering, rock hounding, off-roading, kayaking, stand up paddleboarding, rafting, waterskiing, and more! Adventure outfitters offer shuttles, guided trips, ATV excursions, canyoneering/rappelling, and photography trips on Lake Powell or to the backcountry. For those who prefer doing it on their own, you can rent UTVs, boats, wave runners, kayaks, SUP paddleboards, mountain bikes, and other outdoor gear.
Lake Powell
Although the lake is at an historic low level, there is still plenty of lake and there's even more to explore. We've been on the lake as recently as last summer and explored places that haven't been seen in many years, some not since the lake was originally filled. One such place is the Cathedral in the Desert located in the Escalante River Arm. We think this is an exceptional time to experience the lake as it's rarely seen. We plan to go back in April with our Friend, Ray Golden, general manager of Ticaboo to see dinosaur tracks and other newly exposed areas of the lake.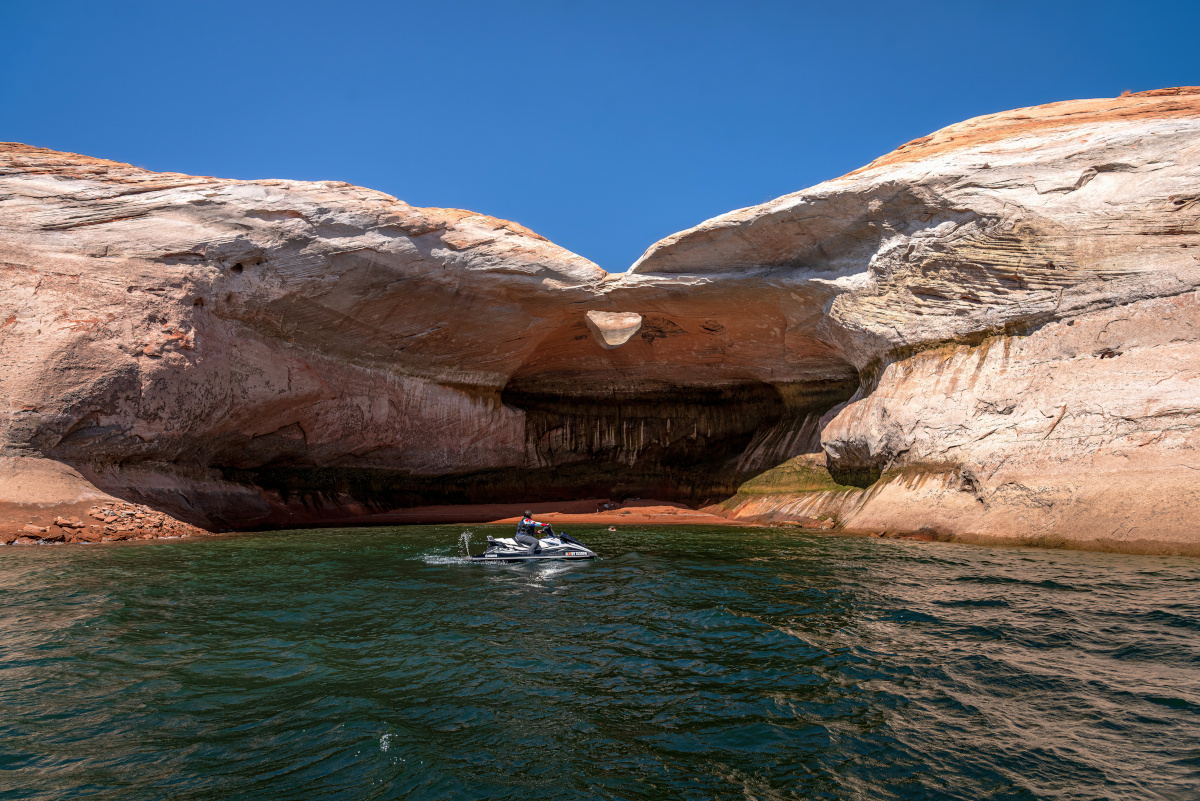 Accessing the Lake
Unless your houseboat is already on the lake, it may not get there this year. However, powerboats can still be launched. Dangling Rope is closed as are a number of boat ramps. To get the latest information visit Alerts & Conditions – Glen Canyon National Recreation Area (U.S. National Park Service) (nps.gov)
Powerboat and jet ski rentals are available at Ticaboo and Bullfrog Marina. Additionally kayaks and stand-up paddleboards can also be rented from these same services.
Henry Mountains
Technically a laccolith, defined as "a mass of igneous rock, typically lens-shaped, that has been intruded between rock strata causing uplift in the shape of a dome." The Henry Mountains, once known as the "Unknown Mountains," were the last-named mountain range in the continental U.S. They were named by Almon Thompson in honor of Joseph Henry, the first secretary of the Smithsonian Institution.
The range is home to one of only four genetically pure blood bison herds in North America. The northern point of the range begins south of Hanksville Utah and runs 30 miles south, north of Ticaboo.
Off-Road
Off-roading is the new rage at North Lake Powell. There are hundreds of miles of backcountry routes to interesting places throughout the region. From alpine roads in the Henry Mountains to routes throughout the vast open desert region with views of the lake and surrounding red rock landscape. As a result of the growing popularity of exploring the area by machine, an Off-Road Rally was organized in Fall of 2019, which has become an annual event. Information is available at www.northlakepowell.com