Hurricane Valley
(Hurricane, La Verkin, Toquerville, Leeds)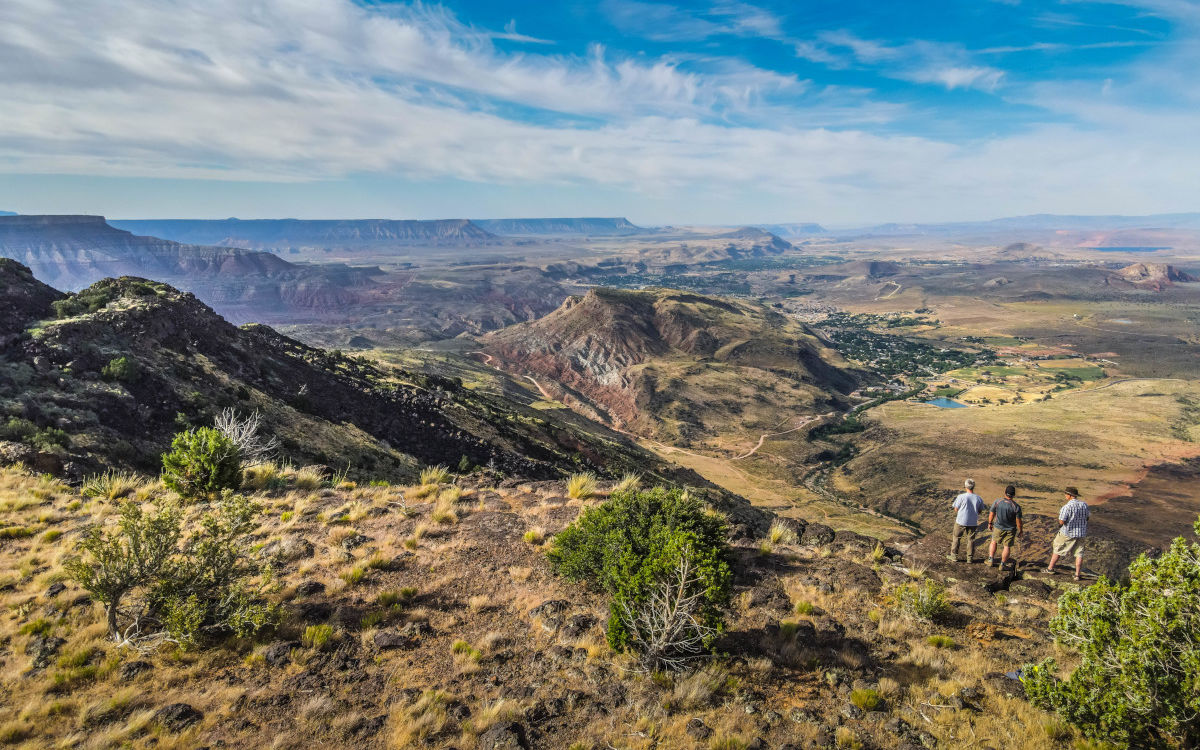 Hurricane Valley Utah
Set among red rock bluffs, ancient volcanic cinder cones, and limestone mesas, Hurricane Valley is located in the scenic Zion corridor between St. George and Zion National Park. Hurricane Valley is Greater Zion's center of adventure with two popular state parks, a national desert reserve, hiking trails, world class mountain biking, and dramatic off-road destinations. Add four challenging golf courses, abundant visitor services, plus the friendly small town charm of the communities of Hurricane, La Verkin, Toquerville, and Leeds, and you have the right combination for an ideal vacation. 
Greater Zion's Center of Adventure!
Off the beaten path
Whether you are looking for family fun and adventure, an adrenaline junkie, or somewhere in between, Hurricane Valley has it all. Located just minutes between St George and Zion National Park, Hurricane Valley offers activities ranging from world class Mt biking, ATV trails and rock climbing, to scenic drives, historical museums, antiquing, water sports and even a splash pad for the kids. No matter what you're into, you'll be able to find something to do and get off the beaten path. Come find yourself in Hurricane Valley.
Hurricane
Hurricane Utah is located in the Zion Corridor on state route-9, also known as the Zion Canyon Scenic Byway. Its central location to St. George to the south (18 miles) and Zion National Park to the east (20 miles) positions it ideally as Greater Zion's hub for visiting the many outdoor recreation areas and attractions. 
Situated on the Interstate-15 corridor, Hurricane is easy to get to! Drive time to Salt Lake City is four hours to the north and two hours to Las Vegas to the south. For those who prefer traveling by air, the St. George Regional Airport (SGU) is located 22 miles from Hurricane with non-stop service from Dallas, Denver, Los Angeles, Phoenix, and Salt Lake City.
Weather
At an elevation of 3,248' Hurricane has a semi-arid climate with hot, dry Summers and mild Winters that make it a popular destination for escaping the colder regions to the north.  
History
First settled in 1896, the founding of Hurricane was part of the "Cotton Mission" by pioneers sent by Brigham Young to establish agricultural communities in the southwest region of Utah. Hurricane became known for its peaches, pecans, and pistachio nuts that can still be found today on small farms throughout Hurricane Valley. Each Labor Day weekend a major celebration called Peach Days is held over Labor Day weekend to celebrate the community's heritage. 
Hurricanes in Utah?
Although strong winds do occasionally blow here, it's not likely you'll ever run into a Hurricane. So what's the story behind the name? Legend has it that on a windy day in the 1860's a whirlwind blew the top off Mormon leader Erastus Snow's buggy, in response he reportedly said, "Well, that was a Hurricane. We'll name this the Hurricane Hill." The name stuck but with a bit of twist. Influenced by early settlers from Liverpool England, the name is pronounced "Her-ah-kun" by local residents. 
Hurricane Canal
For approximately 80 years the residents of Hurricane Valley relied on water supplied by  a canal that took more than 11 years to build (1893-1904). Constructed mostly by pick and shovel, the canal originates in a deep gorge east of town on the Virgin River. Decommissioned in 1985, efforts to preserve the canal and its heritage succeeded in 2000 with the construction of a trail as a tribute to the early settlers' determination and grit to cultivate this semi-arid valley. A monument at the trailhead commemorates the construction and story of the canal. The trail provides panoramic views of Hurricane Valley below and allows hikers to walk in sections of the canal. 
The Virgin River 
It may not seem like much at first glance, but appearances can be deceiving! The Virgin River is the primary source for carving the deep canyons of Zion National Park. On average more than one million tons of sediment is removed from Zion each year. When the river reaches Hurricane it is joined by Ash Creek and La Verkin Creek at Confluence Park located west of the La Verkin Bridge. This 344 acre park is home to wildlife such as deer, beaver, porcupines and raccoons and many types of large birds including falcons, vultures, ravens, hawks, and Blue Heron.  The three water sources provide a lush environment that is quite different from the surrounding desert landscape. Access to the park is found on State Route-9 immediately north of the Hurricane-La Verkin bridge.
Things to Do
Hurricane offers activities ranging from world class mountain biking and ATV trails, rock climbing, scenic drives, historical sites and museums, antiquing, water sports and even a splash pad for the kids. No matter what you're into, you'll be able to find something to do and get off the beaten path. 
CLICK ON A POINT OF INTEREST FOR DIRECTIONS
&

DETAILS.