Winter Sunrise at Bryce Canyon
Shooting a Winter sunrise at Bryce Canyon under a fresh blanket of Utah powder has been on my bucket list for many years. I've been traveling to Bryce Canyon regularly since 1990 and I've seen sunrises many times Spring through Fall, but never in winter. So when I saw that snow was in the forecast this past week I made arrangements to spend the night at Ruby's Inn so I could be at the park first thing in the morning.
Bryce Canyon National Park is magical anytime of year, but Winter is extra special
The forecast showed one clear day between two snowy days, which turned out to be the case. I had my window and it was a good one. The day was completely free of clouds, which would be good for early light. Sunrise is better than sunset at Bryce since the main amphitheater (canyon) faces the east. The amphitheater is filled with shadows in the evening, which isn't bad in and of itself but it's just not as ideal as morning light on the Hoodoos. I also prefer Winter light to Summer light due to the sun's position in the sky and shorter days that seem to make the light softer. Everything was lining up to be a good day.
With fresh snow and clear skies, I knew the morning temperature would be bitterly cold, so I came extra prepared, or so I thought.
Years ago as an early morning runner, I learned that sunrise is the coldest time of the day, which was the time I frequently returned from my run. At 8,000 ft., sunrise at Bryce is exceptionally cold, even in the Summer months. With fresh snow and clear skies, I knew the morning temperature would be bitterly cold, so I came extra prepared, or so I thought. With a slight breeze and overnight temps dipping to low single digits the temperature gauge would most likely drop below zero at sunrise, which it certainly did! In fact, it dropped to a finger freezing nine below. I keep hand warmers in my car for just such an occasion, until this trip. As thorough as I thought I was in preparing I simply assumed the hand warmers would be in my emergency box as they generally are, until now.
As the sun began to peek over the horizon I could feel the chill making it's way through my gloves. I knew there was little I could do at this point and would have to jut tough it out, no way would I not stay as long as needed to get what I came here to shoot.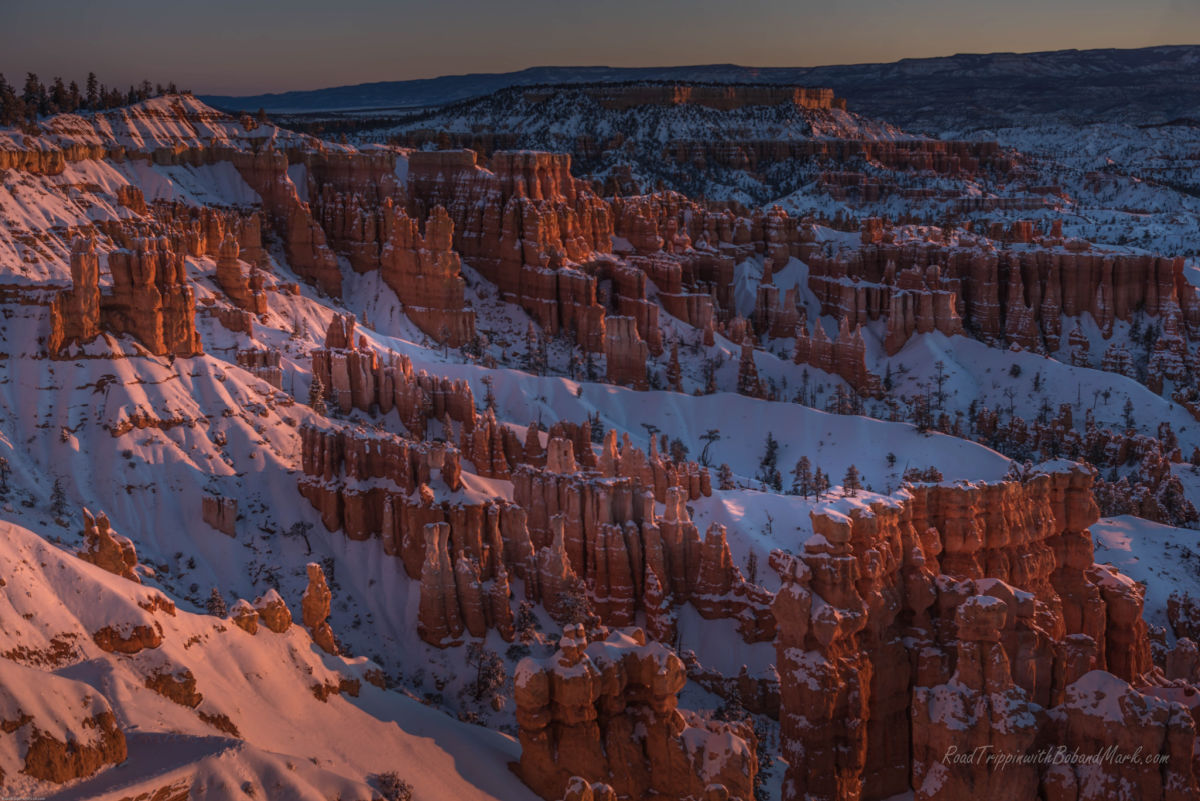 Sunset Point
I know the layout of Bryce fairly well from guiding tours through the park since the early 1990's. I have a good idea of where to set up to get the best shots. My main objective was to set up were I could move around quickly above and below the rim. I determined that Sunset Point would be ideal since the Navajo trail is conveniently next to the viewpoint making it easy to race down below where I could catch the sun rising about the formations with Thor's Hammer specifically in mind.
There were half dozen or so other photographers with the same idea. During the Summer months there would have been four to five times this number. Bryce Point is where I generally take my Summer tour groups for Sunrise, which is a great location for watching the sun light up the amphitheater, but it's not convenient for dropping below the rim on the Peek-A-Boo trail.
After finishing up with what I wanted at Sunset Point I quick stepped it back to my car, which at 8,000 ft. is no easy feat going up a steep hill. I threw my gear in the backseat, pumped up the heater to full power and silently thanked the person who invented heated seats! Once I thawed out I drove to Bryce Point to get a few shots of the amphitheater from a higher point. By now it was in the teens and felt considerably warmer, as strange as that sounds.
All in all, the day turned out to be a great success and very satisfying. I took a gazillion shots hoping to get enough in focus to work with, which thankfully turned out to be the case.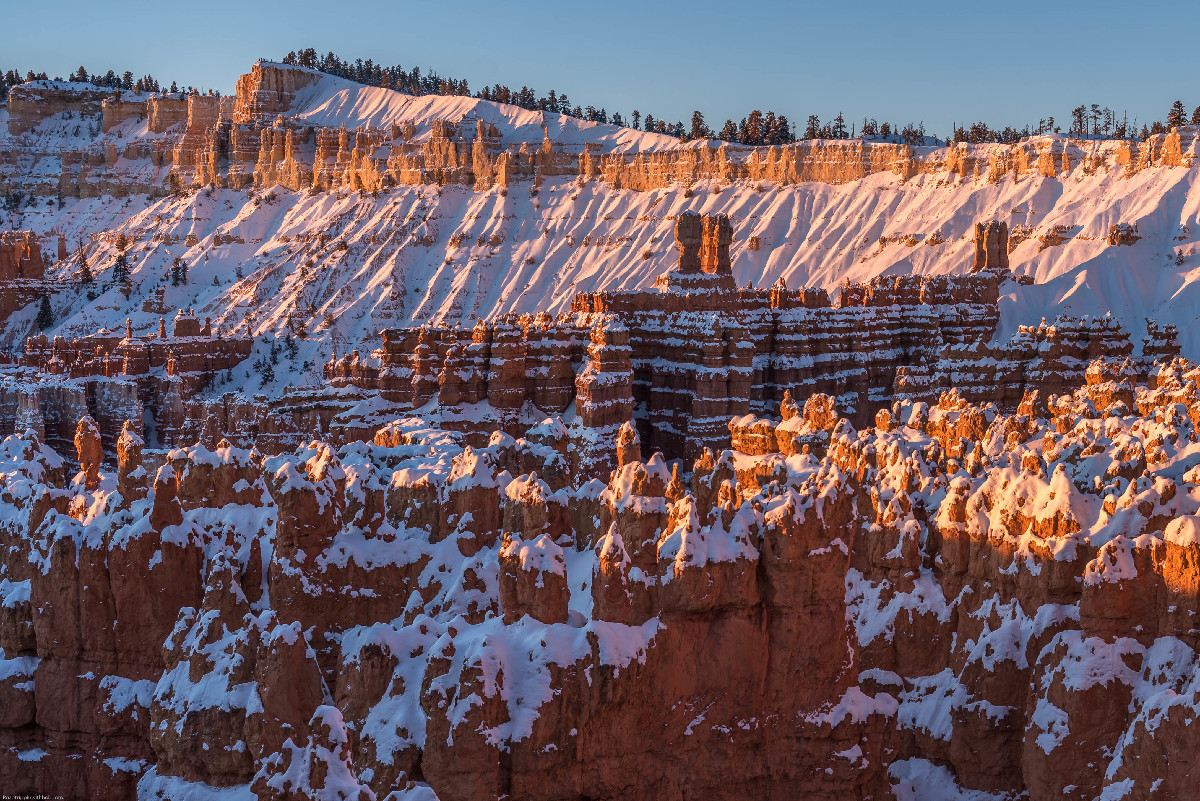 Winter is a Great Time to Visit Bryce Canyon
It was the week between Christmas and New Years when I came to shoot sunrise. I was pleasantly surprised to see how busy it was. This is typically a busy week for Christmas travelers especially at ski resorts, but this year it's seemed busier than normal at the parks. We're calling this the Covid effect. We experienced record breaking numbers this past Fall that saved the season for manySave tourism businesses, but unfortunately others weren't able to hang on through a dismal summer to make it to Fall.
Winter Magic
Any season is magical at Bryce Canyon, but Winter is extra special. Snow adds another element to the kaleidoscope of color under the bluest of blue sky you'll ever see. At night that blue sky becomes one of the darkest skies in the world. Designated an International Dark Sky Park in a state with the highest number of dark sky destinations on earth. Night gazing at Bryce Canyon is added bonus to daytime sightseeing. The stars seem so close there are times I feel as though I could reach out and grab the Milky Way. This is a must "to do" if you plan on visiting Bryce. Clear nights far outnumber cloudy nights but Winter can be a little more unpredictable.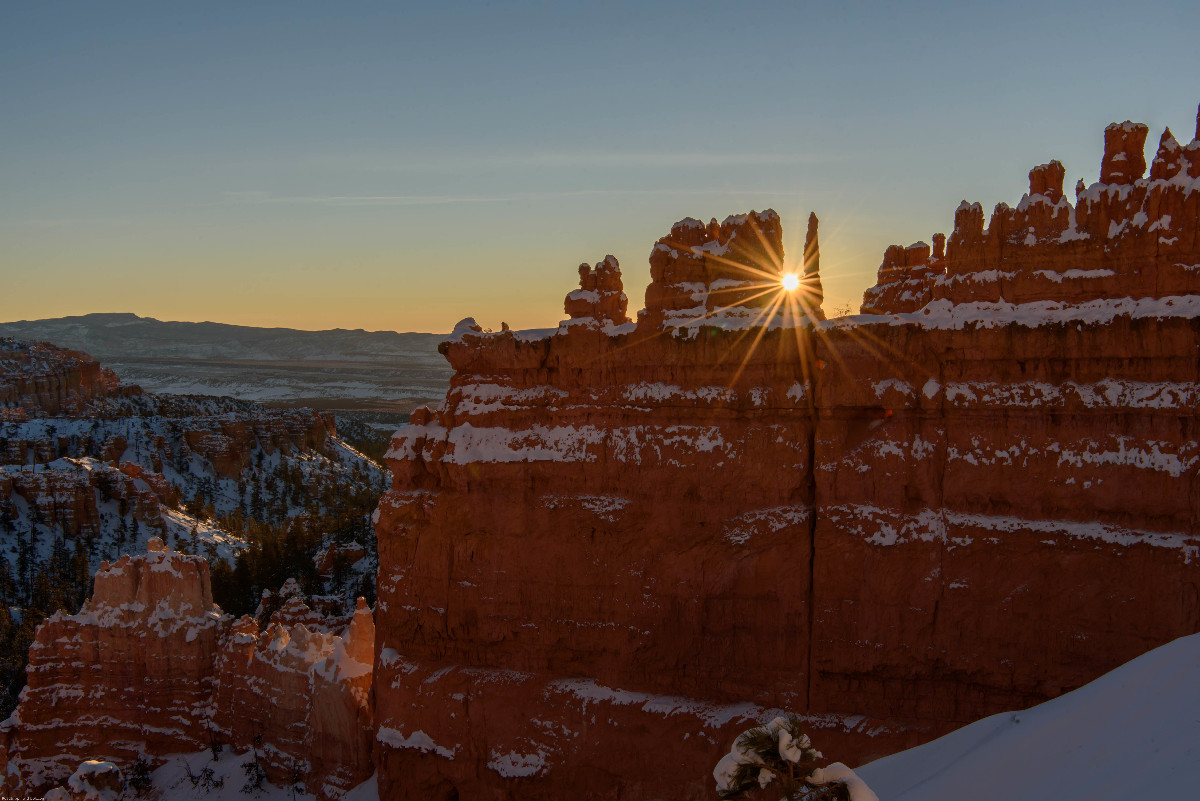 Winter Activities
The snow was fairly deep in the untracked areas on my recent visit but the the Navajo Trail was hard packed. I enjoy snowshoeing and cross-country skiing at Bryce but if that's not your thing, I recommend getting micro-spikes that you can place on the bottom of your boots. These will help grip the ice and hard packed snow on the trails that should prevent those slip sliding spills. If the trails are clear of snow I recommend going early in the morning while they're still frozen. Once they thaw out, they can get extremely messy.
Winter Festival
Ruby's Inn holds an annual Winter Festival on President's Day weekend with this year's event scheduled February 19-21, 2022. The events page on their website describes it as having something for everyone with free clinics, demos and tours. Activities include kayaking demos (you heard that right), doesn't sound like a winter activity but they did say they have something for everyone. Archery clinics, again, something for everyone. Okay, here's a Winter activity, cross country ski races. For a list of activities and events, click here. The website says this year will be similar. The festival is designed to be entertaining for all age groups.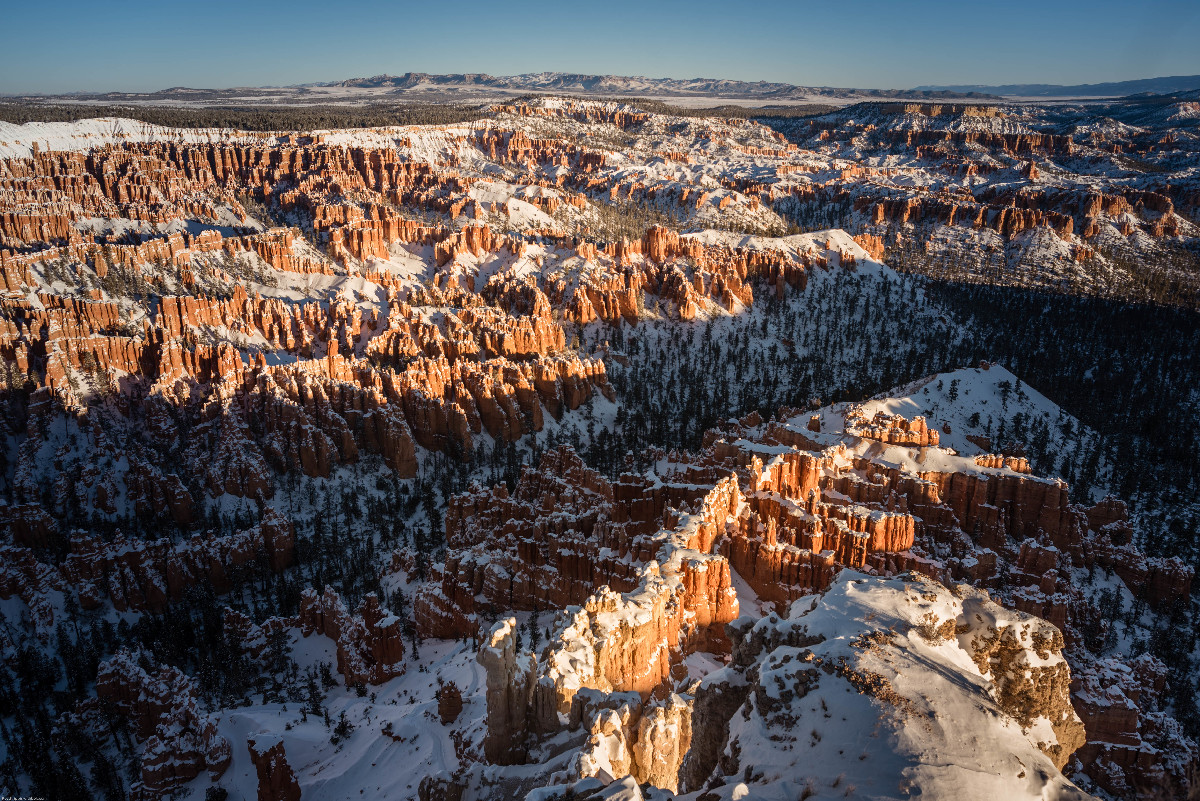 Other Winter Things to Do
Bryce Canyon is a Winter Wonderland and Ruby's Inn, located just a mile from the entrance to the park, is basecamp for all there is to do. With comfortable rooms, restaurants, general store, gift shop, indoor pool, and activity center; everything is right there conveniently close and plentiful. Winter rates are a real bargain, and the crowds are much smaller. Typically, this time of year there are no crowds. Other activities include ice skating at the Winter Activity Center (Ebenezer's Barn & Grill Building), cross-country skiing on 30 km of groomed trails that wind through the forests right from your building: sleigh rides, snowshoeing, and snowmobiling. Click here for more details.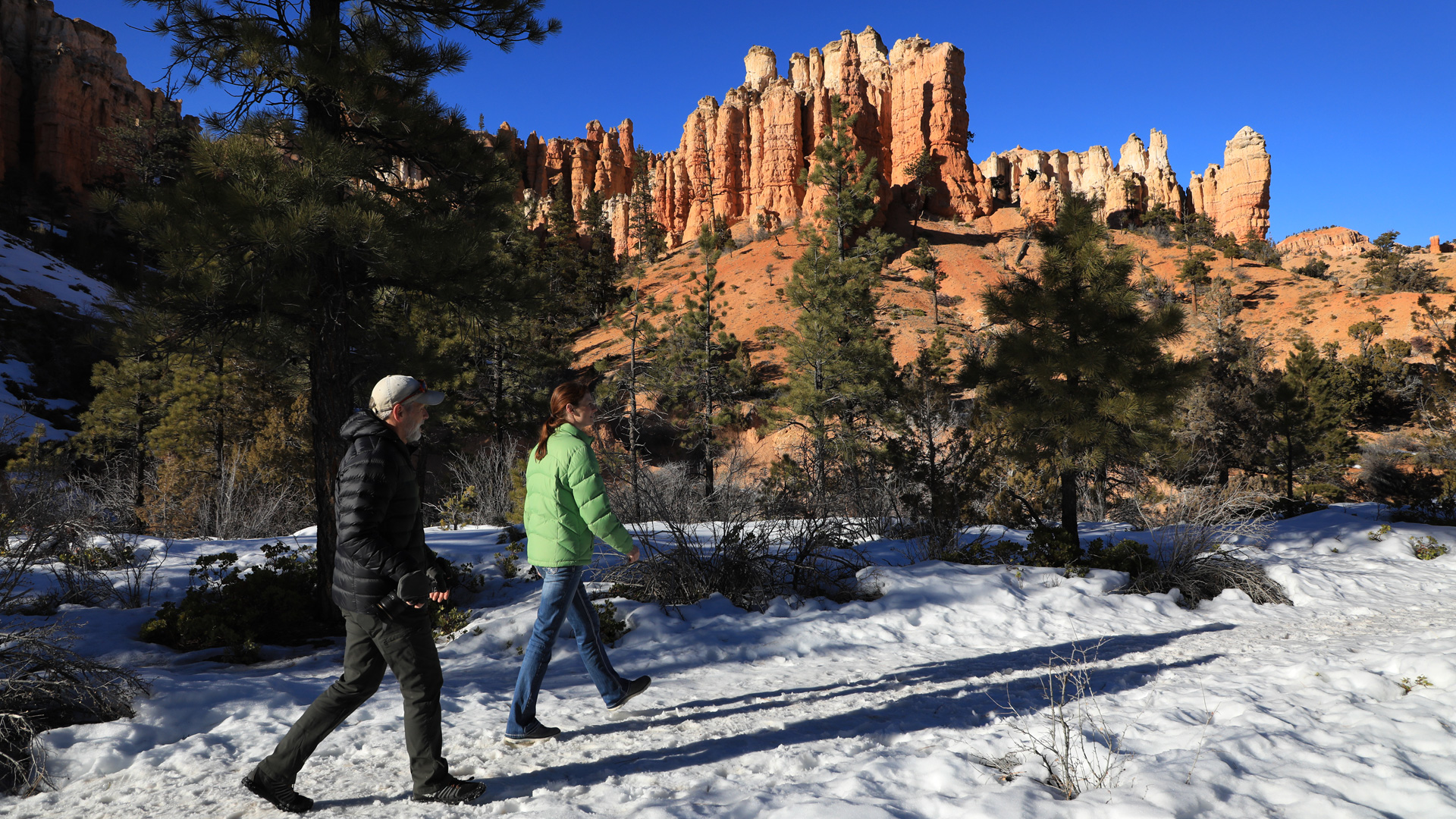 Mossy Cave
While you're at Bryce, add a little side trip to your itinerary to visit Mossy Cave located outside the fee area on Highway 12. The trailhead parking lot is located on the route to the town of Tropic at the bottom of the hill. This is a great family hike that goes to an alcove of frozen ice cycles. Distance is just under a mile and rated easy. This was one a fairly unknown trail that rarely attracted but a handful of visitors. Word got out! The trail and parking area can get crowded during the day but shouldn't be as much of a problem during the colder Winter months. Again, 2020/21 is not a typical year.
For all things Bryce Canyon visit Bryce Canyon and Ruby's Inn.
I almost ran off the road when I saw this big ole moon rising above the Aquarius Plateau north of Bryce Canyon the evening I drove to the park.
LISTEN TO THE ONE TANK TRIP OF THE WEEK ON THE KSL OUTDOORS SHOW EVERY SATURDAY MORNING