My first time visiting Boulder City Nevada was during my college days in Cedar City Utah. A group of us spent the weekend in Boulder City wind sailing at a nearby dry lake and hiking in Bootleg Canyon. This was also my first time visiting Hoover Dam and Lake Mead, Boulder City's biggest attractions. Since then, Boulder City has become a favorite getaway I visit often.
No Casinos
Boulder City is the only city in Nevada without gaming or casinos. This might be a negative for many visitors who come to Nevada for the casinos, but for me it's a plus. Boulder City is a great alternative for visiting the Las Vegas area for people like me who don't enjoy staying in casinos, driving in traffic, and navigating through crowds. There are things I enjoy about Las Vegas but staying in a neon jungle is not one of them. Only 30 minutes from the famous Las Vegas Strip, with a population of around 15,000, Boulder City has a small town feel that seems completely removed from the nearby casino environment.
So why is it casino free and how was it founded? Read about it here.
Boulder  City's sole reason to exist was the need to house the workers hired to build the Hoover Dam/Boulder Dam on the Colorado River. The town began as a Federal Company town and was built by the Bureau of Reclamation and Six Companies, Inc. The company assigned to build the massive project.
The sheer scale of the dam and the duration of the project required the Bureau of Reclamation to consider the construction of a semi-permanent town rather than a temporary arrangement. Boulder City was exceptionally rare as an example of a town fully planned under government supervision. Because the Hoover Dam project itself represented a focus for optimism for a country suffering from the effects of the Great Depression, the town itself was to be an additional manifestation of this optimism. There was to be an emphasis on a clean-living environment for dam workers. There was to be no gambling and no alcohol with the city limits.
The town was designed to house approximately 5,000 workers. The status of the workers on the Hoover Dam was reflected in their house sizes and locations. The most important employees had their residences on top of the hill nearer the apex. Managers were housed further down the hill, and dwellings for manual laborers were located furthest away from the public buildings and parks. The most radically modified portions of DeBoer's plan were in these lower-class residential blocks, where open space and parks were largely eliminated.
Today
Boulder City maintains strict controls on growth, limited to 120 single- or multi-family residential building permits for new construction per year. Hotels are also restricted to no more than 35 rooms. These restrictions are defined in the city code of Boulder City.  Alcohol is allowed, yet gambling is illegal. There are no casinos within the city limits
Reference: The Boulder City Tourist https://www.thebouldercitytourist.com/the-history-of-boulder-city-nevada/
Hoover Dam and More!
Boulder City is home to Nevada's number one visited attraction, Hoover Dam, and is close to Lake Mead, North America's largest man-made lake. Other things to see and do include Flightlinez Bootleg Canyon zip line park, Bootleg Canyon mountain bike trails, where you may spot Desert Bighorn Sheep.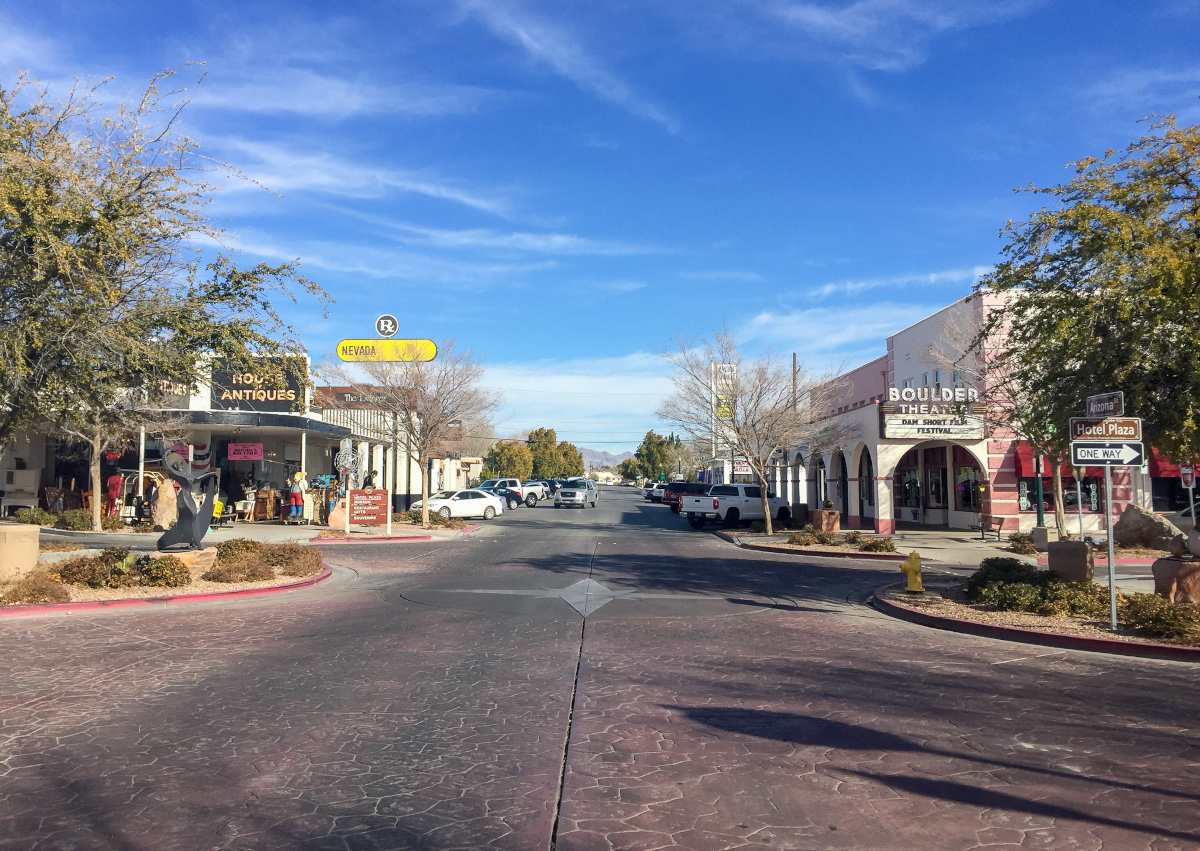 Hoover Dam
, formerly called the Boulder Dam. Located in the Black Canyon of the Colorado River on the border between Arizona and Nevada, the dam was constructed during the depression and dedicated on September 30, 1935 by President Franklin D. Roosevelt. 
Click here
 for the dam tour information. 
usbr.gov/lc/hooverdam 
Boulder City / Hoover Dam Museum
 – Located in the Boulder Dam Hotel – ​The Boulder City/Hoover Dam Museum tells the story of the Boulder Canyon Project as it was experienced by the men and women who braved the desolation of the Southern Nevada desert to build Hoover Dam and Boulder City. Open Mon – Sat 10am – 5pm, Boulder Dam Hotel guests receive free admission. 
bchdmuseum.org.
Mike O'Callaghan-Pat Tillman Memorial Bridge
 – Hoover Dam Bypass – serves thousands of drivers on U.S. 93 each day. The bridge is 1,900 feet long and its twin concrete arches – at 1,060 feet – are the longest in the western hemisphere.  At 890 feet above the river below, it is the second tallest in the United States, second only to the Royal Gorge Bridge in Colorado. The walkway along the bridge offers unobstructed views of Hoover Dam. 
dambridge.com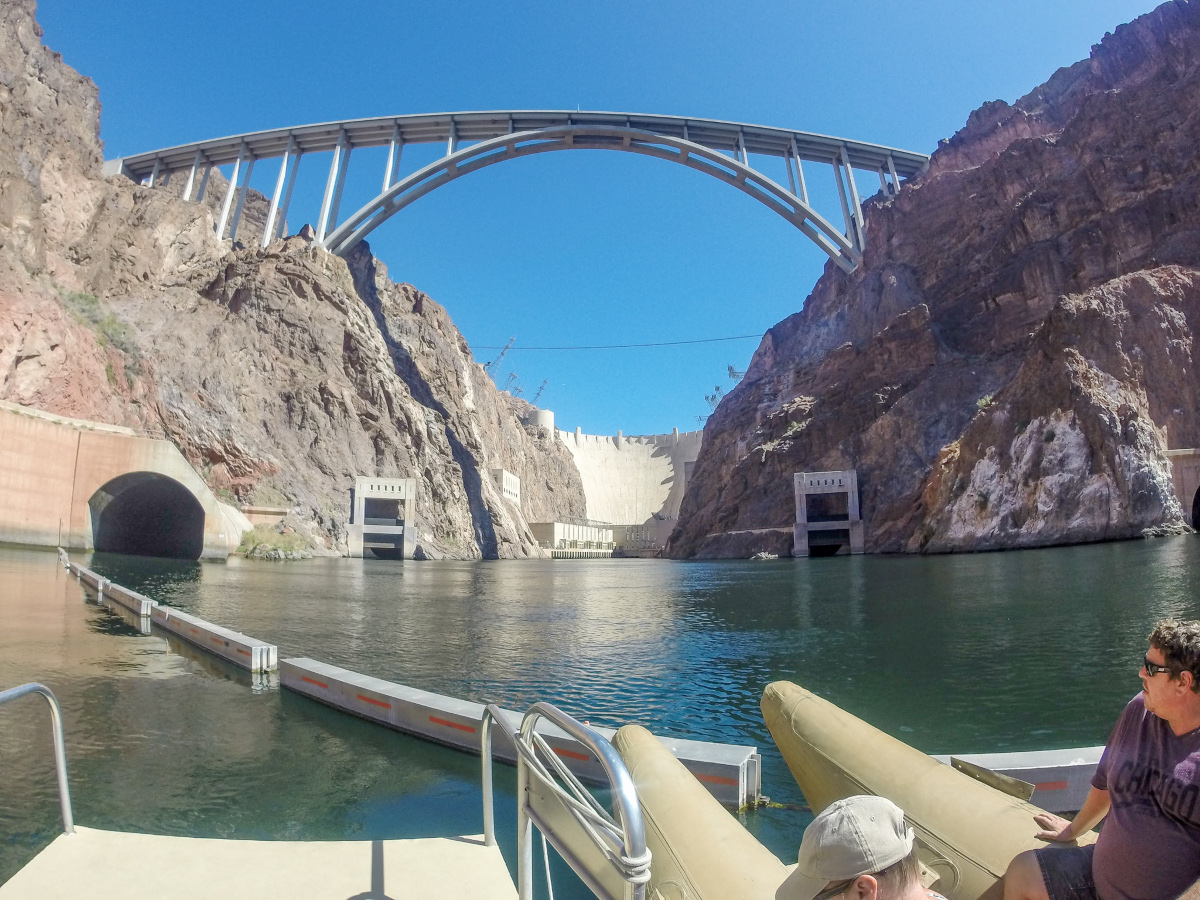 Lake Mead National Recreational Area
– Lake Mead NRA offers year-round recreational opportunities inlcluding boating, water sports, fishing, sightseeing, hiking, camping, and biking. 
Click here
 for more information. 
Southern Nevada Rail Road Museum
 – Ride the rails and experience history dating back to the 1930's – the time this Boulder Branch Line was constructed by the Union Pacific Railroad to service the Boulder Dam project. 
nevadasouthern.com 
Bootleg Canyon Trails
– Bootleg Canyon Mountain Bike Park is an extensive network of World Class Downhill and Cross Country mountain bike trails located in Boulder City, Nevada. 
Flightlinez Bootleg Canyon

– 
Located in historic Bootleg Canyon minutes from downtown Boulder City. This adrenaline-pumping experience covers more than 1.5 miles of zip line over the course of four separate runs. The 3-hour adventure will take you atop of Red Mountain and send you screaming down historic Bootleg Canyon at speeds up to 60 mph. 
flightlinezbootleg.com
Black Canyon Willow Beach River Adventures –
Colorado River rafting trip from Hoover Dam to Willow Beach 12 miles downriver. The trip downriver takes approximately three hours and includes a lunch stop at a sandy beach. This is a scenic flat-water trip but those sitting in the front will get some splash, do expect to get a little wet if the water is rough. Hooverdamtouradventures.com 

Where to Stay
Boulder Dam Hotel – This Historic hotel opened in 1933 during the construction of the Boulder Dam. Home to the the Boulder City/Hoover Dam Museum and Gift Shop, the Boulder City Art Guild Gallery, three unique shops, and Matteo's Restaurant and Underground Lounge. Conveniently located within walking distance of downtown shops and restaurants. boulderdamhotel.com 

Where to Eat
Boulder Dam Brewing Company – BrewPub & Outdoor Beer Garden, featuring specialty beers brewed on site; wine & food. Space available for special events. Bus hrs Sun-Thur 11am-9pm; Fri-Sat 11am-Midnight. boulderdambrewing.com The Coffee Cup – Old fashioned diner featured on the popular TV show, Diners, Drive-In's, and Dives. Open for breakfast and lunch. worldfamouscoffeecup.com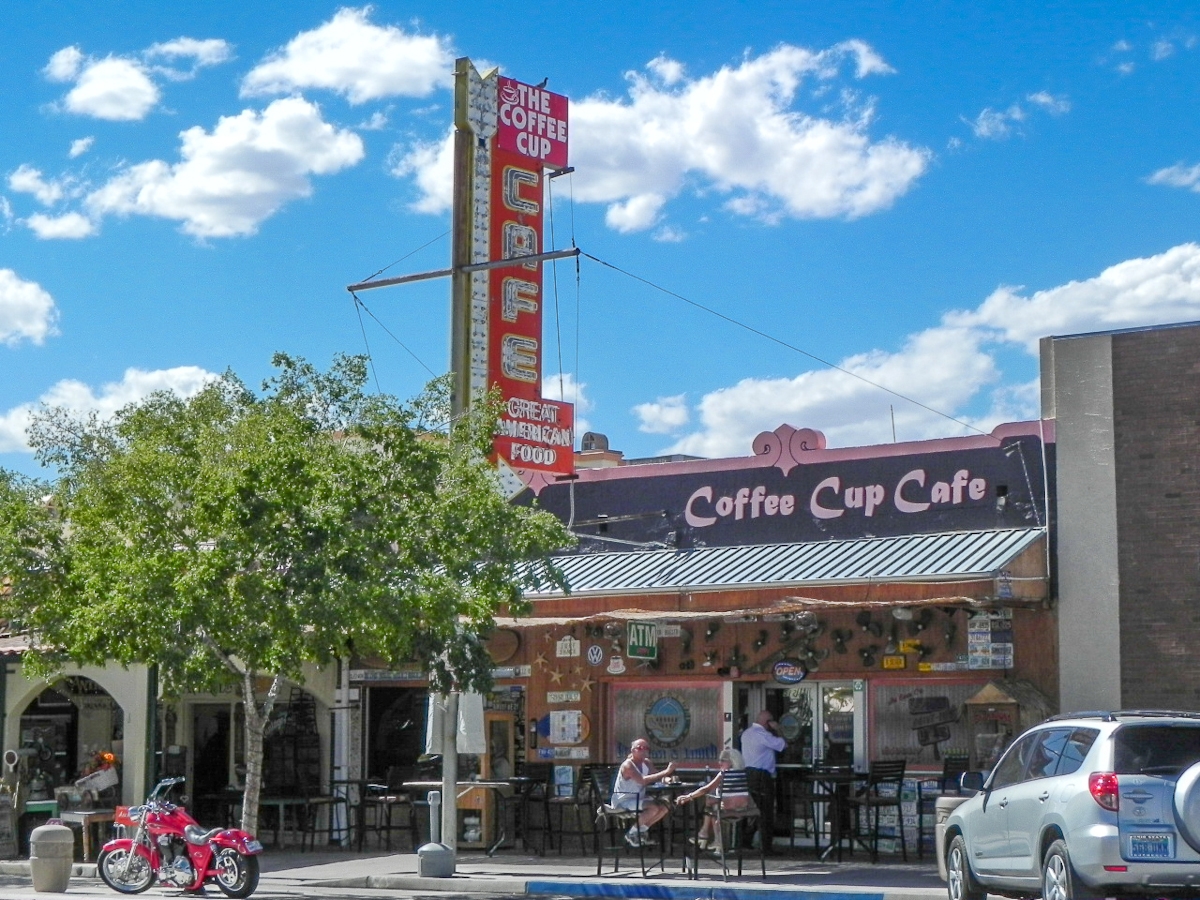 Our Route
There are a couple of options for driving to Boulder City from the St. George area where we live; one scenic the other through Las Vegas. I generally prefer taking the scenic route but due to a late start getting out of town we chose Las Vegas this trip. To take the scenic route, jump on Interstate-15 south to exit 93 and follow NV-169 south through the towns of Logandale, Moapa Valley, and Overton. This route also passes the east entrance to Valley of Fire State Park, Nevada's first state park. The Valley of Fire is a collection of fiery red sandstone rock cliffs, mountains and canyons situated between I-15 and Lake Mead. I should mention that Moapa Valley is a popular recreation area known for it's excellent off-road ATV trails, hiking, rappelling in Valley of Fire, and water sports at nearby Lake Mead. I'll save the details for another time, that's a whole trip in itself, which I prefer taking during the cooler months from late fall to early spring.
Once you're past Valley of Fire the road turns to the southwest and becomes Northshore Drive that follows Lake Mead's shoreline for most of the drive to Boulder City. Once you reach US-93, turn right for Boulder City or left for Hoover Dam and Mike O'Callaghan-Pat Tillman Memorial Bridge. Distance from exit 93 at Interstate-15 to Boulder City is approximately 81 miles. view map
LISTEN TO THE ONE TANK TRIP OF THE WEEK ON THE KSL OUTDOORS SHOW EVERY SATURDAY MORNING
CLICK ON A POINT OF INTEREST FOR DIRECTIONS
&

DETAILS.