Route 66
Las Vegas NV to Albuquerque NM
Get your kicks on Route 66!
Route 66, Main Steet of America, the Mother Road; however you wish to call it, this is America's most famous road. It's as Americana as it gets! It's also very evident that the interest in Route 66 goes well beyond the U.S. borders, all you have to do is listen to the many languages heard at stops along the way. I've learned through years of marketing tourism that Europeans, especially, love to follow popular routes whether at home or abroad.
I've been fascinated with Route 66 since my youth beginning with the early years of going on family road trips to visit relatives to watching the weekly TV series. The interest never left but was placed on a back burner until recently.
The stretch of Route 66 that runs from Albuquerque through Arizona is the section that's most accessible to where I live, which made it the logical stretch to plan for a tour. It's packed full of interesting attractions from scenic landscapes to roadside diners, shops, motor lodges, and historic sites. I've wanted to plan this tour since the early 90's, but it wasn't until 2016 that I decided to stop procrastinating and make it happen. After several trips mapping the route we ran the first tour in 2017.
Las Vegas to Kingman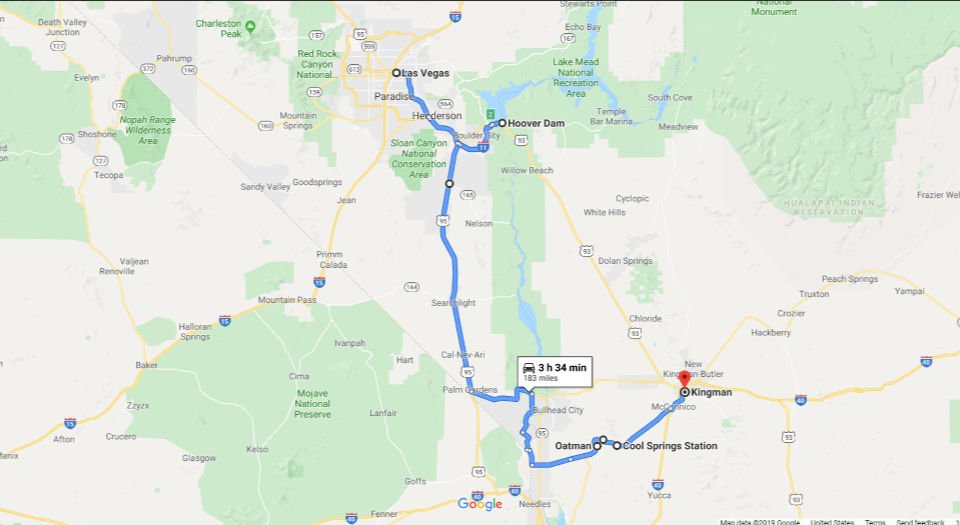 Hoover Dam Constructed between 1931 and 1936 during the Great Depression the Hoover Dam is located on the border between Nevada and Arizona 39 miles from the Las Vegas strip. The Dam is a National Historic Landmark and has been rated by the American Society of Civil Engineers as one of America's Seven Modern Civil Engineering Wonders. Open to the public everyday from 5:00 a.m. to 9:00 p.m. (closed Thanksgiving & Christmas). Guided tours are available at $30 pp  click here
Oatman AZ Located in the Black Mountains of Mohave County, this small frontier settlement hit pay-dirt in 1915 with the discovery of a rich ore body that brought one of the desert country's last gold rushes. For nearly a decade, the mines of Oatman were among the largest gold producers in the American West. Named in honor of Olive Oatman, a young Illinois girl, who was taken captive by Indians and forced in to slavery in 1851 then later traded to another band of Indians, who released her in 1856. After the gold boom this small town might have faded away if it weren't for Route 66. The town maintains a Wild West feel, down to the wooden sidewalks, staged shootouts and kitschy shops. Descendant "wild" burros of those brought here by the early miners wander the streets, stop traffic, and are pretty cooperative for camera shots. Recommendation: Built in 1902, the historic Oatman Hotel is holds the distinction as the honeymoon stop of Clark Gable and Carole Lombard after their wedding in Kingman on March 18, 1939. Visit the gift shop upstairs where you can see the Gable/Lombard honeymoon "suite." Downstairs, just off the main entrance is a restaurant best known for it's unusual wallpaper; thousands of dollar bills stapled to the walls, ceiling and placed under glass on the tables. Definitely worth checking out.
Sitgreaves' Pass Sitgreaves' Pass was first mapped out by Captain Lorenzo Sitgreaves in 1851 while on an expedition to see if the Colorado and other rivers could be navigated by steam boat. From the top of the pass at an elevation of 3,550 ft, you can see across the Black Mountains into California and Nevada to the West and across the scenic switchbacks to the Hualapai Mountains in Arizona to the East.
Route 66 Memorial Hill Located just past Sitgreave's Pass overlooking Gold Road Mine. Dozens of crosses and other remembrances dot the hillside. It's interesting, quirky, and kind of eerie. Better yet, do this at night!
Shaffer Fish Bowl Spring Shaffer Fish Bowl Spring is located on Oatman Highway (Route 66) between the towns of Oatman and Kingman. A natural spring leads down to a basin where there are several gold fish. A few stone steps, often with loose gravel and burro droppings, lead up to the spring capture basin that offers a panoramic view of the valley below. Local residents say that travelers used the spring water to fill canvas bags or the radiator as they drove up the old highway. Perhaps the inspiration to Radiator Springs for the 2006 Pixar film Cars? It seems that knowing where springs were along the highway was important for drivers who needed to top off a radiator from time to time.
Cool Springs From the very earliest days, Cool Springs camp and service station was an important stop for motorists traveling Arizona's Route 66. Cool Springs was built in the mid-1920s and has been connected with Route 66 from the very start. The legacy of Cool Springs reflects the larger story of Route 66. The Mother Road gave it life. The hey-day of Route 66 was the hey-day of Cool Springs. The rebuilt Cool Springs station is now a gift shop offering Route 66 souvenirs and one of a kind Cool Springs memorabilia. You can also order items from the Cool Springs gift shop through this web site. Visit our online store for more information and to check out some of the Cool Springs items for sale. Site of the movie, Universal Soldier.
Kingman Kingman is located right in the center of the longest continuous remaining stretch of Route 66 (easily accessible from Interstate 40), and remains a thriving Route 66 town with many motels, cafes, and service stations that keep the spirit of Route 66 alive. At an elevation of around 3,300 feet, Kingman offers a temperate climate year-round making this charming community not only a remarkable destination, but a perfect launching point for "Route 66 and Beyond."
Kingman to Williams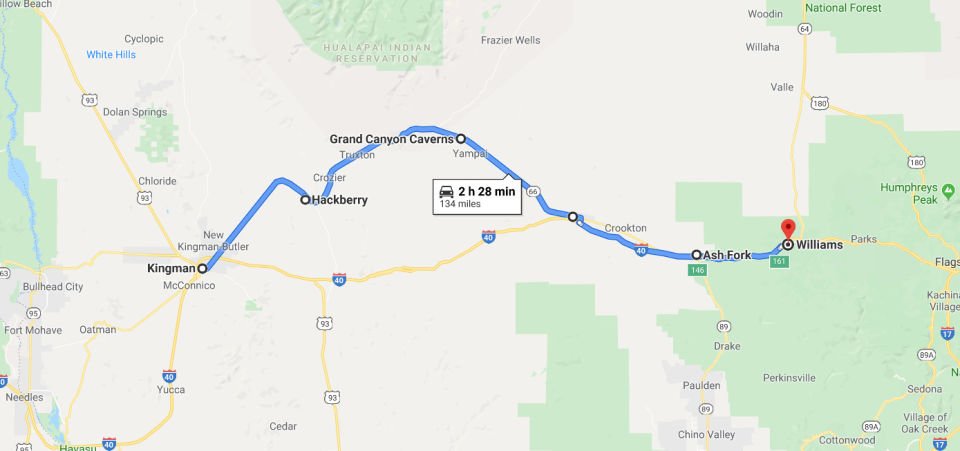 Giganticus Headicus Those who have driven old Route 66 north of Kingman, AZ have spotted by the roadside a large green statue that resembles a cross between a tiki god and one of Easter Island's monoliths. "Giganticus Headicus" is its name, a half-buried, 14-foot-tall pseudo-tiki sculpted of metal, wood, chicken wire, styrofoam and cement, created in 2004 by Gregg Arnold. It stands outside what was once the Kozy Corner Trailer Court.
Hackberry General Store Originally operated by the Route 66 artist Bob Waldmire who traveled the road in his orange 1972 Volkswagen Microbus, the Hackberry General Store is a favored stop among travelers of Old 66.  Bob was the unofficial inspiration of Fillmore in the Disney/Pixar movie Cars. Photo ops abound around Hackberry; a rustic store front, the tin-can billboard, nostalgic gas pumps, craggy mountain faces, old blacktop and scenic vistas. Hackberry is a microcosm of Route 66.
Keepers of the Wild Nature Park Keepers of the Wild is a nonprofit animal sanctuary providing a life-long home to over 140 rescued wild and exotic animals including lions, tigers, bears, primates, hoofstock, birds and more. The beautiful nature park is nestled on 175 acres along one of the most scenic sections of Historic Route 66 in Arizona. Guided and self-guided tours.
Diamond Creek Road Located off Route 66 in Peach Springs, Diamond Creek Road is an adventurous "road less traveled" to the Colorado River. The route down Diamond Creek Road is a 25-30 mile stretch from Route 66, most of it is gravel, but passable in a conventional automobile. You will be driving down into the Grand Canyon to the Colorado River where Diamond Creek used to feed into the mighty Colorado. Diamond Creek Road is the only road that offers vehicular access to the Colorado River between Lees Ferry (225 miles upriver) to Pierce Ferry (52 miles downriver). A permit is required in order to travel on Diamond Creek Road, as it is located on Hualapai Indian Tribal land.
The Grand Canyon Caverns The Grand Canyon Caverns, located just a few miles east of Peach Springs, Arizona, lie 21 stories below ground level. They are among the largest dry caverns in the United States. Dry caverns compose only 3% of caverns in the world. Because of the lack of water, stalagmites and stalactites are rare in the caverns.
Seligman In 1987 Seligman gained its name "Birthplace of Historic Route 66" due to the efforts of Seligman residents spearheaded by long-time resident Angel Delgadillo, who convinced the State of Arizona to dedicate Route 66 a historic highway. Seligman is the first stop heading west on the longest uninterrupted stretch of historic Route 66, running around 160 miles to Topock on the east side of the Colorado River. 
Burma Shave Signs Burma-Shave was a brand of brushless shaving cream that was sold from 1925 to 1966.  The company was notable for its innovative advertising campaign, which included rhymes posted all along the nation's roadways. Typically, six signs were erected, with each of the first five containing a line of verse, and the sixth displaying the brand name.  Replica's of the Burma Shave signs can be found along Route 66 between Seligman and Ashfork Arizona.
Ashfork Ash Fork has proclaimed itself "The Flagstone Capital of the World," due to the large number of stone quarries and stone yards in and around the town. Ash Fork was the location of the Escalante, a large hotel and "Harvey House" built in 1907 and closed in 1948, operated by the Fred Harvey Company. Ash Fork's convenient location along the railway and later famous U.S. Route 66 made it recognizable to many cross-country travelers, as evidenced by its fleeting mention in several films from the era of Classical Hollywood cinema such as 1947's Dark Passage, starring Humphrey Bogart and Lauren Bacall.
Williams Known as the "Gateway to the Grand Canyon", Williams was the last city on Historic Route 66 to be bypassed by Interstate 40. The community, bypassed on October 13, 1984, continues to thrive on tourism. Boasting seven fishing lakes in the area, hiking trails up Bill Williams Mountain and into Sycamore Canyon, an alpine ski area and cross country ski trails, four-seasons weather and an abundance of wildlife, Williams offers unlimited recreational opportunities for the outdoor enthusiast. Although Route 66 may not appear on many maps today, the nostalgia and spirit of a bygone era lives on here in Williams, Arizona.
Williams to Flagstaff
Grand Canyon
Jerome Jerome is a town in central Arizona. The Mine Museum explores Jerome's history as a booming copper-mining town. Jerome State Historic Park is home to Douglas Mansion, built in 1916 by a mining magnate. Nearby, Audrey Headframe Park has a glass viewing platform over a 1918 mine shaft. Art galleries and small wineries dot the downtown area. To the east, Tuzigoot National Monument preserves an ancient hilltop pueblo.
Sedona Sedona is an Arizona desert town near Flagstaff that's surrounded by red-rock buttes, steep canyon walls and pine forests. It's noted for its mild climate and vibrant arts community. Uptown Sedona is dense with New Age shops, spas and art galleries. On the town's outskirts, numerous trailheads access Red Rock State Park, which offers bird-watching, hiking and picnicking spots.
Flagstaff Home to Northern Arizona University and Lowell Observatory, Flagstaff is surrounded by mountains, desert and ponderosa pine forests. It's a gateway to the San Francisco Peaks, home to Arizona's tallest mountain (Humphreys Peak) and the Arizona Snowbowl ski resort. Nearby, Wupatki National Monument has Native American pueblo sites, and Walnut Canyon National Monument is dotted with their cliff dwellings.
Flagstaff to Holbrook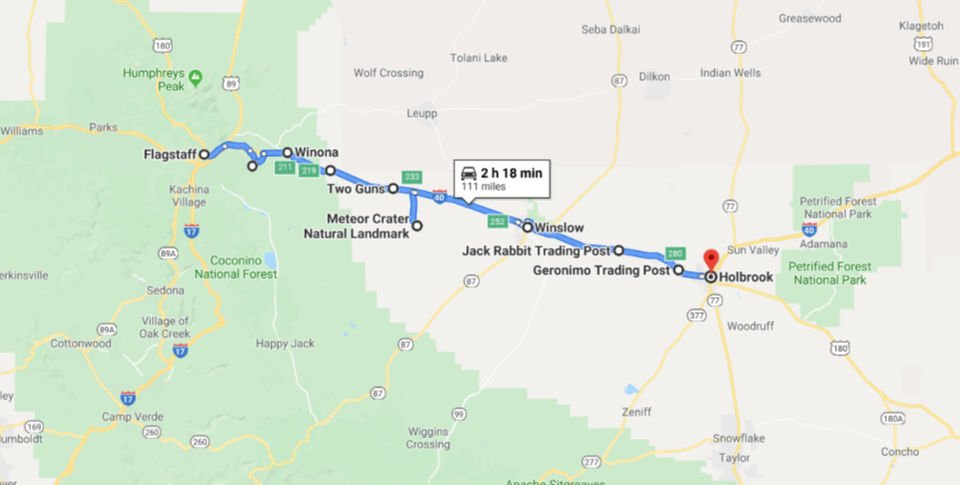 Walnut Canyon National Monument Located about 10 miles southeast of downtown Flagstaff, Arizona, near Interstate 40. The canyon rim elevation is 6,690 ft; the canyon's floor is 350 ft lower. A 0.9 mile long loop trail descends 185 ft into the canyon passing 25 cliff dwelling rooms constructed by the Sinagua, a pre-Columbian cultural group that lived in Walnut Canyon from about 1100 to 1250 AD. Other contemporary habitations of the Sinagua people are preserved in the nearby Tuzigoot and Montezuma Castle national monuments.
Winona Winona is one of the towns mentioned in the classic song Get Your Kicks on Route 66, its icon was the Winona Trading Post, and it is very close to the "Chocolate Niagara", the Grand Falls on the Little Colorado River. Winona is located in the forested area of the San Francisco mountains inside the Coconino National Forest. Don't miss the Historic Route 66 bridge built in 1924.
Twin Arrows Trading Post Ruins Traffic began to flow through the Twin Arrows area because Route 66 was aligned along the National Old Trails Road. A business named the Canyon Padre Trading Post, named for the gorge that cuts nearby, was established in the late 1940s in Twin Arrows. Business was slow for the store and diner until the owners changed its name to "Twin Arrows Trading Post", inspired by nearby town of Two Guns and added a service station. Two 25-foot giant arrows which were placed on the property were easily recognized by traveling motorist and the business began to flourish.
Two Guns Ruins As white settlers began to populate the area in the mid-19th century, Two Guns was recognized as an ideal place to cross Canyon Diablo, first by wagon, then later by vehicle. Two Guns was the site of a mass murder of Apaches by their Navajo enemies in 1878. A group of Apaches had hid in a cave at Two Guns to avoid detection, but were discovered by the Navajos, who lit sagebrush fires at the cave's exit and shot any Apaches trying to escape. The fire asphyxiated 42 Apaches, after which they were stripped of their valuables. The murder site is referred to as the "death cave". During the winter of 1879-80, Billy the Kid and his outlaw gang hid in the ruins of a stone house and corral on the west rim of Canyon Diablo, across from Two Guns.  In 1925 Harry E. Miller erected a zoo along the canyon rim with cages made of brick, mortar and chicken wire; his zoo animals included mountain lions, cougars, gila monsters, coral snakes, birds and a lynx. A restaurant and Indian gift shop were opened, and Miller cleaned out the death cave, selling any Apache skulls found inside as souvenirs. For a fee, visitors were led on a tour which began at a Hopi house Miller had built, where rolls of colored piki bread was made and sold. They then followed a paved path down the side of the canyon to a soft drink stand at the bottom. Next was a tour of the death cave, where Miller had installed electric lights, and fake ruins of cliff dwellers. Flamboyant signs were placed along the highway, and Miller named his establishment "Fort Two Guns" as an homage to silent movie actor William S. "Two Guns" Hart, with whom Miller claimed to have previously worked
Meteor Crater The world's best preserved meteorite impact site on Earth.  Located just minutes from Interstate 40 and the old Route 66 in Northern Arizona near Winslow.  Meteor Crater is the spectacular result of a collision that rocked the American Southwest approximately 50,000 years ago with the energy of more than 20 million tons of TNT.
Winslow Winslow was named for either Edward F. Winslow, president of St. Louis and San Francisco Rail Road, which owned half of the old Atlantic and Pacific Railroad, or Tom Winslow, a prospector who lived in the area. The last Harvey House (La Posada Hotel), designed by Mary Colter, opened in 1930. The hotel closed in 1957 and was used by the Santa Fe Railway for offices. The railroad abandoned La Posada in 1994 and announced plans to tear it down. It was bought and restored by Allan Affeldt and it serves as a hotel. U.S. Route 66 was originally routed through the city. A contract to build Interstate 40 as a bypass north of Winslow was awarded at the end of 1977. I-40 replaced U.S. Route 66 in Arizona in its entirety. Winslow achieved national fame in 1972 in the Eagles / Jackson Browne song "Take it Easy" which has the line "standing on a corner in Winslow, Arizona."
Jack Rabbit Trading Post The Jack Rabbit Trading Post is a convenience store and curio shop located on former U.S. Route 66, five miles west of Joseph City, Arizona city limits off of Exit 269 on Interstate 40. It was founded in 1949, on the site of either a Santa Fe Railroad building or a former snake farm, depending on the source, and became famous for a series of billboards that stretched from Missouri to Arizona, each bearing the silhouette of a jackrabbit and the distance from that sign to the trading post. In front of the store was another such billboard with "HERE IT IS" written underneath it. With a large fiberglass jackrabbit that can be mounted (for pictures), the facility is considered a major Route 66 attraction.
Geronimo Trading Post
Holbrook "What began as a town too tough for women and churches, is now too good to miss" Holbrook began as a town of railroaders and cattlemen, outlaws and rugged lawmen. Today it is a city steeped in Native American culture, Hispanic roots and pioneers from all walks of life. In this community is the heart of Navajo County, the gateway to the stunning Petrified Forest National Park and the trip that needs to be taken along Historic Route 66. Rich in diversity and welcoming to all, Holbrook is where your adventure begins.
Holbrook to Gallup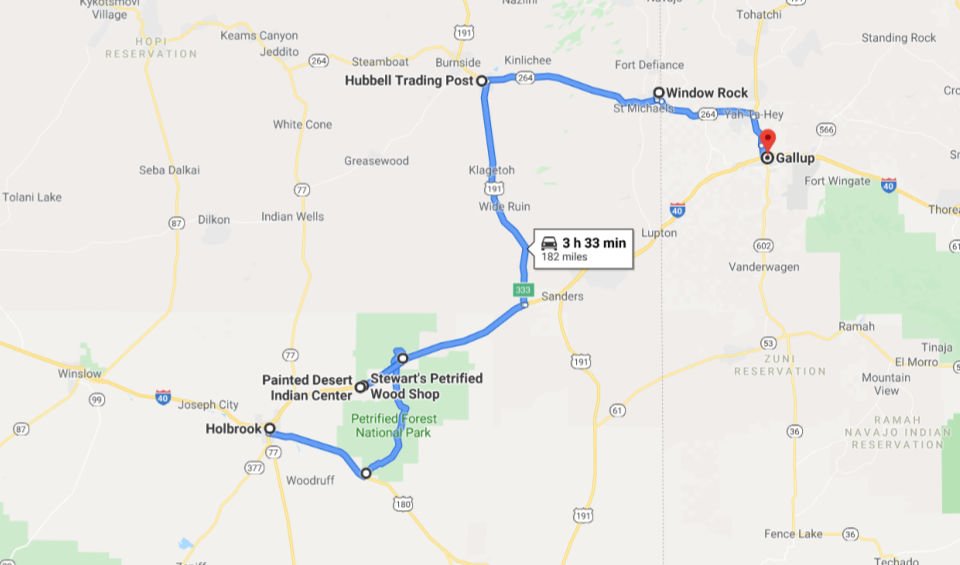 Petrified Forest National Park / Painted Desert Petrified Forest National Park is in northeastern Arizona. In its south, the Rainbow Forest is full of colorful petrified wood. It's home to the Rainbow Forest Museum, with its paleontology exhibits and many trail access points. In the park's center are the petroglyphs of Newspaper Rock and the ruined village of Puerco Pueblo. To the north, the Painted Desert Inn, a 1930s adobe building, is a museum with Hopi murals.
Painted Desert Indian Center Located on the south side of I-40. Restrooms/Gift shop.
Stewart's Petrified Wood Shop Funky gift shop with ostriches and whimsical dinosaurs that are half falling apart. A must stop if you like interesting roadside attractions.
Hubbell Trading Post National Historic Site Hubbell Trading Post National Historic Site is a historic site on Highway 191, north of Chambers, with an exhibit center in Ganado, Arizona. The squeaky wooden floor greets your entry into the oldest operating trading post on the Navajo Nation.  When your eyes adjust to the dim light in the "bullpen" you find you've just entered a mercantile.  Hubbell Trading Post has been serving Ganado selling goods and Native American Art since 1878.
Window Rock Tribal Park is a small city that serves as the seat of government and capital of the Navajo Nation, the largest territory of a sovereign Native American nation in North America. It lies within the boundaries of the St. Michaels Chapter, adjacent to the Arizona and New Mexico state line. Window Rock hosts the Navajo Nation governmental campus which contains the Navajo Nation Council, Navajo Nation Supreme Court, the offices of the Navajo Nation President and Vice President, and many Navajo government buildings. Window Rock's main attraction is the window formation of sandstone the community is named after. The Navajo Nation Museum, the Navajo Nation Zoological and Botanical Park, and the Navajo Nation Code Talkers World War II memorial are located in Window Rock.
Gallup NM Gallup is a small city in New Mexico, on historic Route 66. To the east, red sandstone cliffs dominate Red Rock Park, home to Anasazi archaeological sites from around 300 A.D. Here, Red Rock Museum focuses on Anasazi heritage, with displays of pottery and silver. In the city, Gallup Cultural Center has Native American crafts and cultural exhibits. The Rex Museum covers local history, including railroad and mining.
Gallup to Albuquerque
Acoma Pueblo Acoma Pueblo is a Native American pueblo approximately 60 miles west of Albuquerque, New Mexico. Four communities make up the village of Acoma Pueblo: Sky City (Old Acoma), Acomita, Anzac, and McCartys. The Acoma Pueblo tribe is a federally recognized tribal entity. Today, about 300 two- and three-story adobe buildings stand on the mesa, with exterior ladders used to access the upper levels where residents live. Access to the mesa is by a road blasted into the rock face during the 1950s. Approximately 30 or so people live permanently on the mesa, with the population increasing on the weekends as family members come to visit and tourists, some 55,000 annually, visit for the day. Acoma Pueblo has no electricity, running water, or sewage disposal. A reservation surrounds the mesa, totaling 600 square miles. Tribal members live both on the reservation and outside it. Contemporary Acoma culture remains relatively closed, however. According to the 2000 United States census, 4,989 people identify themselves as Acoma.
Petroglyph National Monument Petroglyph National Monument stretches 17 miles along Albuquerque, New Mexico's West Mesa, a volcanic basalt escarpment that dominates the city's western horizon. Petroglyph National Monument protects a variety of cultural and natural resources including five volcanic cones, hundreds of archeological sites and an estimated 24,000 images carved by Ancestral Pueblo peoples and early Spanish settlers.
Albuquerque Albuquerque, New Mexico's largest city, sits in the high desert. Its modern Downtown core contrasts with Old Town Albuquerque, dating to the city's 1706 founding as a Spanish colony. Old Town is filled with historic adobe buildings, such as San Felipe de Neri Church, 5 museums, and shops selling Native American handicrafts. Nearby, The Indian Pueblo Cultural Center traces the area's tribal history.
Albuquerque to Santa Fe
Musical Highway The National Geographic Channel paid for permanent rumble strips on a stretch of Route 66 between Albuquerque and Tijeras which plays "America the Beautiful" when you drive over them at the 45 mph. It was built as part of National Geographic's show "Crowd Control." The show uses fun social experiments to see if people will obey an unpopular law if a reward is offered. The goal of the rhythmic road, at 364 Highway 66 East near Tijears, is to help drivers stay focused. The Singing Road was created by placing metal plates in the pavement. The plates were then covered with asphalt, and then the rumble strips. The roadwork only took a day, and opened to traffic on October 1, 2014. You must drive the speed limit in order to hear the road "sing"; go too slow or too fast and it won't work.
Directions: Take I-40 to exit 170, then drive east about 3.5 miles on Hwy 333/Route 66. Look for the Musical Road signs between mileposts 4 and 5, shortly after Route 66 crosses to the south side of I-40. The road is only musical driving eastbound.
Madrid Madrid is a small town of less than 200 people located on the Turquoise Trail (SR 14) between I-40 and Santa Fe, New Mexico. Madrid has become an artists' community with galleries, shops, and restaurants lining New Mexico State Road 14. It retains remnants of its history with the Mineshaft Tavern and the Coal Mine Museum.
Santa Fe Santa Fe is the capital of the New Mexico. It is the fourth-largest city in New Mexico with a population of 84,683 in 2019. The city was founded in 1610 as the capital of Nuevo México, after it replaced Española as capital, which makes it the oldest state capital in the United States. With an elevation of 7,199 feet, it is also the state capital with the highest elevation. It is considered one of the world's great art cities, due to its many art galleries and installations, and is recognized by UNESCO's Creative Cities Network. Cultural highlights include Santa Fe Plaza and the Palace of the Governors, and the Fiesta de Santa Fe, as well as distinct New Mexican cuisine restaurants and New Mexico music performances. Among the numerous art galleries and installations are, for example, the Georgia O'Keeffe Museum, as is a gallery by cartoonist Chuck Jones, along with newer art collectives such as Meow Wolf.
Road Shields
Below is a Google Map of the safest spots to take a selfie with the Route 66 shield.
Please be careful, don't be tomorrow's selfie headline.
Musical Highway
The Mother Road Sings "America the Beautiful"
The National Geographic Channel paid for permanent rumble strips on a stretch of Route 66 between Albuquerque and Tijeras which plays "America the Beautiful" when you drive over them at the 45 mph. It was built as part of National Geographic's show "Crowd Control." The show uses fun social experiments to see if people will obey an unpopular law if a reward is offered. The goal of the rhythmic road, at 364 Highway 66 East near Tijears, is to help drivers stay focused. The Singing Road was created by placing metal plates in the pavement. The plates were then covered with asphalt, and then the rumble strips. The roadwork only took a day, and opened to traffic on October 1, 2014. You must drive the speed limit in order to hear the road "sing"; go too slow or too fast and it won't work.
Directions: Take I-40 to exit 170, then drive east about 3.5 miles on Hwy 333/Route 66. Look for the Musical Road signs between mileposts 4 and 5, shortly after Route 66 crosses to the south side of I-40. The road is only musical driving eastbound.
Road Guides
Arizona 66 Passport is your guide to the heart of America and the perfect way to remember your time with Mother Road. The passport was created by the Historic Route 66 Association of Arizona, in conjunction with communities and attractions along Arizona's stretch of Route 66. Discover all there is to do and see, the greatest spots to rest and dine, and exactly how to get your kicks on Arizona's 401 mile stretch of Rt. 66! Click here for more details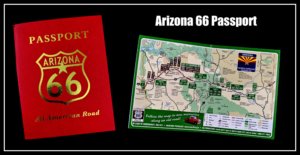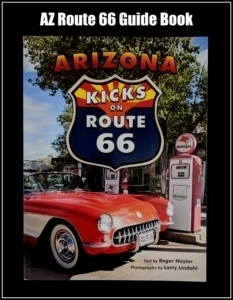 History
For 90 years, Historic Route 66 has been America's Road! It's people have inspired writers, filmmakers, photographers, and artists.
It's a road that represents a simpler time of family road trips, neon, classic cars, cowboys, and mom and pop diners. Arizona's stretch of Route 66 has ever-changing wonders from towering red cliffs, open spaces with endless blue skies, mountains, expansive forests, and distant mesas that look like painted pictures. Route 66 tells a story of America's historical move west. Mom and pop shops, diners, and motor lodges dot the route serving motorists looking for a better life out west, going on family road trips, or in search for adventure.
The creation of this super highway in 1926 linked small communities across eight states. Spanning more than 2,400 miles from Chicago, IL to Santa Monica CA, Route 66 represented a new found freedom for travelers in this region. John Steinbeck in 1939 proclaimed Route 66 as the "Mother Road," in his classic novel, "The Grapes of Wrath," that depicted life during the Great Depression. When the movie was made just a year later, it immortalized Route 66 in the American consciousness. Then on the heels of the Great Depression, came the dust bowl of the Midwest where 200,000 people traveled Route 66, the road to opportunity, migrating to California in search of new opportunity.
As World War II broke out, troops, equipment, and products were transported across Route 66 to California, and when the war ended in 1945, the Mother Road brought home thousands of servicemen. For these returning servicemen and their families, Route 66 became more than just a highway – it was a link to America's wonders experienced through family road trips.
The lure of the Route has been immortalized in the hit song, "Get Your Kicks on Route 66," written by Bobby Troupe and performed by Nate King Cole Trio, The Rolling Stones, and many others, and by the television series, "Route 66," which brought the Mother Road in to homes all over America in the 1960's.